November 2021 Iran Tanker Tracking
Why would Russia, the world's number two oil producer, look to buy oil from Iran?  The answer is not exactly clear, but since August, we have seen two Russian-flagged tankers together carrying more than 1.5 million barrels, apparently en-route to Russia. Both have signaled their destination as Port Kavkaz, a small Russian port on the northern section of the Black Sea, at the entrance to the Sea of Azov. Russia would be a new – and for the U.S., a concerning – option for Iranian crude exporters.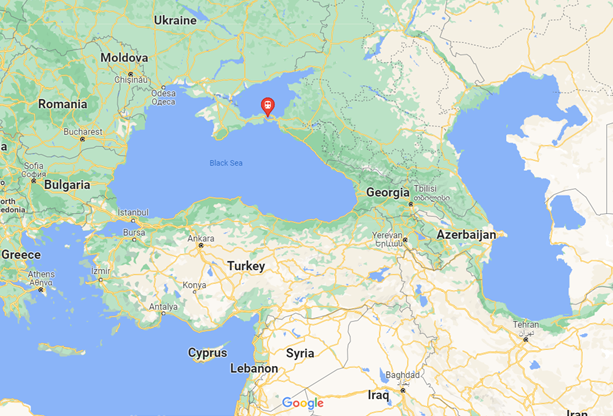 The recent history of this trade perhaps shines a light on why it might be resumed today. In 2014, Russia and Iran reached a memorandum of understanding in which Moscow agreed to buy Iranian oil in order to deliver it to international customers. In return, Iran would use the payments to buy and import Russian goods.
In May 2017, Russia and Iran declared a new agreement for Moscow to buy 100,000 barrels of Iranian oil per day. Six months later, Russia announced that it secured its first Iranian oil delivery from a tanker carrying 1  million barrels of Iranian crude. Russia then re-sold the oil through the Russian state-owned trading unit Promsyrioimport.
By 2019, however, the deal appeared dead.  At the time, Russian energy experts said, "Moscow has made no recent purchases of Iranian oil as part of a sputtering 2014 deal with Tehran…" Russian state news agency Interfax said they were having problems finding buyers for the Iranian oil, telling journalists in March 2018 that Moscow had stopped taking deliveries from Tehran due to a "lack of contracts with end customers" for the crude.
Is it possible that this 'oil-for-goods' barter program has now been reinstated, with the two Russian-flagged tankers being sent out to test the Biden Administration's resolve?
The two crude oil tankers in question are BLUE STAR (IMO: 9198094) and PEGAS (IMO: 9256860). Together they are carrying a combined 1.535 million barrels of Iranian crude oil. According to IHS Maritime, the vessels are both owned and operated by the Russian company TransMorFlor LLC.  BLUE STAR is currently in the Black Sea, signaling for Port Kavkaz, Russia, while PEGAS has been anchored at Istanbul, Anchorage, since October 25, 2021. Why the two vessels are taking so long to deliver the oil remains a mystery to us, however, according to TankerTrackers.com, PEGAS's classification documents were both incomplete and expired, therefore unable to transit the Bosphorus Canal into the Black Sea.  In addition, it is likely that Russia is trying to secure a purchaser for the oil.
Oil deliveries for other destinations held steady for November:
| | | | |
| --- | --- | --- | --- |
| Country | November 2021 - Barrels Per Day (bpd) | October 2021 - Barrels Per Day (bpd) | September 2021 - Barrels Per Day (bpd)  |
| China | 718,239 | 836,738 | 726,576 |
| Syria | 76,000 | 88,705 | 140,834 |
| UAE | 52,084 | 18,969 | 25,000 |
| Russia | 0 | 23,619 | 0 |
| Venezuela | 0 | 0 | 85,879 |
| Unknown | 175,000 | 346,516 | 33,333 |
| Total | 1,032,990 | 1,322,547 | 1,011,622 |
Analysis: Russia-flagged Vessels
BLUE STAR
On September 28, 2021, the crude oil tanker BLUE STAR sailed up the Persian Gulf and turned its AIS transponder off. On October 1,  BLUE STAR engaged in a ship-to-ship transfer (STS) with the Iranian crude oil tanker RIMA (IMO: 9150377) after the vessel loaded oil from Iran's Lavan Island earlier that week.  In July 2020, Iran hijacked the same RIMA vessel.  The AIS transponder did not come back online for BLUE STAR until October 3, 2021.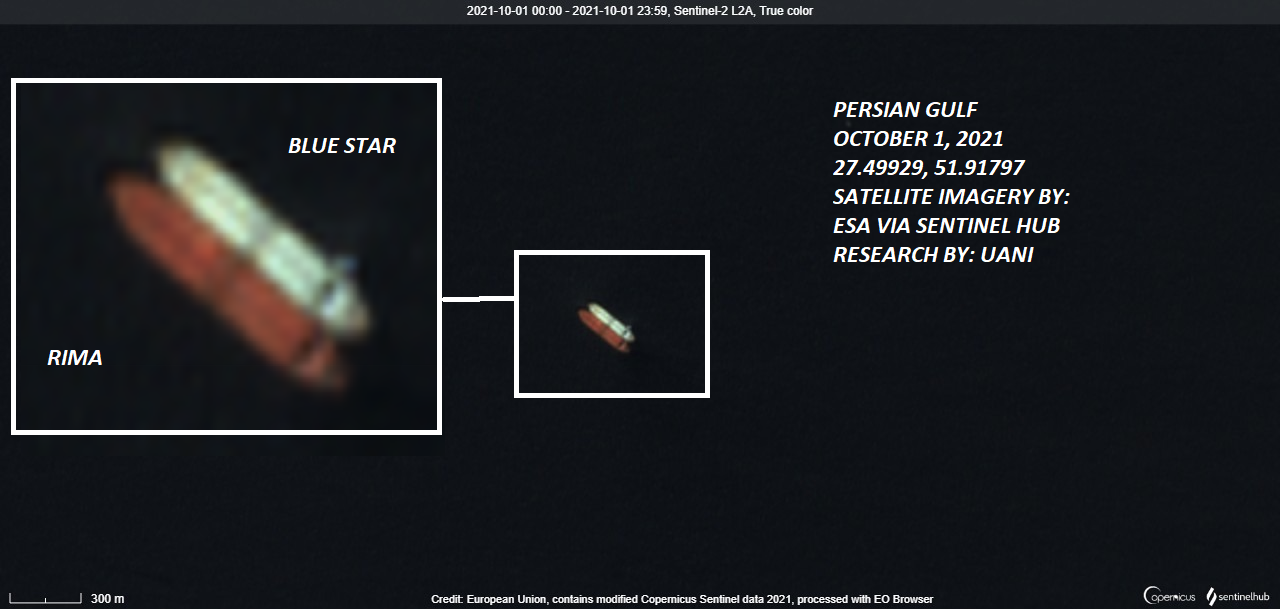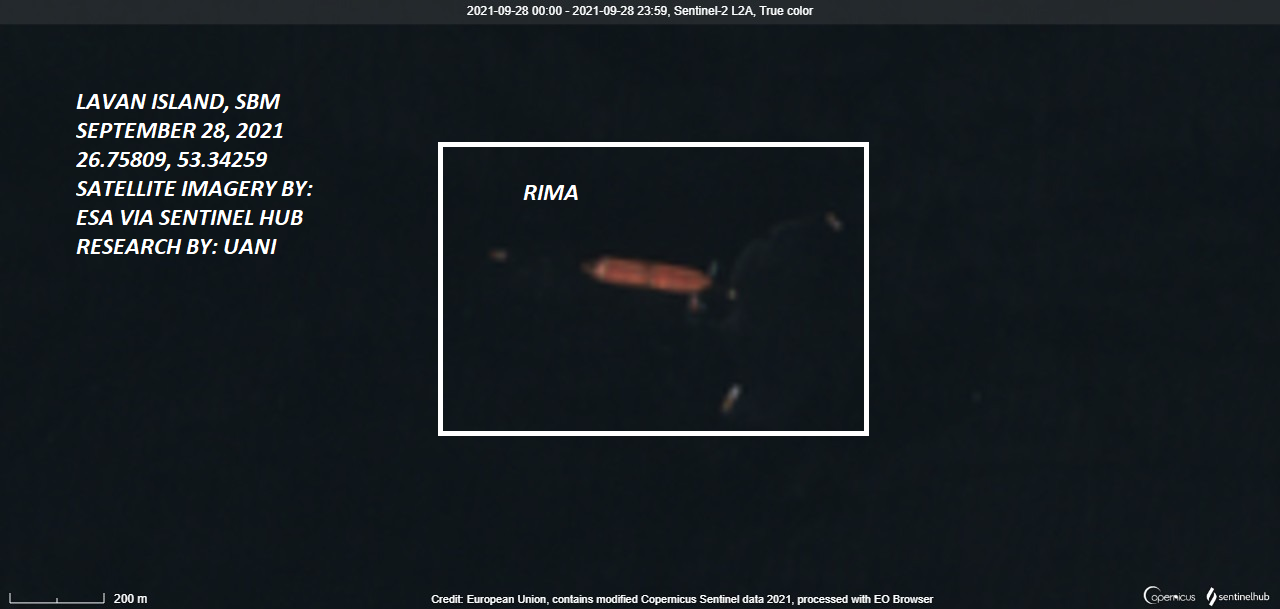 2. PEGAS
On August 19, 2021, PEGAS loaded crude oil from Iran's Sirri Island. PEGAS turned its AIS transponder off on July 31 when it began sailing up the Persian Gulf. The AIS transponder remained off for the vessel until August 19, when it appeared in the Gulf of Oman.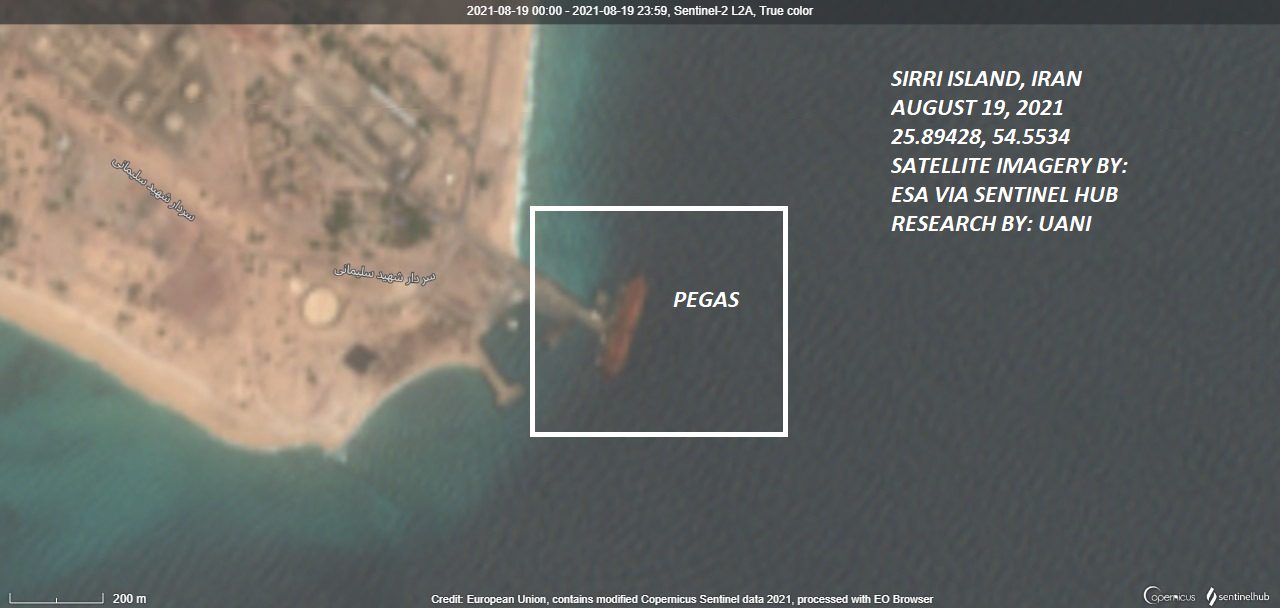 During 2021, PEGAS has transported just over 3 million barrels of Iranian oil, with over 2.6 million of those barrels ending up in China. BLUE STAR has transported over 2.7 million barrels of Iranian crude oil, with 2 million of that exported to China. In October, UANI informed the Russian P&I club Ingosstrakh of the BLUE STAR's behavior. Ingosstrakh responsibly revoked the vessel's insurance cover. Ingosstrakh has also withdrawn cover for several other ships following engagement with UANI.
Moscow notionally claims to care about the possibility of Iran's acquisition of nuclear weapons. Indeed, if Russia were acting logically it would worry more than the United States, given its proximity to Iran.  At the same time, Vladimir Putin – who enjoys unrestricted power – is aware that Tehran is a major headache for Washington, and seems content to allow Iran to become a threshold nuclear state. As JINSA President Michael Makovsky noted in a recent webinar, Russia will also be first in line to supply conventional military hardware to the Mullahs in the event of a hot war involving Iran.
Two months ago, reporting on Venezuela's import of Iranian oil in September, we noted, "If the U.S. fails to levy serious costs on Caracas, we can expect other nations to probe just how committed the U.S. is to enforcing its own oil sanctions." Russia might be next to join the rogue importers' club, having taken note of the Biden Administration's ongoing failure to enforce oil sanctions. Putin seems prepared to further provoke the U.S. on this sensitive and increasingly politicized issue knowing a response is unlikely.  If there are effectively zero adverse consequences to importing heavily discounted oil from Iran, it all makes sense – especially for American 'competitor/adversary' nations. More and more countries, even extending to U.S. allies like Japan, South Korea, Turkey, and Italy, who all previously imported large quantities of Iranian crude, are likely to arrive at the same calculus.
We will continue to monitor these vessels until the oil is offloaded at the final destination.
Receive Iran News in Your Inbox.
Eye on Iran is a news summary from United Against Nuclear Iran (UANI), a section 501(c)(3) organization. Eye on Iran is available to subscribers on a daily basis or weekly basis.