September 2021 Iran Tanker Tracking
This week it was reported that the Biden administration is pressing China to reduce its Iran oil imports. It's more of a gentle lean. "We have been approaching this diplomatically," said the unnamed official, because this was, in their view, "a more effective path forward" to deal with the Iran issue. This echoes reports in March and July, describing tepid warnings from the U.S. that it would administer existing sanctions and was "considering " new ones. Six months later, the impact of these warnings has been less than zero. China has not paid the slightest heed to any American diplomatic overtures and continues to import millions of barrels of Iranian oil every month, providing the biggest single lifebuoy keeping the regime afloat and solvent. For September 2021, China imported at least 18 million barrels total (600,333 barrels per day), which will rise by several million as vessel transponders are re-enabled, and more accurate figures become available in the coming days. Assuming an eventual September import figure similar to August, that will take total Chinese imports to 210 million barrels for the whole of 2021.
| | | | |
| --- | --- | --- | --- |
| Country | September 2021 - Barrels Per Day (bpd)  | August 2021 - Barrels Per Day (bpd) | July 2021 - Barrels Per Day (bpd) |
| China | 600,333 | 752,158 | 707,865 |
| Syria | 136,757 | 88,223 | 19,290 |
| UAE | 25,000 | 25,355 | 9,688 |
| Russia | 0 | 25,906 | 0 |
| Venezuela | 69,333 | 67,742 | 0 |
| Unknown | 166,667 | 129,032 | 161,290 |
| Total | 998,090 | 1,089,416 | 898,132 |
Venezuela has now emerged as another headache for the U.S.  In both August and September, Venezuela imported 2 million barrels of Iranian gas condensates in exchange for 1.9 million barrels of Venezuela's heavy crude oil. According to Reuters, "PDVSA [Petroleos de Venezuela] and NIOC [National Iranian Oil Company] have agreed to a medium-term contract to exchange Venezuela heavy crude for Iranian condensate in a pact aimed at boosting the South American nation's sagging oil exports, amid sanctions imposed by the United States." Iranian tankers have docked in Venezuela previously, but those proved isolated instances. Tehran and Caracas are publicly determined to keep the trade going, and a third consecutive month of oil deals beckon.  It will be interesting to see how the Biden Administration responds to this growing Atlantic trade between the two authoritarian OPEC members whose major state-run oil companies, PDVSA and NIOC, are both under U.S. sanctions.
Like China, Venezuela is also resorting to deceptive tactics to stave off any potential American intervention, however unlikely. The first Iranian tanker to arrive at Venezuela's Jose Terminal was the sanctioned NITC [National Iranian Tanker Company] vessel FELICITY (IMO: 9183924). According to TankerTrackers.com, the vessel began loading the popular Venezuelan Merey-16 crude oil blend on September 7, 2021, and confirmed that the vessel underwent a fresh paint job while at the Jose Anchorage to avoid identification. UANI corroborated these findings through the use of satellite imagery.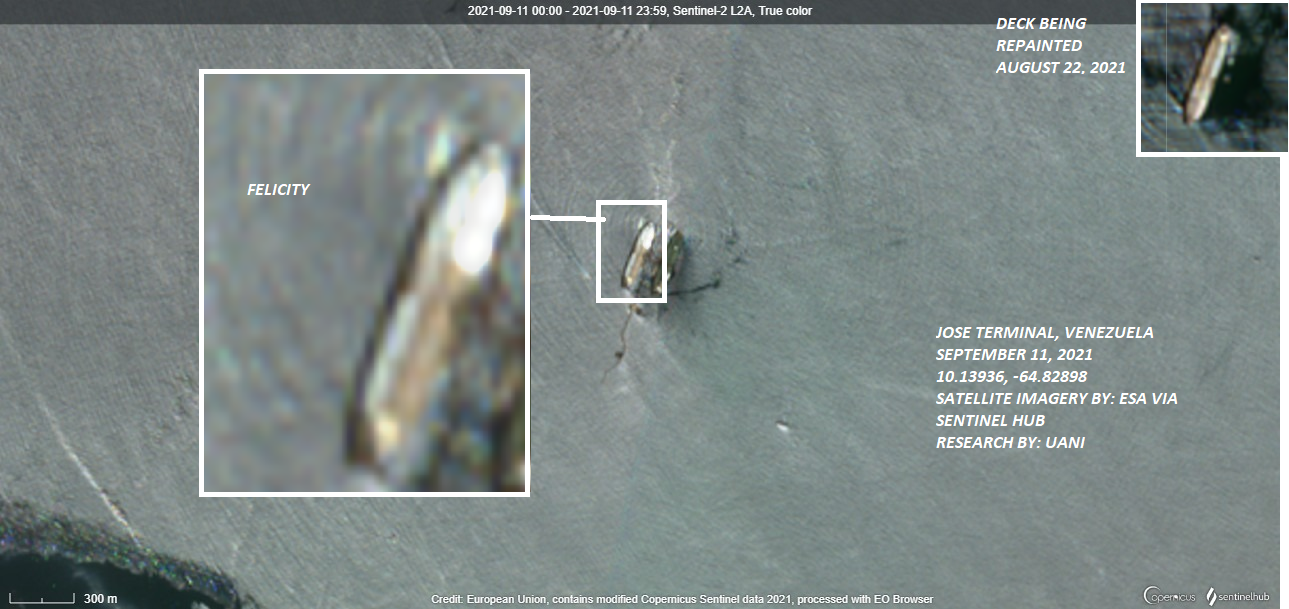 According to Marine Traffic, FELICITY's position was last received on August 24, 2020, at Taizhou Anchorage, China. This means that the vessel sailed all the way to Venezuela with its AIS transponder off, a violation of the International Maritime Organization (IMO) requirements.  The vessel is also falsely claiming to be registered in Panama.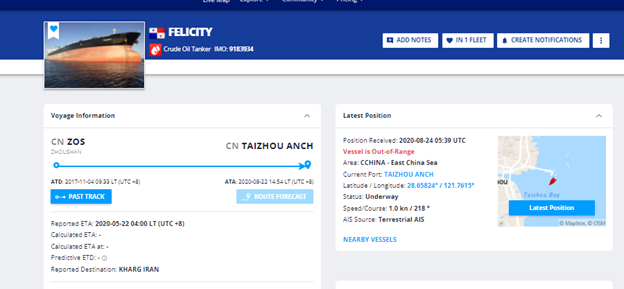 NITC tanker DINO I (IMO: 9569671) was next to arrive. Unlike FELICITY, DINO I spoofed its AIS transponder to appear as though it was off Assaluyeh, Iran, not in Venezuela. DINO I began offloading condensates at Jose terminal on September 26, 2021.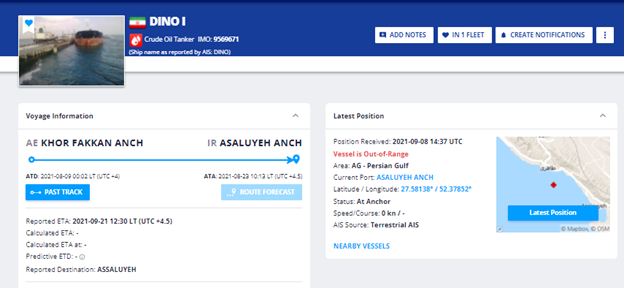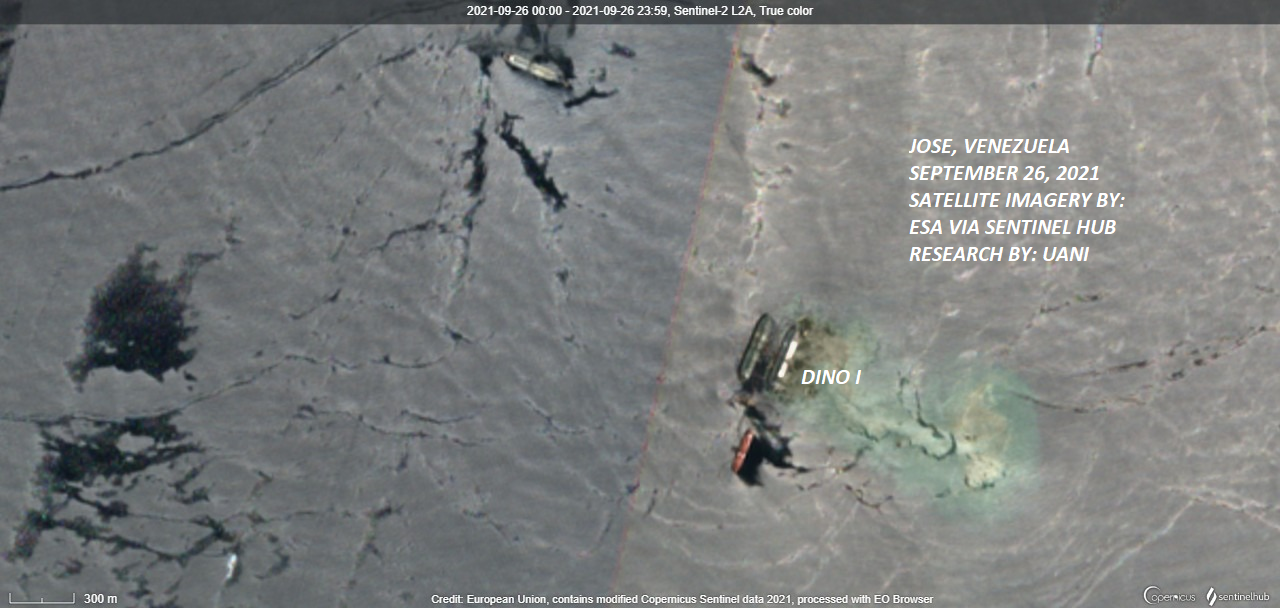 Next up will likely be NITC tanker DORENA (IMO: 9569669). Similar to DINO I, DORENA is spoofing its AIS transponder to appear as though it is at Iran's Assaluyeh port. However, satellite imagery reveals a different tanker pinging in its place. Photographs of DORENA arriving at Ningbo, China, on August 8, 2017, reveal the vessel to have a left helipad painted on its deck. However, as clearly indicated in the satellite imagery below, the vessel pinging as DORENA has two helipads.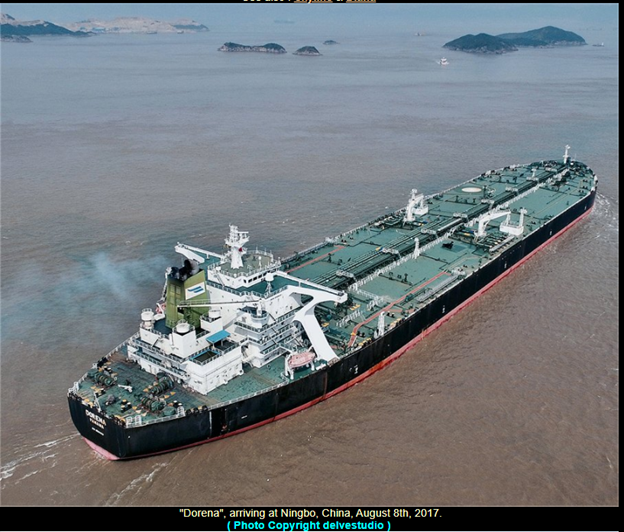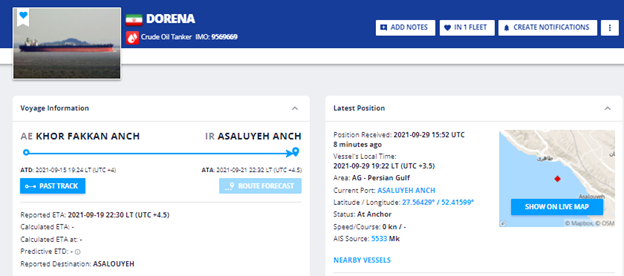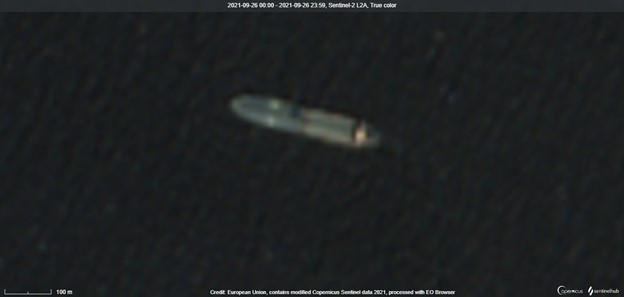 Having watched America's response to China's uninterrupted inbound flow of Iranian oil, Maduro has clearly decided to throw his lot in with the rogue traders' club.  If the U.S. fails to levy serious costs on Caracas, we can expect other nations to probe just how committed the U.S. is to enforcing its own oil sanctions. India's band of state oil refining firms, which have until now tiptoed on the right side of the American oil sanctions line, stand willing and able to process Iran's heavily discounted crude. If Delhi falls, the rest will follow. Regardless of any future oil waivers that may occur with a revised Iran nuclear deal, President Biden must show the world in no uncertain terms where his red line on the black stuff lays.
Receive Iran News in Your Inbox.
Eye on Iran is a news summary from United Against Nuclear Iran (UANI), a section 501(c)(3) organization. Eye on Iran is available to subscribers on a daily basis or weekly basis.