May 2022 Iran Tanker Tracking
A flurry of developments at the back-end of May suggests that the Biden team is finally starting to accept that it must confront the issue of Iranian oil exports – in word and deed.
First, on May 23, the U.S. government confiscated Iranian oil held on a Russian-operated ship, LANA (formerly known as PEGAS), in Greek waters.  While it seems likely that the action occurred due to the confluence of U.S. sanctions on both Iran and Russia, the seizure is nonetheless a positive development for those seeking stronger measures against the Islamic Republic.
This was followed on May 25 by the Treasury's Office of Foreign Assets Control ("OFAC") designation of an international oil smuggling and money laundering network led by Islamic Revolutionary Guard Corps-Qods Force ("IRGC-QF") officials that has facilitated the sale of hundreds of millions of dollars worth of Iranian oil for both the IRGC-QF and Hezbollah. Some of these officials were involved in brokering the sale of the Iranian oil shipment on the LANA that the U.S. confiscated.
In comments accompanying the designation, U.S. Secretary of State Antony Blinken said, "[w]hile the United States continues to seek a mutual return to full implementation of the Joint Comprehensive Plan of Action (JCPOA), we will strictly enforce sanctions on Iran's illicit oil trade."  State Department spokesman Ned Price added, "[t]he signal that we are sending is that we are not going to tolerate the illicit activities of the Quds Force, of other Iranian proxies, terrorist groups that receive Iranian support." 
These statements are notable for their clarity, and contrast with previous efforts to avoid the issue, references to private diplomatic channels, and resorts to euphemism. The actions are notable for their assertiveness, and contrast with months of inaction.
Iran has hit back in accustomed style, seizing two Greek tankers that were traveling in international waters on May 27.  The seizure came soon after Tehran warned of "punitive action" against Athens over the confiscation of Iranian oil by the U.S.  The U.S., EU, France, and Greece have all urged Iran to free the vessels and their crews. (More details below).
As UANI has long recognized, Iran has little incentive to sign a new deal with the United States while it can export billions of barrels of oil with relative ease: "The Islamic Republic hardliners," reported Iran International on May 28, "have concluded that by exporting close to one million barrels of oil per day at prices above $100 a barrel, Iran can generate enough income equal to a full export volume, without a need to agree to the revival of the Joint Comprehensive Plan of Action, JCPOA." It is to be hoped that the Biden team has also arrived at the same conclusion, albeit 17 months into the Presidency.
Despite these positive signs, Iran still exported just under 1 million barrels per day (BPD) – with 630,000 BPD of oil going to China – during May. More work in the form of seizures, sanctions, and enforcement – especially including designations on individual vessels that continue to transport Iranian oil around the world – is required.  June, marking 18 months of the Biden presidency, would therefore appear to be a pivotal month where we will get a much better understanding of whether the U.S. is serious about cracking down on Iran's most vital export.
May's provisional figures for Iranian oil exports are as follows:
| | | | |
| --- | --- | --- | --- |
| Country | May 2022 - Barrels Per Day (bpd) | April 2022 - Barrels Per Day (bpd) | March 2022 - Barrels Per Day (bpd) |
| China | 629,744 | 777,251 | 952,193 |
| Syria | 111,193 | 85,141 | 90,738 |
| UAE | 39,335 | 41,110 | 0 |
| Venezuela | 0 | 103,737 | 0 |
| Unknown | 152,687 | 36,863 | 293,548 |
| Total | 932,956 | 1,044,102 | 1,336,478 |
Greek Tankers Seized By Iran
              On May 27, an "Iranian navy helicopter landed on Greek-flagged vessel Delta Poseidon, which was sailing in international waters, 22 nautical miles from the Iranian shore, and took the crew hostage, among them two Greek citizens."  DELTA POSEIDON (IMO: 9468671) is reported to be owned and operated by the Greek company Delta Tankers Ltd.
Prior to the seizure, DELTA POSEIDON had loaded approximately 1 million barrels of crude oil from the Al Basra Oil Terminal on May 26, 2022. The vessel was expected to deliver the crude to Agioli Theodoroi, Greece, around June 13.

              The other seized vessel is the Greek-flagged vessel PRUDENT WARRIOR (IMO: 9753545), which was carrying a mixture of approximately 1 million barrels of Iraqi and Qatari crude oil for the U.S. PRUDENT WARRIOR is reported to be owned and operated by the Greek company, Polembros Shipping Ltd.
As of May 30, both vessels have been relocated to the Bandar Abbas anchorage area, north of Qeshm Island, with PRUDENT WARRIOR signaling the information from its AIS transponder.

              Following the seizure of these two Greek tankers, Greece alerted all vessels from the country to "adapt to the unacceptable situation" when sailing in the Persian Gulf, raising the risk of further interruptions to shipments from the region. However, not all seem to be taking this warning seriously. As of May 31, 2022, UANI counted three Greek-flagged tankers sailing in the Persian Gulf near Iranian waters, one moored at Basrah, Iraq, two anchored in Saudi Arabia's waters, and seven in Emirati waters. UANI will continue to monitor for developments on the two seizure tankers and urges all vessels operating in the Persian Gulf to proceed with caution as Iran's behavior becomes more aggressive.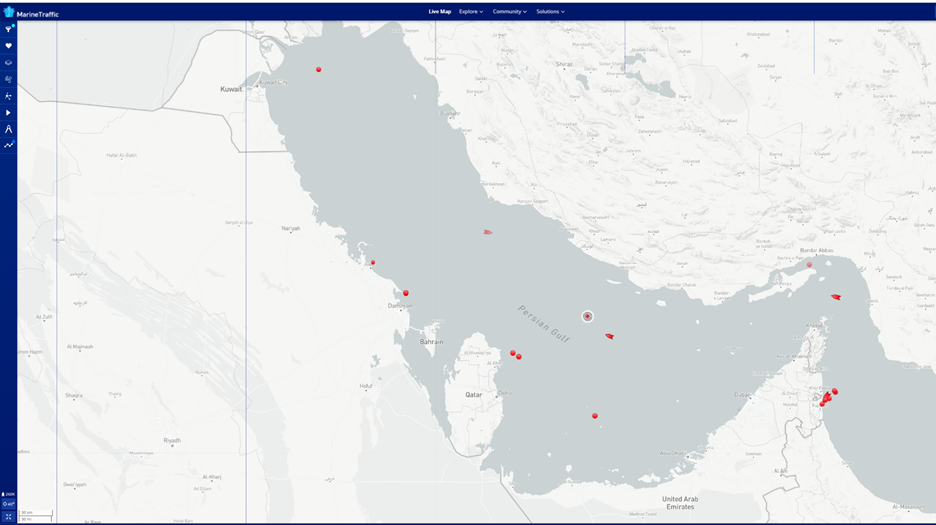 Receive Iran News in Your Inbox.
Eye on Iran is a news summary from United Against Nuclear Iran (UANI), a section 501(c)(3) organization. Eye on Iran is available to subscribers on a daily basis or weekly basis.