March 2023 Iran Tanker Tracker
On March 12, Iranian Oil Minister Javad Owji had encouraging news for the Islamic Republic regime.  "Iran's oil exports have reached their highest level since the reimposition of U.S. sanctions in 2018," reported Reuters on his announcement, with "83 million more barrels in the current year starting 21st March 2022 [that] were exported compared to the previous Iranian year running March 2021-2022."
That is consonant with UANI research, which shows a similar jump despite several rounds of sanctions targeting elements of the illicit trade in the recent months.
U.S. Senators from both parties continue to sharply press the Administration. During a hearing with Secretary of State Blinken on March 22, 2023, several slammed the lack of Iranian oil sanctions enforcement.
Specifically highlighting UANI data and register of over 300 non-sanctioned foreign-flagged vessels comprising the "Ghost Armada," Senator Cruz accused the administration of "allow[ing] that ghost fleet to grow dramatically":
"The Iranians were using 70 tankers when President Biden was elected. Today they're using about 300 tankers. He did not sanction those tankers. Instead the Administration allowed Iran to restore its energy exports getting above 1 million barrels which is funding the regime…" 
Secretary Blinken's "we're working on it" reply did not appease the Senator, who retorted that "you could impose the oil sanctions tomorrow." 
Senator Menendez expressed similar concern over the lack of action from the Biden Administration to curb Iran's energy exports growth, reiterating statements he made in a hearing on May 25, 2022, while Senator Risch echoed the sentiments.   
Also in May last year, Senator Lankford flagged "China's practice of purchasing and stockpiling sanctioned Iranian oil to the black market… The procurement spike by China directly correlated with the spike in terrorist activities by Iran and its proxies in the Middle East." And before that, in January 2022, a group of ten Senate Republicans wrote to President Biden urging him to enforce sanctions on Iranian oil tankers.
Despite clear and consistent pleas from Senators across the aisle, Iran continues to export more than 1 million barrels of oil per day, and March 2023 was no exception. While the Administration has been "working on it" for more than half of its term, the data – whether from Iran's oil minister or UANI's tanker tracking – shows it is clearly not having the intended effect.  As of today, the Biden administration has permitted Iran to export over 900 million barrels worldwide under its watch, worth in the region of $80 billion.
| | | | |
| --- | --- | --- | --- |
| Country of Destination | March 2023 - Barrels Per Day (bpd)* | February 2023 - Barrels Per Day (bpd)* | January 2023 - Barrels Per Day (bpd)* |
| China | 891,505 | 968,707 | 1,003,030 |
| Syria | 75,167 | 122,010 | 71,787 |
| UAE | 0 | 0 | 33,978 |
| Venezuela | 0 | 66,195 | 142,742 |
| Unknown | 117,237 | 89,286 | 0 |
| Total | 1,200,042 | 1,253,290 | 1,251,537 |
* Figures to be updated over the following weeks
Lack of Sanctions Leads to Blatant Loadings of Iranian Oil
In January 2023, UANI wrote, "[a]s the current administration continues its lax sanctions enforcement of Iranian oil exports, Iran is becoming more brazen about which tankers it is using to export its oil." This has continued and has only become more apparent with Western firms getting tangled in the mix.
On March 18, 2023, the Cook Islands-flagged tanker COLOSSUS (IMO: 9165542) loaded oil products from Bandar Mahshahr, Iran. The AIS transponder for the vessel was turned on at the time of loading. With loadings as brazen as this, we wonder why the Administration has not enforced sanctions on such vessels.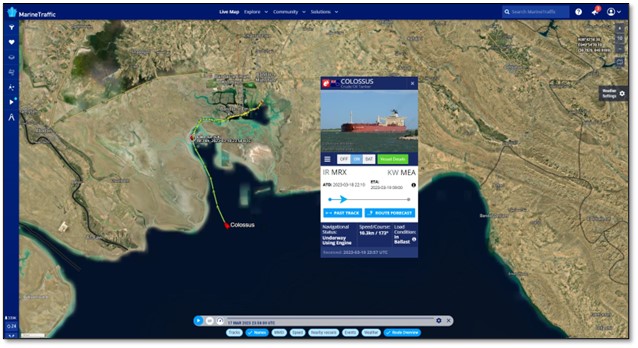 Similarly, this month a Euronav-owned tanker OCEANIA (IMO: 9246633) was suspected of taking on Iranian oil from the Vietnam-flagged tanker ABYSS (IMO: 9157765). ABYSS is strongly suspected of loading oil products from Iran's Bandar Mahshahr in February 2023.
ABYSS is regularly cited in the press for its ties to Iran and was even linked to a high-profile aborted ship-to-ship transfer in February 2021. ABYSS delivered an Iranian origin cargo to the vessel SHANAYE QUEEN (IMO: 9242118) that was then being loaded on to the Maersk Tankers-operated DIAMOND (formerly known as DIAMONDBACK) (IMO: 9315446) in waters off Sohar. The same tanker was connected to a case involving the Italian company ENI in 2019. ENI rejected a cargo of suspected Iranian crude that originated from ABYSS. A simple Google search quickly shows evidence of a vessel's involvement in Iran. Apparently Euronav, the largest NYSE listed independent crude oil tanker company in the world, failed this most elementary step of due diligence steps.
These cases illustrate that Iran is indifferent to who purchases its oil. It will do whatever it can to sell its oil through the use of numerous deceptive tactics like forged bills of lading, ship to ship transfers, manipulation of AIS transponders among others. We continue to call on the Administration to take action on these sanctions evaders and encourage the maritime community to conduct robust and enhanced due-diligence.
Receive Iran News in Your Inbox.
Eye on Iran is a news summary from United Against Nuclear Iran (UANI), a section 501(c)(3) organization. Eye on Iran is available to subscribers on a daily basis or weekly basis.