January 2023 Iran Tanker Tracking
In the two years since the start of the Biden Administration, the Islamic Republic of Iran has managed to export just over 600 million barrels of oil to China, worth around $48 billion. When questioned about these eye-watering numbers this month, U.S. Special Envoy to Iran Rob Malley assured Bloomberg that the Biden team was "not fine with it."  Unfortunately, Mr. Malley's proposed remedy – to "intensify" talks with Beijing – is unlikely to prove much of a departure from the existing policy failure of "quiet diplomacy."
Secretary of State Blinken's visit to Beijing February 5-6 is the perfect opportunity to try a new approach, which is desperately required. Nothing has altered the accuracy of our prediction made in July 2019 that "China will in all likelihood continue to defy U.S. oil sanctions," and "Quiet Diplomacy Plus" will not be any more effective. If the regime can expect to export another $25 billion worth of oil to China over 2023, there is scant incentive for Tehran to consider fundamental behavioral changes based on economic constraints - let alone the prospect of regime collapse. Once again, Chinese imports hit more than 1 million barrels of Iranian oil per day over January.
| | | | |
| --- | --- | --- | --- |
| Country of Destination | January 2023 - Barrels Per Day (bpd)* | December 2022 - Barrels Per Day (bpd)* | November 2022 - Barrels Per Day (bpd)* |
| China | 1,049,679 | 1,284,292 | 1,127,719 |
| Syria | 57,906 | 76,365 | 58,631 |
| UAE | 33,978 | 0 | 0 |
| Venezuela | 0 | 27,263 | 0 |
| Unknown | 64,516 | 66,815 | 47,063 |
| Total | 1,206,079 | 1,454,734 | 1,233,414 |
* Figures to be updated over the following weeks
As the current administration continues its lax sanctions enforcement of Iranian oil exports, Iran is becoming more brazen about which tankers it is using to export its oil. Iran is increasingly aware that the current administration is not taking action on the vessels involved and need not go to such great lengths in the deceptive elements of the trade. Naturally, this also provides the added benefit to Tehran of reducing costs.
For example, on January 15, 2023, Cameroon-flagged crude oil tanker ROMA (IMO: 9182291) loaded crude oil from Kharg Island, Iran, with its AIS transponder turned on. Typically, foreign-flagged vessels spoof their AIS transponders in an attempt to hide their true loading location. However, in this instance, ROMA was pinging over AIS.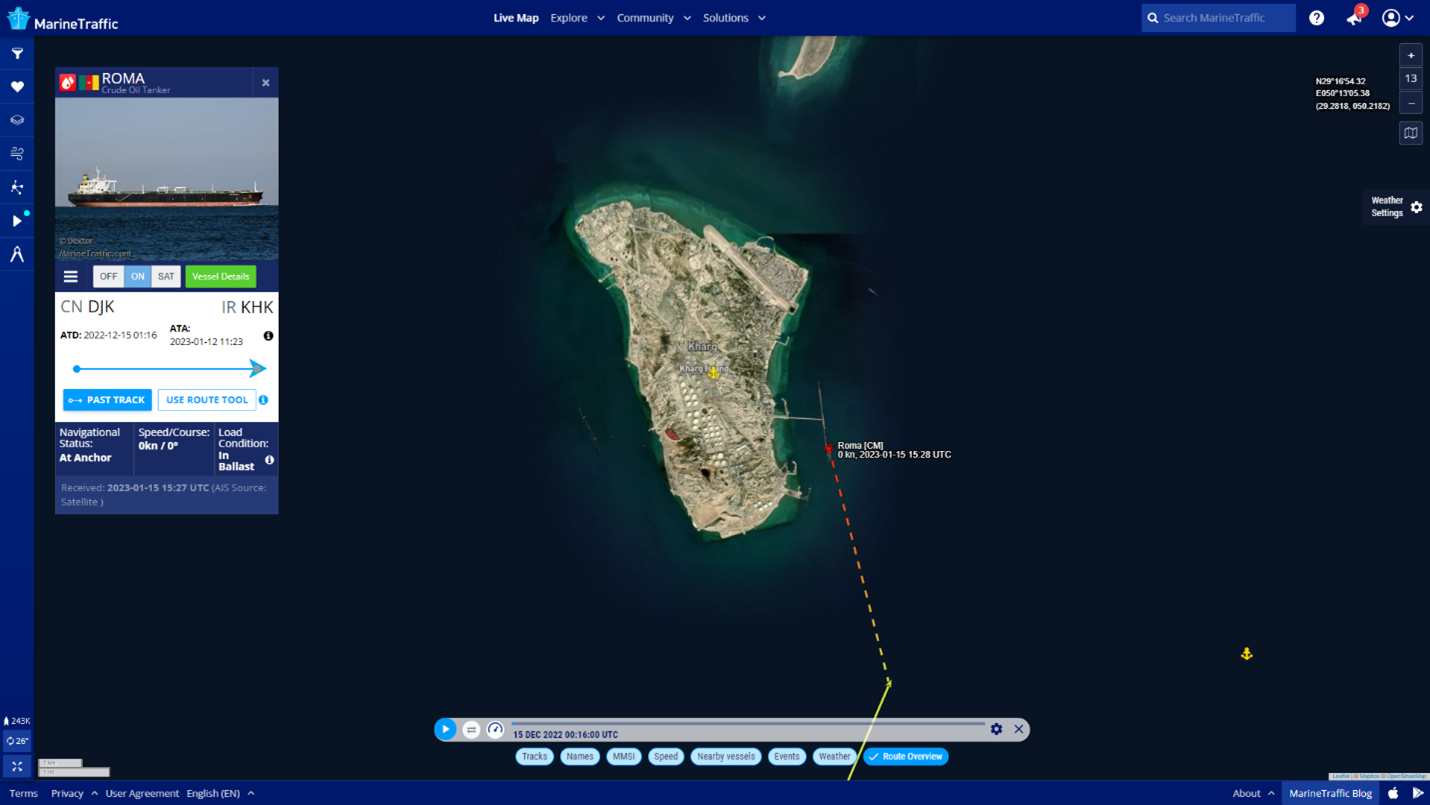 Similarly, on January 23, 2023, the Iranian crude oil tanker HUMANITY (IMO: 9180281) loaded crude oil from Kharg Island, Iran, with its AIS transponder enabled.

Last month, we also saw the Panama-flagged crude oil tanker VIRGO (IMO: 9236250) announce its destination as Kharg Island, Iran, over AIS. UANI estimated that VIRGO moved approximately 11.5 million barrels of Iranian oil in 2022 compared to 9.8 million barrels in 2021. This is the same vessel publicly cited as engaging in a ship-to-ship transfer with the Marshall Islands-flagged tanker SUEZ RAJAN (IMO: 9524475) back in February 2022. The SUEZ RAJAN is owned by the Los Angeles-based private equity firm Oaktree Capital Management and is suspected of still being laden with the Iranian oil it received back in February.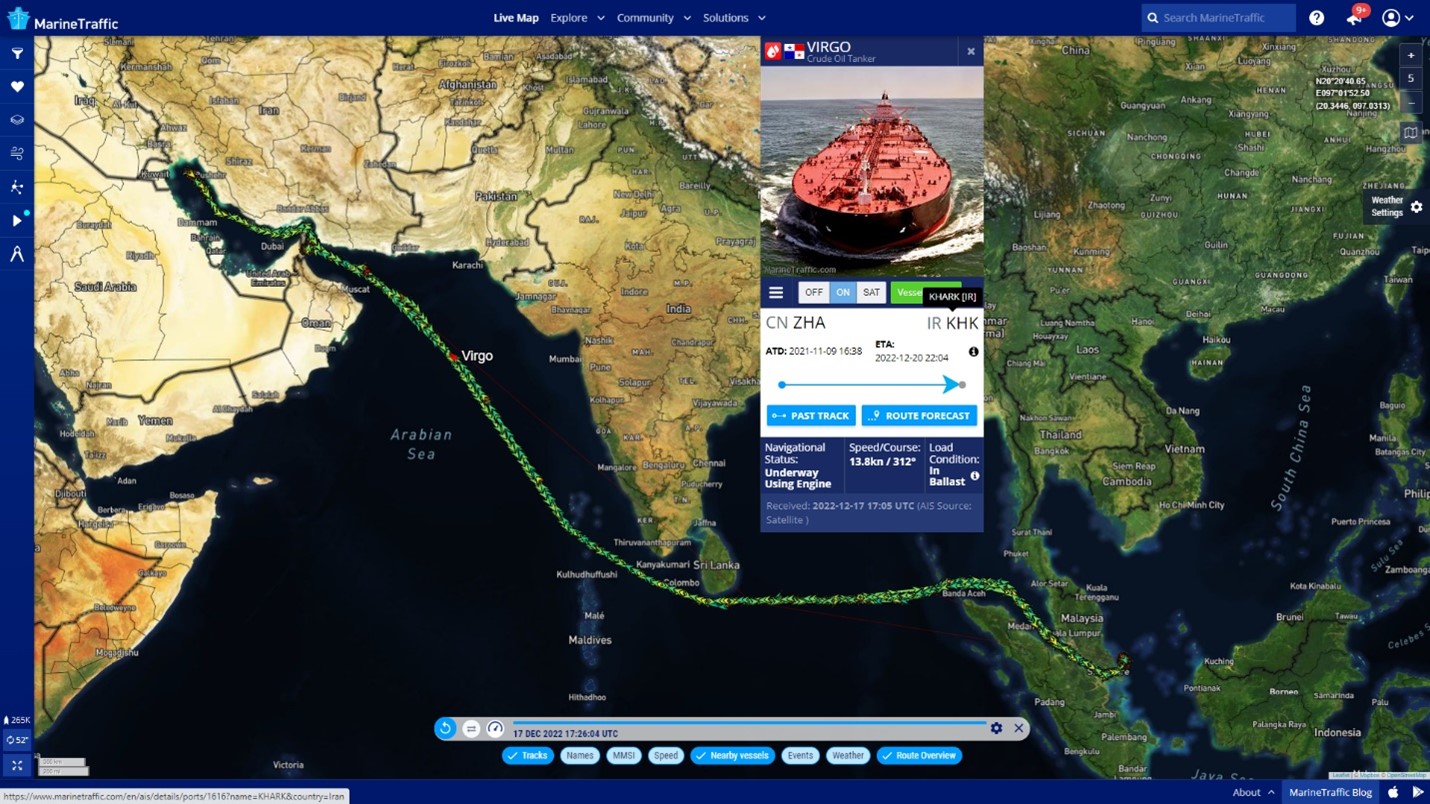 As Iran feels more emboldened to use these vessels in plain sight, the administration can have no excuse for taking corresponding action. UANI continues to call on the current administration to sanction the vessels involved in this activity as well as the respective owners and operators. Likewise, the flag-states responsible for providing registration for these vessels should revoke the registration or potentially face sanctions themselves.
Receive Iran News in Your Inbox.
Eye on Iran is a news summary from United Against Nuclear Iran (UANI), a section 501(c)(3) organization. Eye on Iran is available to subscribers on a daily basis or weekly basis.