July 2022 Iran Tanker Tracking
Earlier this month, Iran's Central Bank (CBI) reported a vast annual jump in oil revenues for the financial year ending March 2022.  Export revenues from oil, gas, and related by-products totaled $39 billion, compared to $22 billion for the previous year – a rise of 77% and an extra $17 billion. (Incidentally, the CBI's figures are remarkably consistent with UANI's own estimates based on our ship-tracking research. Taking into account the significant discount at which Iran sells its oil, from March 2021 to May 2022,[1] UANI estimates Iran's oil revenue at $37.7 billion). 
This drastic yearly increase in revenue naturally matches a corresponding surge in Iranian oil exports – a result of terminally lax sanctions-enforcement.  For July, despite certain road bumps, Tehran managed to keep exports steady around the million barrels per day (bdp) mark because of an increasing willingness to deploy its own sanctioned tanker fleet.
| | | | |
| --- | --- | --- | --- |
| Country | July 2022 - Barrels Per Day (bpd) | June 2022 - Barrels Per Day (bpd) | May 2022 - Barrels Per Day (bpd) |
| China | 764,915 | 696,986 | 630,405 |
| Syria | 120,549 | 94,447 | 58,103 |
| UAE | 38,893 | 56,001 | 62,223 |
| Venezuela | 0 | 144,467 | 20,398 |
| Unknown | 193,548 | 148,607 | 175,923 |
| Total | 1,155,170 | 1,140,508 | 947,062 |
July Saw a Marked Rise in Iran's Use of Its Own Tankers
              Notable in July was a marked increase in Iran's use of its National Iranian Tanker Company (NITC) vessels and other Iranian-flagged tankers versus non-sanctioned foreign-flagged tankers. For July, we estimate 68% of oil shipments were sent on NITC tankers compared to 42% in June and 55% in May. Similarly, Vortexa data shows an increase in NITC fleet utilization from January-June 2022 (H1). On average, NITC fleet utilization climbed to 25% in H1 2022, an increase of 6% from October-March 2021 (H2).
              There are three main reasons for the increased use of Iranian-flagged tankers: 1) Iran's rising exports to Venezuela; 2) the shift in the deployment of foreign (non-Iranian flagged) tankers from Iranian to Russian oil trading routes, and; 3) possible disruption of IRGC oil smuggling network.
1. Rising Exports to Venezuela
              On July 19, Reuters reported that "Iran is increasing supplies of a key crude grade that Venezuela is using to boost its aging refineries' productivity and free domestic oil for exports…."  Shortly after the article ran, NITC vessels HERBY and SERENA arrived at Venezuela's Jose Terminal anchorage carrying cargoes from Iran. Vietnamese-flagged tanker GRACY followed shortly after with Iranian crude on board.  The obvious implication is that Iran feels no need to hide the trade between two already heavily sanctioned countries and fellow U.S. adversaries who recently committed to an even stronger partnership. The Tehran-Caracas trade is also simplified by the fact that this is a swap agreement. PDVSA imports Iranian condensate to dilute and process its extra heavy oil for export. In return, Venezuelan crude is being shipped via the National Iranian Oil Company.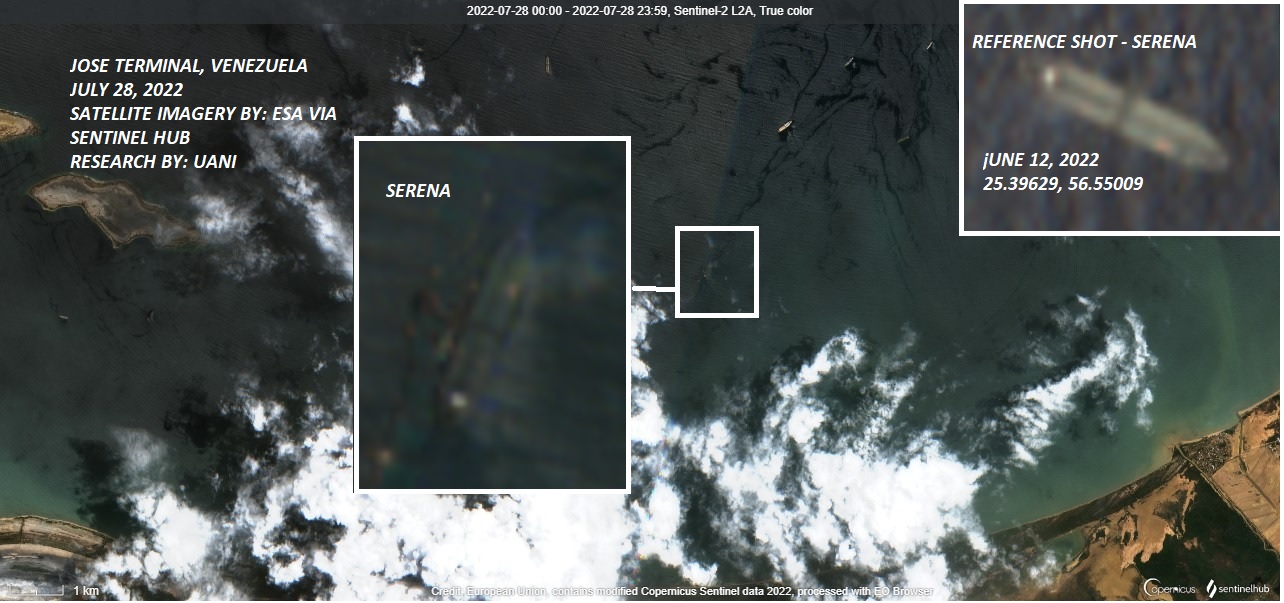 2. Switching Tankers for Russian Oil Trade
              This month Bloomberg reported, "[o]il tankers [which] previously carried Iranian oil are switching to haul Russian crude…" a trend UANI first noted back in April 2022. As of July 2022, we calculate that at least 16 tankers have switched from carrying Iranian oil to Russian and expect this number will continue to rise. They are: VERGIOS (IMO: 9187435), FEYHA N (IMO: 9513139), GOBY (IMO: 9363866), NOSTOS (IMO:9258014), CLYDE NOBLE (IMO: 9282792), HANA (IMO: 9162916), DELPHI (IMO: 9241512), AFRA CROWN (IMO: 9273052), MEROPE (IMO: 9281891), CRESTED (IMO: 9247986), AMELIA (IMO: 9308778), CERES I (IMO: 9229439), PROGRESS V (IMO: 9316701), LAUREN II (IMO: 9258521), TOMIE (IMO: 9218181) and JUDY II (IMO: 9224295).         
3. Disruption to IRGC's Oil Smuggling Network
              Two months ago, the U.S. designated an international oil smuggling and money laundering network led by Islamic Revolutionary Guard Corps-Qods Force (IRGC-QF) officials that facilitated the sale of hundreds of millions of dollars worth of Iranian oil for both the IRGC-QF and Hezbollah. It is possible that these designations have somewhat hampered Iran's oil revenue generation, forcing a change in personnel involved in the coordination of the foreign-owned tankers and necessitating greater reliance on Iran's own oil tankers.
Iranian-flagged Tankers
              Some of the Iranian-flagged tankers we saw load up this month included: LOTUS (IMO: 9203784), STARLA (IMO:9569621), DIAMOND II (IMO: 9218478), CHERAM (EX: SNOW) (IMO: 9569619), DORENA (IMO: 9569669), NIGH (EX: LIMOSTAR, LONGBOW LAKE) (IMO: 9237539),[2] DAN (IMO: 9357729), TRADEN (EX: SIRVAN SABOU) (IMO: 9105906) and HUGE (IMO: 9357183). We believe these vessels will be heading towards Venezuela, China, and Syria.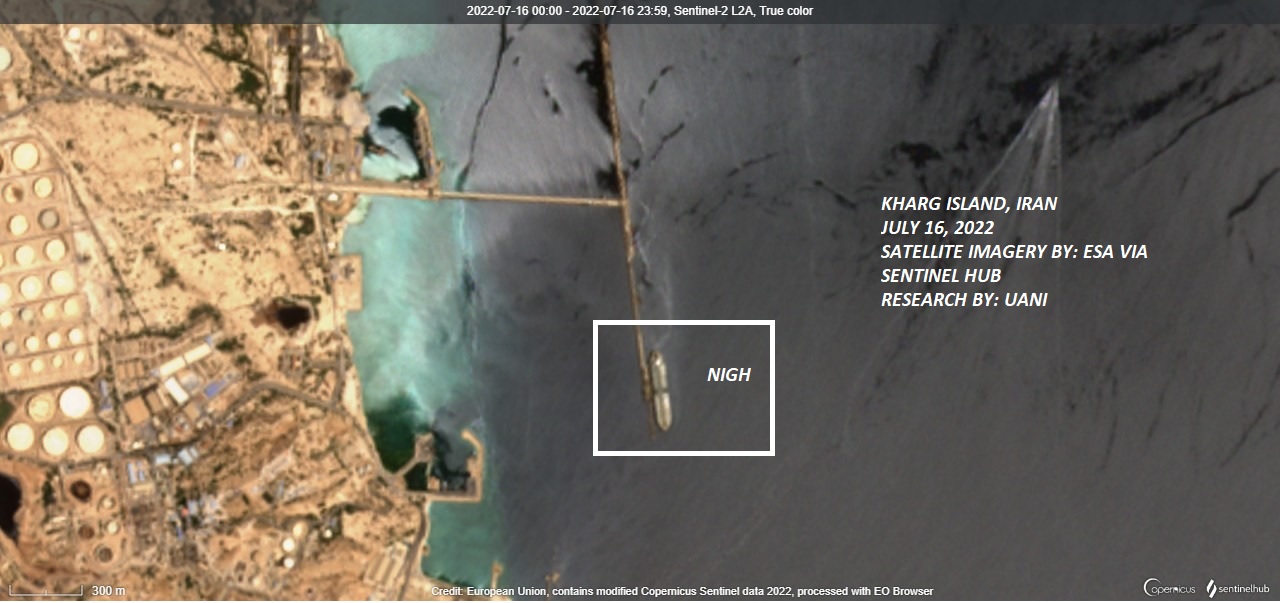 [2] Note, this vessel frequently changes flags between Iran and Tanzania in an attempt to evade sanctions.
[1] July figures were not included in this calculation as they are expected to change over the next few weeks.
Receive Iran News in Your Inbox.
Eye on Iran is a news summary from United Against Nuclear Iran (UANI), a section 501(c)(3) organization. Eye on Iran is available to subscribers on a daily basis or weekly basis.