April 2022 Iran Tanker Tracking
As Europe increasingly shuns Russian oil in response to its invasion of Ukraine, Moscow has tried to get its Chinese ally to take up the slack.  The world's third biggest oil supplier is already China's top provider, supplying 15% of total imports at 1.6 million barrels per day (bpd).
Half of that is currently supplied via major government-contracted pipelines, especially the key Transneft-operated Eastern Siberia-Pacific Ocean (ESPO) pipeline, the second-longest in the world. 
But it will be tough for Russia to increase its existing supplies to China via pipelines in the short-term. As IHS Markit notes, ESPO is already almost at capacity and also subject to contractual and "commercial limitations" while the alternative Atasu-Alashankou pipeline is likewise not a viable option given "the relatively small designed capacity."  A recent Fortune report concurs that "[t]here's little room for immediate expansion, given constraints in both pipeline capacity."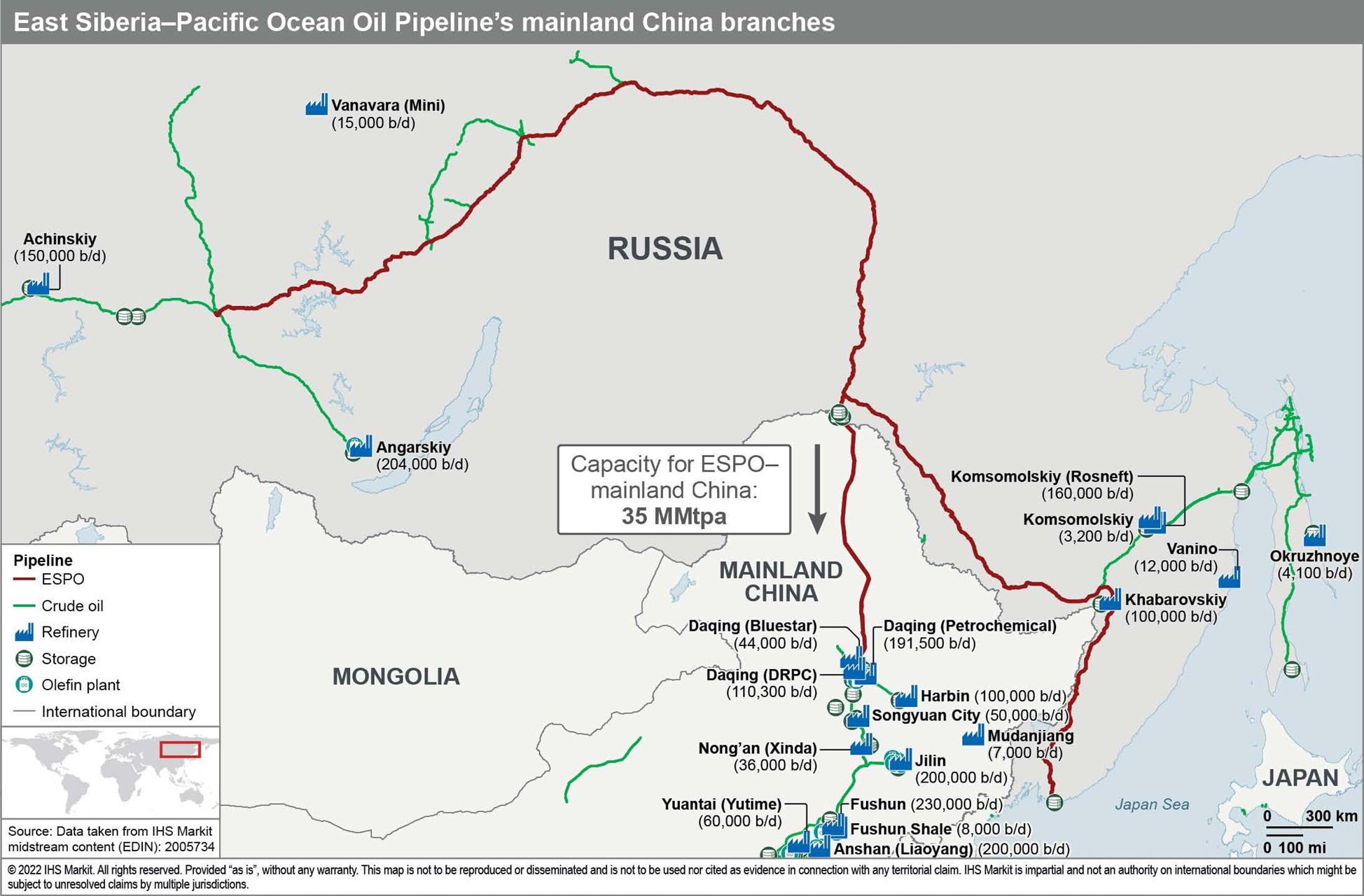 Therefore, the immediate solution for Russia is to increase its waterborne use of tankers via ports in the Baltic Sea, Black Sea, and Far East Kozmino port. Again this will require some logistical changes, but these are more easily surmountable than increasing supplies via pipeline.
While Russia typically ships oil to Europe via 600,000 barrel-capacity Aframax tankers, this is not efficient for Chinese deliveries: "[t]hose ships are not big enough to efficiently make the longer voyage" of two months as opposed to two weeks to Europe, plus the empty return voyage. A far better method, analysts propose, would be to use fewer Very Large Crude Carriers (VLCCs), which hold approximately 2 million barrels of oil. 
The problem here, however, is that Russian shipowners currently only operate two VLCCs, according to a report by Hellenic Shipping News.  And as Forbes notes, "Out of 800 existing VLCCs worldwide, there aren't any spares."
To get around this, an initial analysis carried out by UANI suggests that Russia might be turning to the "Ghost Armada" – Iran's covert fleet of VLCCs used to transport its oil – to keep the crude flowing to its Chinese partner.
As Moscow may have noted, Iran has successfully exported its sanctioned oil to China without penalty since 2019 using this readymade tanker fleet which includes around 47 VLCCs.  With increasing economic sanctions squeezing the Russian economy, leveraging any cost-savings to maximize the Russia-China oil trade is more vital than ever for President Putin.
Indeed Putin will have been impressed to see that Iran managed to export more than 1.15 million barrels of oil per day using the ghost armada last month, with close to 900,000 bpd going to his CCP allies:
| | | | |
| --- | --- | --- | --- |
| Country | April 2022 - Barrels Per Day (bpd) | March 2022 - Barrels Per Day (bpd) | February 2022 - Barrels Per Day (bpd) |
| China | 859,157 | 955,235 | 797,178 |
| Syria | 121,767 | 90,738 | 88,670 |
| UAE | 24,443 | 0 | 23,576 |
| Malaysia | 0 | 0 | 20,320 |
| Unknown | 110,000 | 293,548 | 40,000 |
| Total | 1,115,357 | 1,339,552 | 979,745 |
VERGIOS
              One prime candidate for Russia may be the vessel VERGIOS.  Back in October 2020, this Belize-flagged tanker (IMO: 9187435) became part of the Ghost Armada after the vessel was suspected of engaging in a ship-to-ship ("STS") transfer of Iranian oil south of Kharg Island, Iran. VERGIOS has continued to support Iran's sanctions evasion activities, transporting approximately 5,285,671 barrels of Iranian crude oil since October 2020. In addition, the vessel has also shipped Iranian gas oil.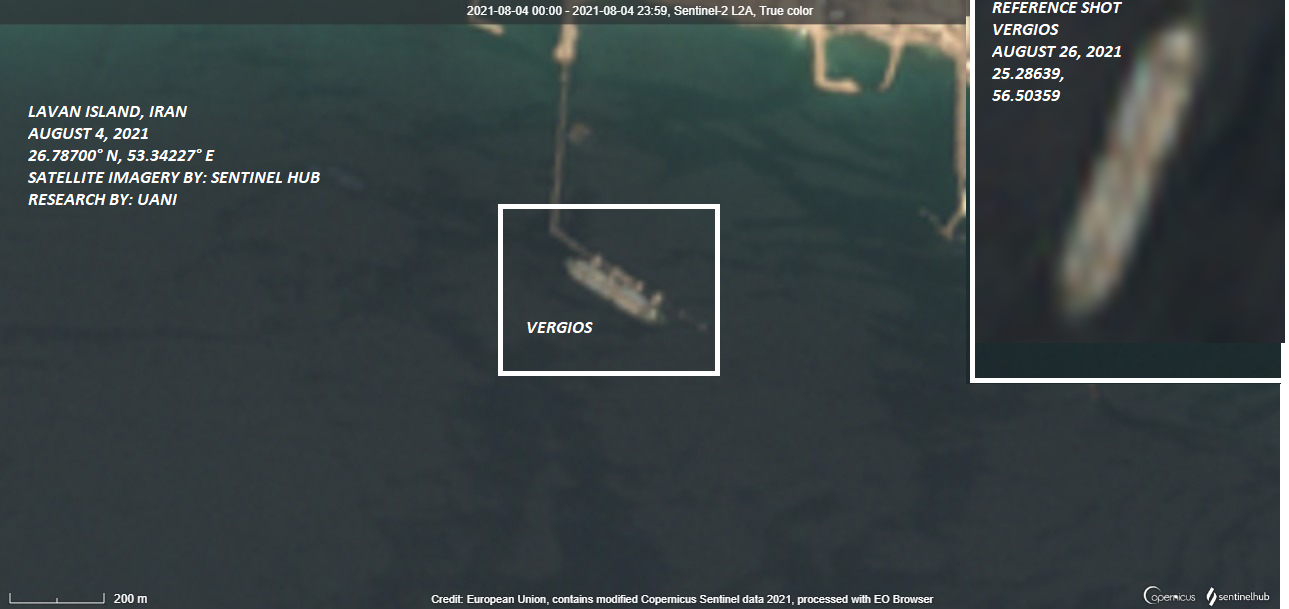 However, this month, VERGIOS deviated from its usual voyage and was spotted loading approximately 500,000 barrels of Russian crude oil, grade Urals, from Ust-Luga, situated on the Luga River near the Estonian border, between April 18-20, 2022. Since departing from Russia, VERGIOS is signaling its destination as "For Orders," which is typically used to obscure the origin of the oil and may indicate that the vessel will engage in a STS transfer, a tactic taken from Iran's playbook.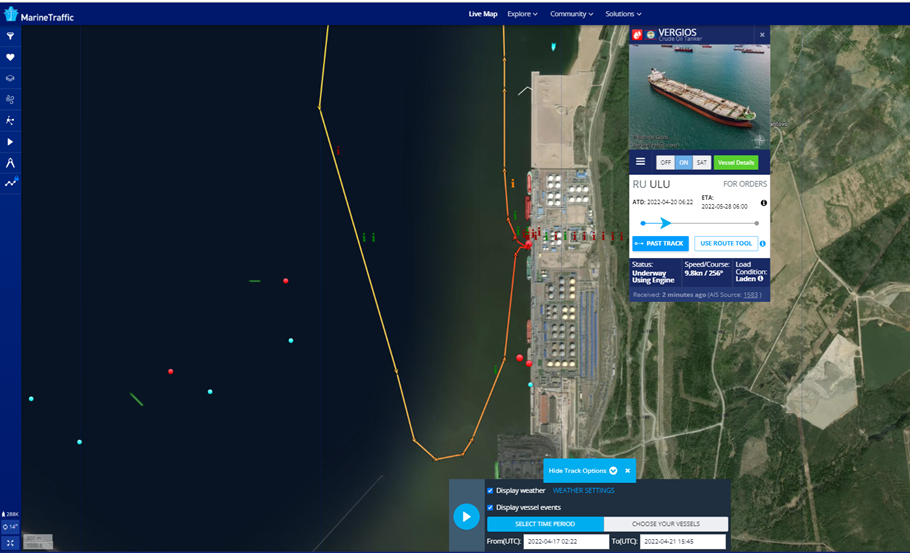 According to IHS Maritime, VERGIOS is owned and operated by the Hong Kong-based entity Ushba Shipping Inc. We cannot find any publicly advertised ties between VERGIOS ownership and Russia, which would obviously make it an attractive vessel for Russia to use. There are, however, other vessels within the Iranian Ghost Armada that have ties to Russia and should be monitored by the maritime community to avoid any potential repercussions. These vessels are listed below:
| | | | | | | |
| --- | --- | --- | --- | --- | --- | --- |
| NAME | IMO | FLAG | OWNER | OPERATOR | TECHNICAL MANAGER | RISK |
| | 9198094 | Russia | TransMorFlot LLC (Russia) | TransMorFlot LLC (Russia) | TransMorFlot LLC (Russia) | The vessel's current ownership is connected to an entity that is linked to sanctions.  |
| | 9183271 | Cameroon | Unknown | Totou Shipmanagement Inc (Marshall Islands) | AlphaBravaCharlie Shipping Ltd (Russia) | The vessel's current manager is a Russian entity. |
| | 9176761 | Panama | Unknown | Evros Management SA (Liberia) | Neftship Management LLC (Russia) | The vessels' current manager is a Russian entity.  |
| UZOR | 9224805 | Cameroon | Ceruti Navigation Co (Marshall Islands) | Nordic Technical Managers Ltd (Georgia) | Nordic Technical Managers Ltd (Georgia) | Nordic Technical Managers is formerly registered in Russia.  |
| | 9197909 | Cameroon | Gardenia Marine Ltd (Marshall Islands) | Aquarius Technical Management (Georgia) | Aquarius Technical Management (Georgia) | The vessel is classed by the Russian Maritime Register of Shipping. |
              While Russia and Iran have aligning interests in a number of areas, they are ultimately competitors in the oil market. Despite this, Russian crude exports to China have picked up strongly with an increased use of deceptive shipping tactics learned from Iran. In recent weeks we have seen a number of tankers transporting Russian crude turn their AIS transponders off, engage in STS transfers to re-brand the oil, and declare destinations as "unknown" to obscure the origin of the oil and final upload ports.  We predict that Russia will engage more tankers, particularly VLCCs, within the Ghost Armada to transport its oil as buyers also avoid vessels with clear ties to Russia.  UANI will continue to monitor Russia's oil exports as it relates to Iran.
Receive Iran News in Your Inbox.
Eye on Iran is a news summary from United Against Nuclear Iran (UANI), a section 501(c)(3) organization. Eye on Iran is available to subscribers on a daily basis or weekly basis.