February 2023 Iran Tanker Tracker
Now more than halfway through President Biden's four-year term, we are still left to wonder if the Administration will seriously address the biggest single sanction-busting scheme happening right under its nose – Iranian oil exports to China.  At the current trajectory, China will have imported 1.2 billion barrels of Iranian oil during the Biden presidency, worth in the region of $100 billion.  In fact, recent higher figures suggest the total figure will be closer to 1.3 billion come January 2025. Surely there has never been a more flagrant, long-term, and lucrative example of U.S. sanctions abuse.
It must be granted that the United States is plowing its own lonely furrow on this issue. Notwithstanding the Administration's repeated line that "our Allies and partners" are back on-side, Washington has had zero support on this from the E-3 countries. Neither Britain, France, nor Germany have shown the slightest hint they are willing to take that crucial step of 'snapping-back' oil sanctions, as senior officials, as well as the European Union's foreign affairs chief, continue to hope for a return to the JCPOA.
Likewise, the U.S. has received little help from another "ally and partner" closer to home. The Panama Maritime Authority (AMP), the world's largest flag registrar, continues to facilitate the trade by flagging more than 40% of the foreign-owned "ghost fleet" tankers that are carrying Iran's U.S.-banned oil. This is despite a great deal of recent public scrutiny, including from UANI board member, Jeb Bush (more on this below).
| | | | |
| --- | --- | --- | --- |
| Country of Destination | February 2023 - Barrels Per Day (bpd)* | January 2023 - Barrels Per Day (bpd)* | December 2022 - Barrels Per Day (bpd)* |
| China | 915,466 | 981,112 | 1,286,724 |
| Syria | 85,423 | 71,787 | 97,809 |
| UAE | 0 | 33,978 | 0 |
| Venezuela | 0 | 142,742 | 27,263 |
| Unknown | 152,493 | 64,516 | 0 |
| Total | 1,153,381 | 1,294,435 | 1,411,796 |
* Figures to be updated over the following weeks
Panama Provides Iran with Lifeline
On January 16, 2023, former Governor Jeb Bush wrote an op-ed in the Washington Post, "How the U.S. can stop Panama from helping Iran avoid oil sanctions." He wrote, "Without Panama's support, the Iranian regime would face significant hurdles in smuggling its oil and gas around the world." Panama issued a response the following day, rejecting that it helps Iran avoid sanctions. UANI's response to Panama can be found here.
Despite the denial from Panama, it continues to blatantly provide services to vessels tied to the Iranian regime or transporting Iranian oil. For example, on December 8, 2022, the U.S. Department of Treasury designated the vessel QUEEN LUCA (IMO: 9102198) for being part of a sanction's evasions network "led by businessman Sitki Ayan that has facilitated the sale of hundreds of millions of dollars' worth of oil for Iran's Islamic Revolutionary Gard Corps-Qods Force (IRGC-QF)." Despite this, QUEEN LUCA remains flagged by the Panama Maritime Authority.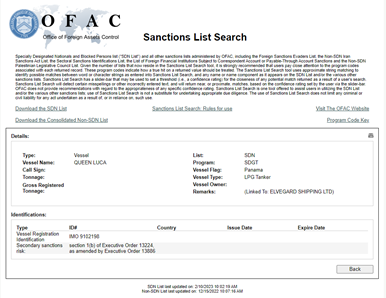 Similarly, on November 3, 2022, the U.S. Department of the Treasury designated the vessels ADISA (IMO: 9304667), NOLAN (IMO: 9179701), and ZEPHYR I (IMO: 9255880), which were involved in blending oil to conceal the Iranian origins of the shipments and exporting it around the world in support of Hizballah and the IRGC-QF. Despite this, all three vessels remain flagged by Panama.
Additionally, this month, four new Panama-flagged vessels joined the Ghost Armada and two vessels previously de-flagged by other flag states for involvement in Iran changed to the Panama flag. As UANI noted in its January 19, 2023 blog, Panama is a member of the Registry Information Sharing Compact ("RISC"). As a member, the parties agree that when a Flag Registry cancels or initiates a sanctions process, or cancels, or denies the registration of a vessel due to sanctionable activity, the registry will notify the other members of the details of that vessel and provide a description of the sanctionable activity. Therefore, Panama should not be re-flagging these vessels after being de-flagged by other RISC members.
The Liberian International Shipping Registry ("LISCR") recently withdrew the registration for the vessel REMY (formerly known as EASTERN PRIDE) (IMO: 9247431) due to its involvement in sanctionable activity. We thank and applaud LISCR for its action on this vessel. Furthermore, as a member of RISC, this information was provided to Panama. Despite this, the vessel has since changed flags to Panama, and since being flagged by Panama it has continued to engage in this trade. On February 21, 2023, REMY was suspected of being engaged in a ship-to-ship transfer of Iranian crude oil with the sanctioned Iranian tanker SONIA I (IMO: 9357365).
On February 18, 2023, REMY turned its AIS transponder off and did not turn it back on again until February 24, 2023. This aligns with the dates that the suspected STS transfer occurred. The disablement of the AIS transponder should have been enough concern for Panama to take action on this vessel.
UANI continues to call out Panama for this activity as the "Ghost Armada" fleet grows larger and larger each month. Panama is the largest ship registry in the world, they should have the resources to do their due diligence to stop this activity but instead, they continue to enable it.
Receive Iran News in Your Inbox.
Eye on Iran is a news summary from United Against Nuclear Iran (UANI), a section 501(c)(3) organization. Eye on Iran is available to subscribers on a daily basis or weekly basis.