UANI Response to Panama Maritime Authority Statement
Since August 2020 and via over almost 50 letters, United Against Nuclear Iran ("UANI") has informed the Panama Maritime Authority ("AMP") that  140 of its flagged vessels were suspected of being involved in the transport of Iranian oil. UANI relayed  substantive and meticulously researched evidence to AMP, including but not limited to the following:
Satellite imagery
Bills of lading
News publications on the vessels' activity
Cancellation certificates from other flag registries, classification societies and/or P&I clubs
Evidence of the vessel manipulating or disablement of AIS transponder
On January 16, 2023, UANI Advisory Board Member Governor Jeb Bush published an op-ed in the Washington Post titled How the U.S. can stop Panama from helping Iran avoid oil sanctions in which the Governor concluded that Panama has been "instrumental in the regime's continued survival." AMP issued a statement in response on January 17. AMP's statement fails to adequately and directly address the concerns expressed by UANI and also contains numerous inaccuracies. For example:  
1. AMP states, "678 Panamanian-flagged ships of owners of different nationalities have been canceled…These cancellations developed as followed: 120 for 2019, 86 for 2020, 237 for 2021, and 235 for 2022."  However, as should be self-evident, UANI is concerned with Iranian vessels. AMP does not specify how many of these cancellations were related to the violation of sanctions relating to Iran. The cancellations noted by AMP could have been for any number of non-Iran-related reasons. We call on AMP to clarify how may specific cancellations were related to Iran.
2. AMP states that the registry canceled 136 ships in which their direct link with the National Iranian Oil Company ("NIOC") was proven. AMP's response is misleading.  U.S. sanctions are by no means limited only to links to NIOC. As the U.S. Department of the Treasury notes, entities "who knowingly engage in significant transactions for the purchase, acquisition, sale, transport or marketing of petroleum or petroleum products from Iran – or knowingly provide significant support to an Iranian person on OFAC's List of Specially Designated Nationals and Blocked Persons (SDN List), such as the National Iranian Oil Company (NIOC), the National Iranian Tanker Company (NITC), and the Islamic Republic of Iran Shipping Lines (IRISL) – are at serious risk of being targeted by the United States for sanctions, regardless of the location or nationality of those engaging in such activities." Given this, UANI questions why AMP continues to flag vessels tied to the aforementioned entites.
3. For example, UANI can confirm that it has provided AMP with evidence of vessels tied to NIOC, NITC, or a different sanctioned Iranian entity through a bill of lading stamped by NIOC on at least ten different occasions. These vessels remain flagged by AMP. For example, on August 31, 2022, UANI provided AMP with a National Iranian Oil Company document below for the Panama-flagged vessel KARMA (IMO: 9213301).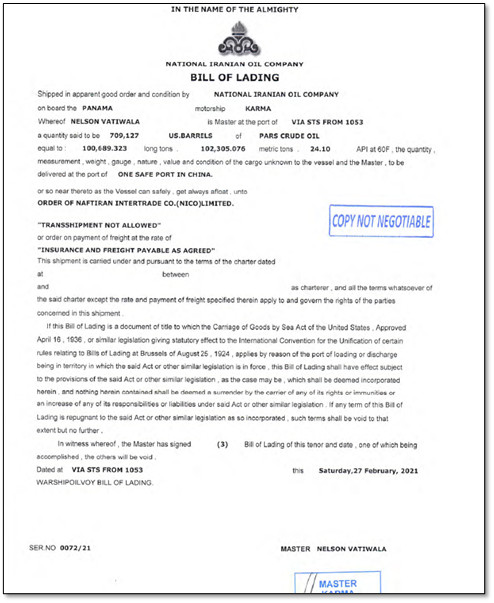 4. AMP also notes that it is a member of the Registry Information Sharing Compact ("RISC"). As a member, the parties agree that when a Flag Registry cancels or initiates a sanctions process, or cancels, or denies the registration of a vessel due to sanctionable activity, the such registry will notify the other members of the details of that vessel and provide a description of the sanctionable activity. UANI is aware of at least 14 occurrences where AMP took on the registration for a vessel that lost its flag as a result of sanctionable activity. For example, in 2021, Liberia withdrew the flag for the vessel BERENICE PRIDE (IMO: 9216559) for its involvement in Iran. This vessel is now flagged by AMP and continues to be suspected of transporting Iranian oil.
5. AMP also states that it sanctions all vessels in the Panama Registry that deliberately deactivate the Long-Range Vessel Identification and Tracking System (LRIT) and/or the Automatic Identification System (AIS) equipment. However, UANI has informed AMP of at least 35 instances of a Panama-flagged vessel disabling its AIS transponder, yet many of the vessels remain flagged by AMP. In addition, UANI has informed AMP of at least 56 different instances of AIS manipulation. For example, in UANI's report, Oceans of Deceit: Iran's Deceptive Shipping Practices and Exploitation of the Maritime Industry, UANI illustrates how the Panama-flagged crude oil tanker AMAK spoofed its location by using the MMSI number of another vessel. This report was provided to AMP. AMAK, as well as numerous other vessels that have manipulated their AIS transponders, remain flagged by AMP.
6. Finally, there are at least four vessels currently sanctioned by the U.S. Department of Treasury for involvement in Iran that remain flagged by AMP. If AMP has "fully complied at all times with the obligations and procedures as a flag state…" and "have always initiated the investigation of the facts as soon as we received the information…" then why does 39% of the "Ghost Armada" continue to be flagged by AMP? We continue to strongly believe that AMP needs to enhance its due diligence measures and be more proactive in deflagging vessels involved in this activity.
Receive Iran News in Your Inbox.
Eye on Iran is a news summary from United Against Nuclear Iran (UANI), a section 501(c)(3) organization. Eye on Iran is available to subscribers on a daily basis or weekly basis.