Iran's Supreme Leader Speaks on Quds Day
Iran's Supreme Leader Speaks on Quds Day
April 29, 2022
Iran
Iran's Supreme Leader Speaks on Quds Day 
Today, Supreme Leader Ayatollah Ali Khamenei delivered remarks for Quds Day, which takes place on the last Friday of Ramadan and is an annual day of protest organized by the Iranian government against Israel. Khamenei made some notable points, saying "in the political arena today…the United States of America…has suffered consecutive defeats. It has been defeated in the war in Afghanistan, defeated in its maximum pressure policy against the Islamic Republic of Iran, defeated in the face of Asian powers, defeated in trying to control the economy of the world, and defeated in the internal management of its own country and managing the phenomenon of the deep rift that has come about in the U.S. establishment." UANI's Policy Director Jason Brodsky said, "these comments reveal the Iranian system's confidence in the context of the negotiations to revive the nuclear deal." "They explain why the supreme leader has dragged out these talks for such a long period of time because in his mind, Washington has been weakened and it is possible for Tehran to emerge with its own stronger deal in the negotiations," he added. 
Khamenei also proclaimed that the "Islamic Republic of Iran advocates and supports the camp of Resistance. It advocates and supports the Palestinian Resistance. We have always said this, we have always acted on this, and we have stood by it. We condemn the policy of a normalization in relations." Other Quds Day speakers in Iran included the Commander-in-Chief of the Islamic Revolutionary Guard Corps (IRGC) Hossein Salami who threatened Israel that "our responses are painful. You create conditions for your own destruction. We will not leave you alone…You know better than me what will befall you if you take evil action." Separately, the Commander of the IRGC's Quds Force Esmail Ghaani delivered a speech in Mashhad saying "we support any front that is formed against this criminal regime, and we will support any community that is ready to fight this criminal regime."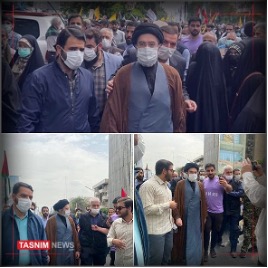 Mojtaba Khamenei, son of Iran's supreme leader, at Quds Day parade 2022           
In addition to the speeches, some notable attendees in this year's Quds Day parades in Iran were the supreme leader's sons Mojtaba and Meysam Khamenei, the head of the IRGC's Intelligence Organization Hossein Taeb, President Ebrahim Raisi, Speaker of Parliament Mohammad Bagher Ghalibaf, Chief Justice Gholamhossein Mohseni-Ejei, and other members of the Iranian establishment. Taeb was quoted in Quds Day remarks as boasting that "we have created power for offensive intelligence against the Zionist network…they must know that no actions against Islamic Republic's security would remain unanswered."
This week, Iran's flagship Kayhan newspaper ran an anti-Semitic guest editorial openly praising Nazi leader Adolf Hitler. It said, "with expelling these people from Germany, Hitler showed he is smarter than all the current leaders of Europe and he is braver in expressing himself. Hitler threw them out, and now the European countries have to pay for it, while confirming the myth of the Holocaust to find an excuse for their own cowardice and misery." UANI's Policy Director Jason Brodsky noted "Kayhan's managing director Hossein Shariatmadari is an appointee of Iran's supreme leader. This revolting commentary demonstrates the anti-Semitism that the Iranian system nurtures. Iranian officials routinely trumpet Holocaust denial and associated conspiracy theories. But this week's editorial—with overt praise of Hitler—is one of the most forward-leaning expressions of anti-Semitism the Iranian regime has ever showcased," Brodsky added. 
On Quds Day, Iranian media announced the death of Nader Talebzadeh. The U.S. government sanctioned him in 2019 over his role as chairman of the New Horizons Organization, which has hosted international conferences serving as a platform for the IRGC's Quds Force to recruit and collect intelligence from attendees.
Lebanon 
Nasrallah During Quds Day Speech: Iran Will Directly Strike Israel if Latter Continues Attacks on Iranian Presence in the Region 
Hezbollah Secretary-General Hassan Nasrallah gave a speech on Quds Day this week. Most of Nasrallah's Quds Day speech consisted of repetition of his constant recent talking points, namely that the Iran-led Resistance Axis is in a position of ever-growing strength, while its adversaries – including the Israelis – are on an inevitable downward course. He also seemed to call for a resumption of suicide bombings against Israelis to bring about the liberation of Palestine. "Israel is a deviant, artificial state, that is not real. Therefore, it can't continue to exist without security, and this is a point of weakness. The liberation of Palestine may not need great armies. It may need only mujahidin and those willing to be martyred [lit. istishhadiyeen, which can also mean suicide bombers] to deprive the Zionists of their security, so they will pack their bags and leave," Nasrallah said.
As has become Nasrallah's habit, the Hezbollah chieftain's speech also included several dramatic pronouncements, including that Iran had informed the Arab countries that had normalized with Israel that any attack by the Jewish state against the Islamic Republic emanating from their territories would be met with a response against those countries. He also claimed that Iran now possessed the military and battlefield capabilities to strike Israel directly if the latter continued its "aggression" against Iranian presence/entities in the region.
"Threats like this shouldn't be taken at face value," said David Daoud, director of UANI's Lebanon, Israel, and Syria research. "They're intended to have a dual-pronged psychological warfare value: one meant to make headlines in Israel, and thus – in Nasrallah's imagination – negatively impact Israeli morale; and the other is for domestic consumption, for Hezbollah's base, meant to give texture to the claims that the strength, capabilities, and fortunes of the Resistance Axis are on the rise," he added. 
Israel and Palestinian Territories
 Rockets Fired from Lebanon into Israel
The Israel Defense Forces (IDF) said early Monday that it attacked targets in Lebanon after a rocket was fired into Israel earlier in the night. "IDF artillery is now attacking targets in Lebanon and firing at the launch area in retaliation for the rocket fired into Israeli territory," the IDF said in an initial statement. Later it said it struck the launch area with dozens of artillery shells, as well as "an infrastructure target," without elaborating further. The rocket that was fired into Israel from Lebanon landed in an open area near Kibbutz Matzuva, close to the border, without causing damage or injuries. 
"The likeliest culprits behind the strike were Palestinian factions operating in south Lebanon. A pattern has emerged after the Second Lebanon War, whereby Palestinian factions fire rockets into Israel usually to coincide with tensions in Jerusalem over holy sites or in the West Bank between Palestinians and Israeli security forces," said David Daoud, director of UANI's Lebanon, Israel, and Syria research. "Likely, these rockets are fired with Hezbollah's tacit approval, on the condition that they do not precipitate an escalation with Israel," he added. 
Cyberattack on Israeli Radio Stations 
Pro-Iran hackers on Thursday hacked into the livestreams on the websites of Israeli radio stations in the lead-up to Quds Day. The sites included 100FM, 102.5FM, 91FM, Radio Sol, and Hidabroot. 
Iraq
Iran and Saudi Arabia Resume Talks in Iraq
Iraq hosted renewed talks between Iran and Saudi Arabia on de-escalation that had been on hiatus for months. Nour News, which is linked to Iran's Supreme National Security Council (SNSC), hailed the positive atmosphere in which the talks were taking place, and mentioned the prospect of "steps on the path of resumption of ties" between Riyadh and Tehran, as well as a joint meeting between foreign ministers. Representatives included Khalid bin Ali Al Humaidan from Saudi Arabia's intelligence service and Saeed Iravani, the deputy secretary of Iran's SNSC. Iraq's foreign minister later suggested the two sides had also agreed on a 10-point memorandum of understanding.
"These talks took place in an atmosphere that was different from previous rounds between Iran and Saudi Arabia because of the ceasefire in Yemen," observed UANI's Policy Director Jason Brodsky. "However, the Iraqi and Iranian readouts are generally more optimistic, while Saudi Arabia takes a more circumspect and skeptical view of the engagements, so it is still too early to judge," he added. Brodsky further cautioned that "Iran has been seeking gestures from the Saudis—for example the reopening of embassies—in lieu of offering tangible concessions as it relates to the IRGC's posture in the region." 
Iran's Supreme Leader's Chief of Staff Travels to Iraq
Mohammad Mohammadi Golpayegani, the head of the Office of Iran's Supreme Leader, made a trip to Iraq this week. Details of his itinerary are unknown, but they first surfaced on social media, with Hawzah News later publishing a video of his visiting the tomb of the late Ayatollah Lotfollah Safi Golpaygani in Karbala.
Report: Turkish Drones Target Iran-backed Militias in Iraq 
Reports surfaced this week that Turkish drones in Iraqi may have targeted Iran-backed militias in Iraq near Bashiqa, northeast of Mosul, following a rocket attack on a Turkish base in northern Iraq. According to the report in Al-Ain, which The Jerusalem Post translated, two vehicles were hit and there were casualties.
Syria 
Israel Conducts Airstrike in Syria
Four Syrian soldiers were killed on Wednesday in an Israeli missile attack on positions near Damascus, Syria's defense ministry said, while the Syrian Observatory for Human Rights reported a higher death toll of five Syrian troops and four soldiers of other nationalities. The war monitor said Israel struck an arms depot and four other positions outside Damascus. Syria's state news agency said the missiles were launched from the town of Tiberias in northeastern Israel, and most were shot down by Syrian air defenses.
###