(New York, N.Y.) – Research by United Against Nuclear Iran (UANI) has found that the Swiss-based laboratory instrumentation and automation supplier Endress+Hauser features prominently as an approved vendor on multiple Iranian company websites. These Iranian companies have known ties to sanction-designated and state-owned entities or subsidiaries thereof, including entities linked to the Islamic Revolutionary Guards Corps (IRGC), a U.S.-designated Foreign Terrorist Organization (FTOs).
Endress+Hauser specifically appears on the "VList" website which purports to offer users an "approved vendor list enquiry system/petroleum and energy vendor source search engine of I.R. Iran." Additionally, the company also appears as an approved vendor for the National Petrochemical Company, which is subject to secondary sanctions as a subsidiary of the Iranian Ministry of Petroleum; the National Iranian Oil Engineering and Construction Company, also subject to secondary sanctions and linked to the Ministry of Petroleum; and Pars Oil and Gas Co. as part of the sanctioned National Iranian Oil Company – an affiliate of the IRGC.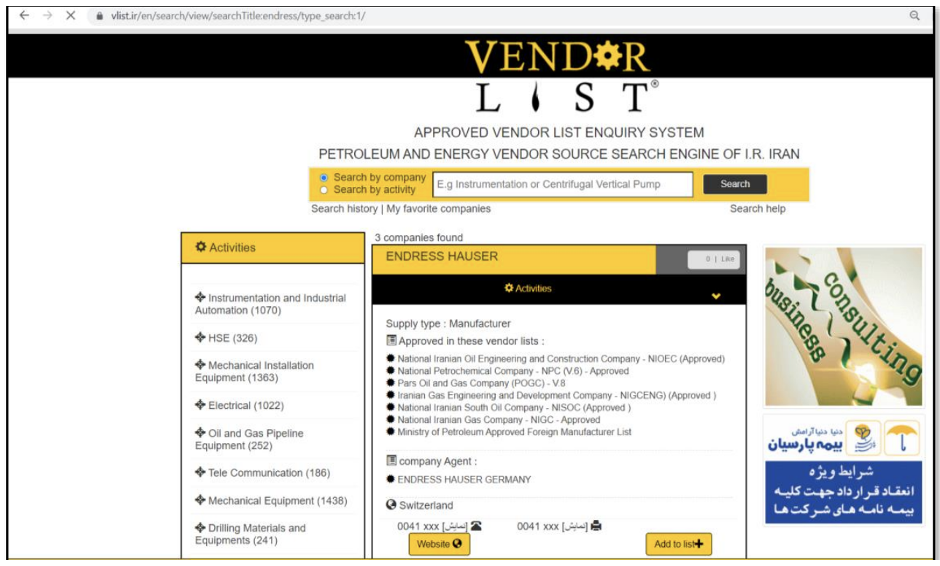 Endress+Hauser's listing on Iran's vendor website, VList
Despite the severity of these claims, the company has refused to rebut the charges or clarify its business relationship with Iran, thereby putting at risk the rest of its operations, including its business interests in the United States. Endress+Hauser maintains manufacturing space in Indiana, California, and Michigan and employs more than 1,000 workers in the U.S.
"It is concerning that a company with more than a half-century of operations in the U.S. market would flippantly disregard the serious legal, financial, and reputational harms that it is absorbing by virtue of its failure to deny connections with the Islamic Republic or by engaging with sanctioned companies in the Iranian market," said UANI Research Director Daniel Roth. 
UANI has catalogued numerous examples of advertised ties between Endress+Hauser and the Islamic Republic and has written to corporate leadership no less than eight times since 2018. UANI found that a company subsidiary participated in the 22nd International Oil Show, the regime's premier energy fair, and that Endress+Hauser has commercial ties with Iranian companies that engage with U.S.-designated FTOs and U.S.-sanctioned entities or subsidiaries thereof. Nevertheless, and despite the severity of the charges, Endress+Hauser has been silent. "U.S. authorities should investigate Endress+Hauser's ties with sanctioned entities and hold the company fully accountable if sanctions violations have occurred," Roth continued.  
###