(New York, N.Y.) – Despite its U.S. business interests and the threat of secondary sanctions, German electrical infrastructure firm OBO Bettermann appears to be engaged in the Islamic Republic. The family-run company has thousands of employees, operates in more than 60 countries and has 40 subsidiaries. One of these, Omid Bonyan Civil Engineering Technical Company, maintains an oboiran.com website dedicated to OBO Bettermann's interests in the Iranian market and acts as its official representative. Further, the company maintains an OBO Bettermann-Iran YouTube channel, an OBO Head Office Tehran LinkedIn page, and an OBO Iran products catalog. 
The United States Department of the Treasury sanctioned Iran's construction sector on January 10, 2020 under Executive Order (E.O. 13902). The Iranian construction industry is dominated in large part by the Islamic Revolutionary Guards Corps (IRGC), a U.S.-designated Foreign Terrorist Organization, and its state actors.  Nevertheless, when questioned by United Against Nuclear Iran (UANI) about the company's ties to and operations within Iran, company officials have declined to respond.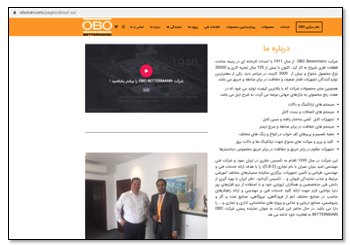 OBO Bettermann's Persian-language website
"OBO Bettermann's refusal to address the evidence that it is enriching the world's largest state-sponsor of terrorism puts at significant risk its other assets, such as its cable tray and cable management systems business in the United States and the reputations of its U.S. subsidiary's two dozen privately owned firms serving as its sales representatives. It is time for the company to come clean and for U.S. firms connected to OBO Bettermann through its Chalfant subsidiary to demand public accountability," said UANI Research Director Daniel Roth.
Compounding matters, OBO Bettermann is also listed as a "brand" on the Iran-based Sepahan Electric's website. As a direct result of its possible business dealings and association with Sepahan Electric, OBO Bettermann's goods and services are highly likely to be falling into the hands of the IRGC.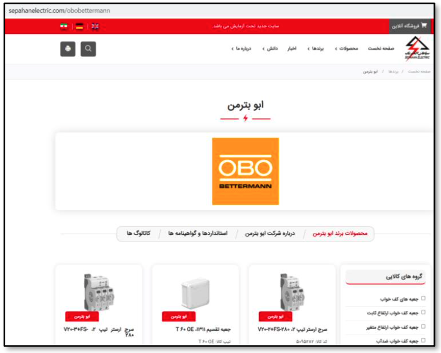 The Sepahan Electric website advertises a wide range of OBO Bettermann products for sale
Sepahan Electric supplies customers in the telecommunications, electronics, electrical, oil, gas and energy sectors that have been sanctioned by the United States for their links to the IRGC, including MAPNA Group, which has been repeatedly denied export licenses by the British government; Iran Electronics Industries, currently subject to U.S. secondary sanctions; Behran Oil, sanctioned for providing "goods and services to the IRGC"; and Pars Oil and Gas Company, a part of the sanctioned National Iranian Oil Company (NIOC). 
Roth concluded, "When it comes to providing material or financial support to a U.S.-designated Foreign Terrorist Organization, there is no difference between supplying it directly or providing it as a secondary source. Both are unacceptable and equally assist the IRGC in its global terrorist activities. The only way to ensure material and monetary support does not fall into the hands of terrorists is for OBO Bettermann to clarify what its Iran operations are immediately and ensure the severance of any and all ties to Iran."
###