Germany, Iran's Largest European Trading Partner, Should Immediately Close Iranian State-Owned Banks
November 3, 2022
(New York, N.Y.) — Earlier today, the U.S. Department of State told reporters that Secretary Antony Blinken and his German counterpart, Foreign Minister Annalena Baerbock, "discussed Iran's support of Russia's aggression and joint efforts to hold the regime accountable for their violent crackdown on the brave people of Iran demanding basic human rights." To do so, the German government should prioritize a conclusion of the review of Germany's ties to Iran "in the area of trade and finance, including with regard to business relations that still exist with Iranian banks," as Foreign Minister Baerbock disclosed on October 26, and bar Iranian banks from the German market.
As United Against Nuclear Iran (UANI) documented in April 2020, Iranian banks have a strong presence throughout Germany where German firms can obtain Letters of Credit, bank guarantees, insurance, and all other trade finance products needed to do business in the Islamic Republic. These banks include but are not limited to: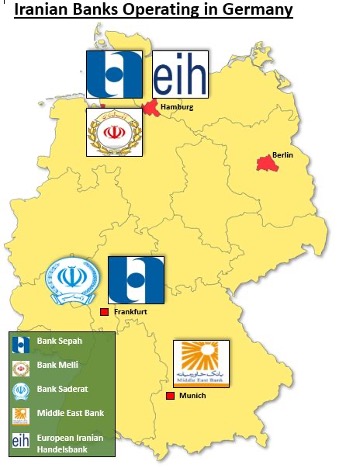 Bank Melli
Iran's national bank and wholly owned by the Government of Iran, it is under U.S. sanctions for enabling the Islamic Revolutionary Guard Corps (IRGC) and its affiliates
Bank Sepah
A state-owned Iranian bank tied to Iran's Ministry of Defense, it has provided "direct and extensive financial services" to Iran's key ballistic missiles procurement and development agencies
Bank Saderat
A state-owned bank with offices in Frankfurt, it has helped the Iranian regime support Hamas, Hezbollah, Palestinian Islamic Jihad (PIJ), and the Popular Front for the Liberation of Palestine (PFLP)
In addition, UANI has recommended and called upon Germany to suspend trade relations with Iran, withdraw its ambassador from Tehran and reduce the regime's diplomatic presence in Germany, end its participation in negotiations to revive the Joint Comprehensive Plan of Action (JCPOA), and close the Islamic Center of Hamburg, which German intelligence agencies believe is directly controlled by the Iranian regime and led by Supreme Leader Ayatollah Ali Khamenei's deputy in Europe.  
###
Receive Iran News in Your Inbox.
Eye on Iran is a news summary from United Against Nuclear Iran (UANI), a section 501(c)(3) organization. Eye on Iran is available to subscribers on a daily basis or weekly basis.