As the Islamic Republic continues to intensify its brutal crackdown, there is more the international community can do to support the protesters. For a list of suggestions, see UANI's resource "What Governments Should Do Now to Hold Iran Accountable."
Regime suppression forces have begun inflicting eye injuries in their efforts to quell the revolutionary movement.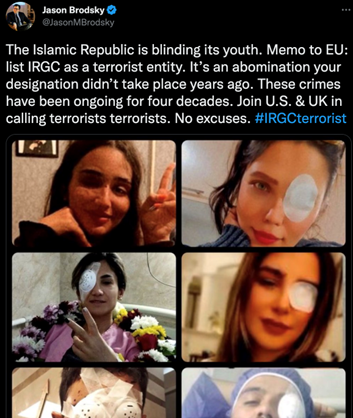 A solidarity rally for Iran will take place outside of the European Parliament building in Strasbourg, France on January 16th.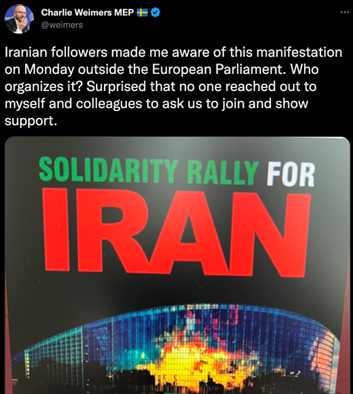 This animation created by Maz Jobrani points out that the current revolutionary movement in Iran is not opposed to any religion: "the people of Iran want a free and democratic Iran where Muslims, Christians, Baha'is and Jews…can coexist together in a free country."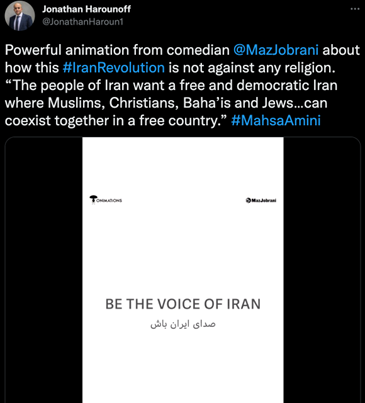 Mohammad Ghobadloo is again at imminent risk of execution by Iran's brutal regime. Major TV networks should cover his case as it at times has saved lives, and governments should be warning of severe consequences.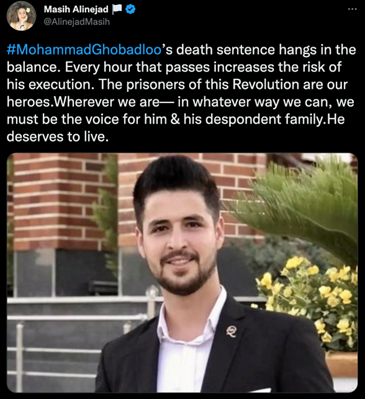 The first famous actress in Iran to applaud the current revolutionary movement, Katayoun Riahi, was taken out of her sham court session yesterday in an ambulance, reportedly after being pressured to make a false "confession" on tape.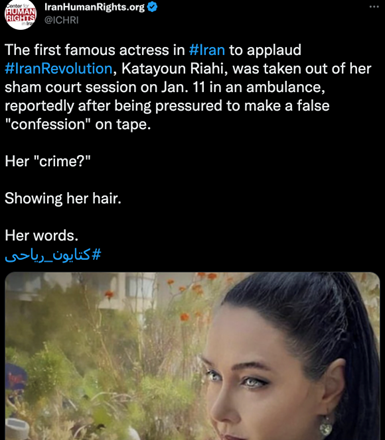 Atefe Shamasi was released after 36 days in detention. She was greeted outside the prison, still refusing to wear a hijab or show any fear.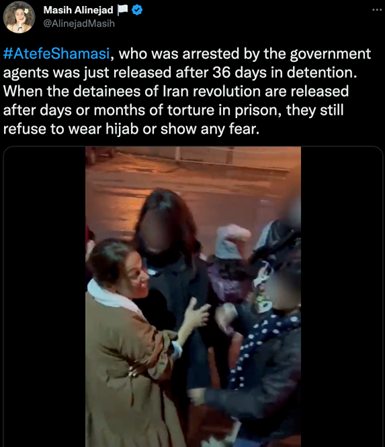 In a new interview with DW News, Reza Pahlavi calls for maximum pressure on Iran's regime and maximum support for the Iranian people.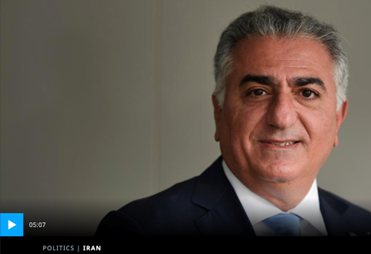 Over 100 members of the European Parliament signed a letter addressed to High Representative of the European Union for Foreign Affairs and Security Policy Joseph Borrell, calling on the E.U. to take a firmer stance on Iran.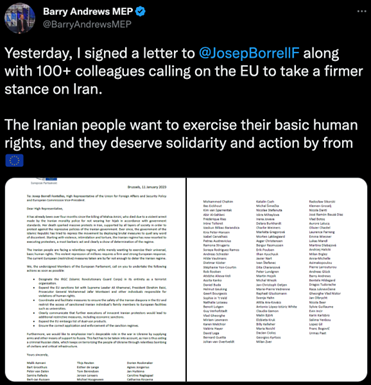 Iranian revolutionaries torched another statue of Western media-dubbed "national hero" Qassem Soleimani. To see UANI's profile of former Quds Force commander Qassem Soleimani, click here.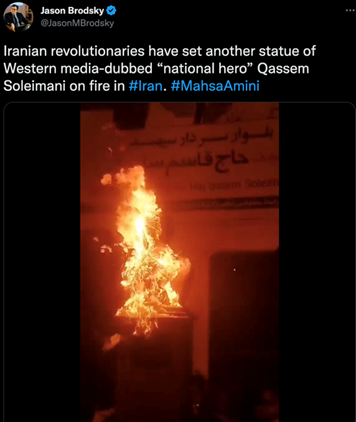 Iran Protests: Jailed Activist Sepideh Qolian Describes Brutality In Letter | BBC
One of Iran's most prominent female activists has described how confessions are forced out of prisoners, in a letter written inside a notorious jail. Sepideh Qolian has been serving a five-year sentence since 2018 after being convicted of acting "against national security" for supporting a strike. Writing from Evin prison, she describes the brutal treatment of her and other detainees by interrogators. Their forced confessions are later broadcast on state-run television.
Iranian Journalists Face Long Prison Terms, Lashes, And Harsh Restrictions Over Protest Coverage | Committee To Protect Journalists
Iranian authorities have arrested at least 88 journalists since September 2022. Authorities have charged nearly all of those journalists with "spreading propaganda against the ruling system" and "colluding and acting against national security," according to sources familiar with their cases who spoke to CPJ on the condition of anonymity, citing fear of reprisal. Under the Iranian penal code, convictions for that propaganda offense carry prison terms of up to one year, and the collusion charge can carry up to five years. However, at least five journalists have received sentences in excess of those legal maximums, including extra prison time, lashes from a whip, bans on working or leaving the country, or mandatory community service. (To see UANI's resource "Iran's War on Journalism and Journalists," click here).