BREAKING: New UANI Investigation Uncovers German Universities' Collaboration With IRGC And Hezbollah-Affiliated Iranian University Advocating Terror Attacks On Israel
November 5, 2023
(New York, N.Y.) — A new investigation by United Against Nuclear Iran (UANI) has, for the first time, revealed that several leading German universities have established close partnerships with an Iranian university that has officially backed terrorist attacks on Israel and is extensively affiliated with some of the most hardline elements of the Islamic Revolutionary Guard Corps (IRGC) as well as Hezbollah, a designated terrorist organization in Germany.
Five German universities are engaged in an official partnership with an Iranian university that is extensively affiliated with the Islamist extremist, antisemitic Islamic Revolutionary Guard Corps (IRGC), and Hezbollah – a designated terrorist organization in Germany.
This Iranian university, affiliated with the IRGC and Hezbollah, which has partnerships with German universities, has endorsed and advocated for terrorist attacks on Israel, with board members implicated in human rights violations.     


 

Through the DAAD German Academic Exchange program, German taxpayer funds have facilitated these partnerships, supporting the collaboration between German universities and this Iranian university.
Since at least 2010, Iran's University of Religions and Denomination (URD), based in the city of Qom, has nurtured deep ties with leading German universities over time, including the University of Paderborn, the University of Potsdam, Free University of Berlin, Frankfurt University, and the University of Münster. These partnerships have included joint inter-faith dialogue programs, reciprocal delegation trips, and student exchange programs – all funded by German taxpayers. These partnerships have helped position URD at the forefront of Iranian-European "inter-faith" and cultural interchange.
New research by UANI has unearthed Persian-language evidence revealing URD's ties to Islamist terrorism, antisemitism, and human rights violations, with the university being extensively affiliated with the IRGC and Hezbollah. This includes senior IRGC members and commanders with ties to terrorism and human rights abuses on its board.  

Current URD President, Dr. Seyed Abdolhassan Navab, has held multiple senior positions in the IRGC. This includes serving as one of the heads of the IRGC's Ideological-Political Organization (IRGC IPO). This organization oversees the indoctrination of IRGC members and their families in a violent, Islamist extremist ideology. IRGC IPO textbooks used to radicalize IRGC members openly call for recruits to kill Jews, Christians, and Zoroastrians via armed jihad on the basis that they "do not have acceptable faith."
UANI can reveal Navab has ties to the IRGC's notorious Quds Force – responsible for managing Iran's terror network, including Hamas and Hezbollah – and remains in constant communication with the most senior levels of the IRGC's Quds Force. UANI has discovered correspondence from as recently as 2020 between President Navab, acting in his official capacity as URD President, and both Esmail Qaani and Mohammad Hejazi, the commander and late deputy commander of the IRGC's Quds Force. UANI can also reveal that senior IRGC Quds Force Commander Mohammad Reza Naghdi was personally hosted on URD's campus in an official IRGC capacity. The Quds Force is itself subject to sanctions.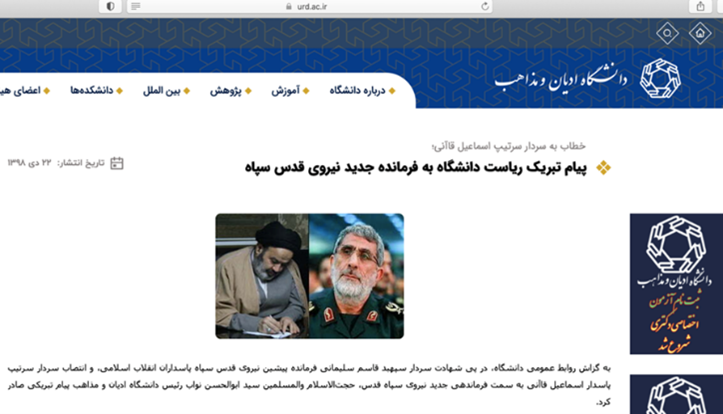 URD President Congratulatory Letter to IRGC Quds Force Terror Chief Commander Esmail Qaani
URD also maintains direct links with the Lebanese terror group Hezbollah, which is sanctioned by Germany and the United States, amongst others. On December 6, 2018, URD hosted Sheikh Naim Qassem, second-in-command and deputy terror chief of Hezbollah, on its campus. As Hezbollah's second-in-command, Qassem has, on multiple occasions, called for the "eradication of Israel." URD has, in turn, openly and officially endorsed Hezbollah's position. On May 23, 2021, URD's public relations department issued an official statement on the university's website endorsing terrorist attacks against the State of Israel, stating, "There is no other option than armed resistance." These statements were made during the same period that URD collaborated with German universities to run joint inter-faith dialogue programs funded by German taxpayers.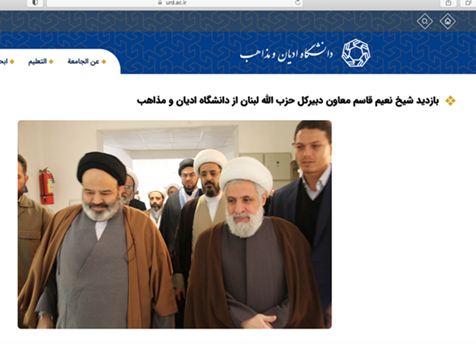 Hezbollah's Deputy Terror Chief Command Naim Qassem Visits URD with URD President
The partnerships, including that of the Department of Jewish Studies and Religious Studies of Potsdam University, with the IRGC/Hezbollah affiliated URD, arise amidst growing concerns and evidence that the IRGC is actively seeking to conduct terrorist operations in Germany against members of the Jewish community, including Jewish kindergartens. The IRGC also has close ties with Hamas, and evidence has emerged that it played a role in planning the October 7 attack on Israel.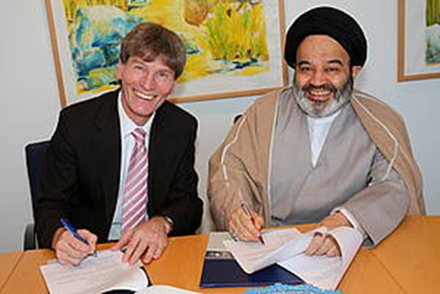 Former Paderborn President Prof. Risch with URD President Navab
UANI has written to the German universities involved, outlining the dossier of evidence of URD's links to IRGC and Hezbollah. Three of these letters can be found here. UANI has received some responses, including by Goethe University Frankfurt, which has admitted it has an agreement in place with URD and has pledged to investigate. The University of Münster, which was not aware of URD's ties to the IRGC until our letter, has confirmed that a URD-partnered project ended in 2016, and has pledged to not engage in dialogue with terror-supporting entities. UANI has also informed the German government of these troubling links and has requested that they take action to terminate the partnership and sanction URD with immediate effect. UANI is calling on the European Union to sanction the IRGC as a terrorist organization.
Receive Iran News in Your Inbox.
Eye on Iran is a news summary from United Against Nuclear Iran (UANI), a section 501(c)(3) organization. Eye on Iran is available to subscribers on a daily basis or weekly basis.