Sabri Hassanpour
Sabri Hassanpour
Dual Iranian-Dutch National, Political Activist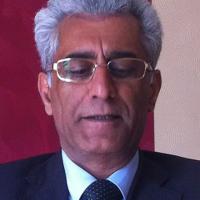 Biography
Hassanpour is a Dutch-Iranian dual national and outspoken critic of the Iranian regime who serves as the executive director and host of the Persian-language online network "Simay-e Rahayi" (Vision of Liberation). He is also reportedly a member of the National Iranian Congress to Save Iran, which aims to establish a shadow government and parliament in exile for Iranians."
Arrest
Hassanpour was arrested in Iran on April 21, 2016. Hassanpour, who currently is a resident and citizen of the Netherlands, had reportedly traveled to Iran to visit relatives. Some sources close to him claim "he was abducted from Turkey during a meeting with family and transferred to Iran."
Treatment in Captivity
Hassanpour was reportedly transferred to Evin Prison's clinic following a heart attack on November 15, 2016. Prison officials reportedly refused requests by Hassanpour for needed open-heart surgery. A source close to Hassanpour said that he "suffers from asthma and heart disease [and] is in a bad health condition due to constant insults and mistreatment…" In addition, Hassanpour's wife was unable to follow up on his case because she lives in the Netherlands and feared that if she traveled to Iran, she might also have been arrested.
Charges, Trial, and Sentencing
Hassanpour was put on trial by Iran's Revolutionary Court on November 12, 2016, for "propaganda against the state and acting against national security." Presiding Judge Abolghasem Salavati reportedly told Hassanpour he would receive a "heavy verdict" for signing a letter in support of prisoners on a hunger strike. Hassanpour started a hunger strike—including refusing to take his medication—in protest on May 9, 2017. He was released and permitted to return to the Netherlands in May of 2018.
Receive Iran News in Your Inbox.
Eye on Iran is a news summary from United Against Nuclear Iran (UANI), a section 501(c)(3) organization. Eye on Iran is available to subscribers on a daily basis or weekly basis.