Roger Noriega
Roger Noriega
Former Senior Policy Advisor and Alternate U.S. Representative to the U.S. Mission of the Organization of American States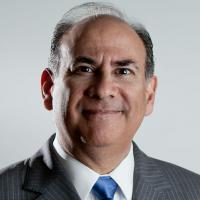 Ambassador Roger F. Noriega has more than two decades of public policy experience focusing on U.S. interests in the Western Hemisphere.  Twice appointed by President George W. Bush (and confirmed by the U.S. Senate) and with 10-year career on Capitol Hill, Ambassador Noriega's breadth of experience and contacts offer strategic vision and practical insight on the Americas.  He is a visiting fellow at the American Enterprise Institute for Public Policy Research (AEI) and managing director of the consultant firm, Vision Americas LLC.  Among his many current projects at AEI is monitoring the threat posed by Iran's dangerous relationship with the regime of Hugo Chávez in Venezuela.
As Assistant Secretary of State for Western Hemisphere Affairs (July 2003 to October 2005), Noriega managed a 3,000-person team in Washington and 50 diplomatic posts to design and implement political and economic strategies in Canada, Latin America, and the Caribbean.  He was a leader in an inter-agency team that actively expanded trade and investment opportunities to spur economic growth and to create opportunities for U.S. companies and consumers.  He also helped design and execute an annual plan for the effective use of $1.7 billion in U.S. economic assistance in two dozen countries.
As U.S. Ambassador to the Organization of American States (OAS) (August 2001 to July 2003), Noriega coordinated complex and sensitive multilateral diplomacy in a 34-member international organization to bolster trade, fight illicit drugs, and defend democracy.
Noriega began his career in Washington in 1983, on the staff of Member of Congress.  Since then, in addition to shaping national security policy, he has communicated policies and objectives to U.S. and foreign audiences, appearing in U.S. and international media.  Noriega lectures frequently on conservative principles, policy and strategy in universities and before U.S. and foreign officials.
On Capitol Hill, Noriega counseled Congressional leaders on all aspects of U.S. interests in the Americas, drafted historic legislation, and oversaw U.S. aid programs, the Peace Corps, and international narcotics affairs.  From 1997 to 2001, he was a member of the Senate Foreign Relations Committee staff of Chairman Jesse A. Helms (R-NC), and from 1994 to 1997, he served on the House International Relations Committee staff of Chairman Benjamin A. Gilman (R-NY).  Noriega played a pivotal role in the drafting of the Cuban Liberty and Democratic Solidarity (LIBERTAD) Act of 1996, to support the courageous opposition and independent voices advocating genuine change in Cuba.
Other experiences include: senior advisor, OAS (1993-94); senior policy advisor, U.S. Mission to the OAS (1990-93); various program management and public affairs positions, U.S. Agency for International Development and U.S. Department of State (1986-1990); press secretary and foreign policy advisor, U.S. Representative Robert Whittaker (R-KS) (1983-86); and research assistant, Kansas Secretary of State (1981-83).  From 2005-09, he was Director in the firm, Tew Cardenas LLP.
He has a Bachelor of Arts degree from Washburn University of Topeka, Kansas.  Ambassador Noriega has been decorated by Governments of Nicaragua and of Peru and has received numerous awards for public service from organizations committed to the promotion of democracy in the Americas.  He served as Vice Chairman of the Board of Directors of the Congressional Award Foundation and a member of the advisory board of the Canadian American Border Trade Partnership.