Robert Bartlett
Robert Bartlett
Retired Staff Sergeant, Purple Heart Recipient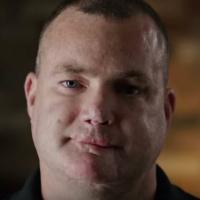 Retired Staff Sergeant Robert Bartlett was injured in combat by a bomb in 2005. His head was cut in half from the left temple down through his jaw, and he would have shrapnel and third degree burns to his face and hands. He would lose an eye and teeth, and his lung would collapse due to internal bleeding which led to suffocation and death. The doctors revived him three times over five days—the last time being at Walter Reed. Robert would spend the next four and a half years receiving surgeries, and recovering. This did not stop Robert's sense of mission to serve, though he could not serve in combat, he could serve at home.
He started with media outlets to share his experiences about the war in Iraq. Robert encouraged civilian morale, and helped them feel good about their country at war. In turn they would support the troops when they came home, especially the wounded and families of those killed in action. He volunteered to work with the Pentagon to guide military tactics in combat and be more effective in current battle operations. His spirit also would inspire Ed Nicholson to start Project Healing Waters, a fly fishing group that catered to healing the wounds of war. This started in 2005, and now is over 220 programs in 5 countries.
While still recovering from surgeries, Robert was recruiting injured veterans at Walter Reed for outdoor recreational healing. This new mission would lead him to become a public speaker and raise funds for non-profits like, Project Healing Waters, 185 for heroes, No Person Left Behind and many others. He sits now on the board of Project Healing Waters Alaska and No Person Left Behind, and guides the mission to help stop veteran suicide. His inspirational speeches to government agencies like the VA and the National Counterterrorism Center, churches, synagogues and schools empowers many to get involved. He continues to volunteer in many areas, but his time spent with veterans undertaking outdoor events is among his favorite.
He is the recipient of over twelve military awards—including a Bronze Star and Purple Heart. His civilian awards include: Warrriors Medal of Valor from the Native Americans, Soldier of the Quarter from the American Legion, Brain Injury Society Award, Patient of Courage from the Society of Plastic Surgeons.
His story has inspired many to write about him, including two books, a poem by Albert "Burt" Carey Caswell, Unconditional Love by Ben Stroup, and Beyond the Battlefield.
He lives now for those who did not come home from war, and means to inspire and empower the American society to do great things by helping those in need around them especially the veterans.