Pete Hegseth
Pete Hegseth
Infantry Officer in the Army National Guard, Former CEO of Concerned Veterans for America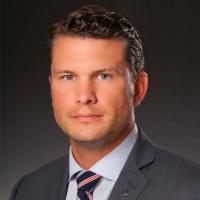 Since 9/11, Major Pete Hegseth—infantry soldier, Ivy League scholar, veterans advocate, and military analyst—has had a front row seat to a decade's worth of insurgent warfare, partisan politics, and high-stakes debates; forging an informed, impassioned, and unique perspective on the future of America. A decorated soldier, Princeton/Harvard graduate, veterans advocacy leader, and FOX News contributor, Hegseth represents the next generation of American leaders.
As a FOX News contributor, Major Hegseth appears regularly on the channel—guest hosting FOX & Friends frequently and regularly providing commentary on The Kelly File, Outnumbered, and America's Newsroom. Hegseth is also a frequent contributor to FOX Business, National Review and FOXNews.com.
In May 2016, Major Hegseth's first book—In the Arena—was published by Threshold Editions of Simon & Schuster. The book, which channels a famous Teddy Roosevelt speech, makes an impassioned argument for gritty citizenship at home and American leadership aboard—the combination of which can renew our exceptional nation and salvage a free world set adrift.
Major Hegseth has deployed three times since 9/11, most recently returning from Afghanistan where he was the senior counterinsurgency instructor at the Counterinsurgency Training Center in Kabul from 2011-2012. Hegseth previously served in Iraq with the 3rd Brigade of the 101st Airborne Division for their 2005-2006 deployment, serving as an Infantry Platoon Leader in Baghdad in 2005, and as a Civil-Military Operations officer in Samarra in 2006. He also served in Guantanamo Bay for a year guarding detainees. Hegseth holds two Bronze Stars and a Combat Infantryman's Badge for his time in Iraq and Afghanistan.
Major Hegseth previously served as the Chief Executive Officer for Concerned Veterans for America (CVA) from 2012-2015, the largest conservative veterans and military families organization in America. Prior to joining CVA, Hegseth was Executive Director for Vets for Freedom from 2007-2011, an organization committed to victory on the battlefield.
Major Hegseth graduated from Princeton University in 2003 with a degree in Politics and completed a Masters in Public Policy at Harvard University's John F. Kennedy School of Government in 2013. Hegseth lives in Minnesota with his wife Samantha and their three boys—Gunner, Boone and Rex.