Otto J. Reich
Otto J. Reich
Former Assistant Secretary of State for Western Hemisphere Affairs and Former U.S. Ambassador to Venezuela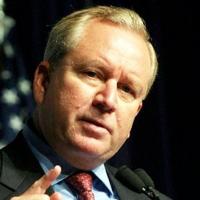 Since its founding in 2004, Otto Juan Reich has been President of Otto Reich Associates, LLC, of Washington, DC, a consulting firm that provides international government relations, trade and investment advice to US and multinational clients. He has extensive experience in private enterprise, government, and the U.S. military, primarily focusing on Latin America and the Caribbean.
From 2001 to 2004, Ambassador Reich served as Assistant Secretary of State for Western Hemisphere Affairs, reporting to Secretary of State Colin Powell, and as President George W. Bush's Special Envoy for Western Hemisphere Initiatives. In this assignment he was concurrently a Senior Staff Member of the National Security Council, reporting to Dr. Condoleezza Rice.
From 1989 to 2001, Ambassador Reich was a private consultant, advising clients on international government relations, market access and strategic planning, first as a partner in the Brock Group and later as president of his own consulting firm, RMA International. In 1991 and 1992, as a private citizen and at the personal request of President George H. W. Bush, Ambassador Reich served as Deputy U.S. Representative to the U.N. Human Rights Commission in Geneva.
In the 1980's, Reich received three appointments from President Ronald Reagan. In reverse chronological order, these were: From 1986 to 1989, U.S. Ambassador to Venezuela, work for which he was awarded the highest commendations of both the State Department and the Republic of Venezuela. As Special Advisor to the Secretary of State from 1983 to 1986, he established and directed the Office of Public Diplomacy for Latin America and the Caribbean, which received the Department's Meritorious Honor Award. From 1981 to 1983, a period of high-level US financial support to the region, he was Assistant Administrator of the U.S. Agency for International Development (USAID) in charge of U.S. economic assistance to Latin America and the Caribbean.
His prior experience includes service as Washington Director of the Council of the Americas; Community Development Coordinator for the City of Miami; International Representative of the State of Florida Department of Commerce; and staff assistant in the U.S. House of Representatives.
Ambassador Reich received a Bachelor's Degree in International Studies from the University of North Carolina (1966) and a Master's Degree in Latin American Studies from Georgetown University (1973). His military service (1966 - 1969) included duty as a lieutenant in the U.S. Army's 3rd Civil Affairs Group (Airborne), Panama Canal Zone.
Reich appears regularly on US and Latin American media. From 1998 to 2001, he was co-host of CNN International's "Choque de Opiniones," a Spanish-language public affairs program.