Nizar Zakka
Nizar Zakka
Information technology expert and advocate of Internet freedom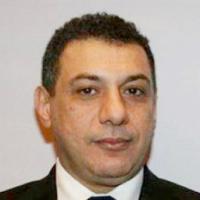 Biography
Nizar Zakka is a Lebanese national and permanent U.S. resident who was detained in Iran on September 18, 2015 and released on June 10, 2019. He is an information and communications technology expert and secretary-general of the Arab information and communications technology organization IJMA3. He holds both a Bachelor's and Master's degree in computer science from the University of Texas at Austin. Zakka has led development projects for corporations such as Cisco and Microsoft, and he has also done contract work for the U.S. State Department.
Arrest
Zakka traveled to Tehran at the invitation of the Iranian government—specifically by Iran's then-Vice President for Women and Family Affairs Shahindokht Molaverdi, an ally of President Hassan Rouhani—on September 15, 2015 to participate in the second International Conference and Exhibition on Women in Sustainable Development, held between September 15 and 18.
Zakka was last seen on September 18 leaving his hotel in a taxi to the airport to fly to Beirut, but he never boarded his flight. On October 31, 2015, the Beirut-based Daily Star reported that Iran's Islamic Revolutionary Guard Corps (IRGC) was holding Zakka. Zakka was reportedly transferred to Ward 2-A of Evin Prison, which is used to hold political prisoners and is under control of the IRGC.
Treatment in Captivity
Iranian authorities imprisoned Zakka for over 1,350 days, where he was repeatedly interrogated about his ICT work and asked if he was a spy, which he denied. He was forced under pressure to give his email address and password to his interrogators. Zakka was not allowed to have any contact with his family for several months after his arrest. In protest of the authorities' refusal to allow him access to his family, he went on hunger strike between March 13 and April 4, 2016, and was later given intermittent access to his family through telephone calls and visits.
While in prison, Zakka had several health conditions, including severe back pain and blood in his stool. His family said that he lost a significant amount of weight and became very weak. Despite this, the authorities denied him proper medical care, including his medication. He launched a second week-long hunger strike in August 2016 to protest the placement of four additional prisoners in his cell, including one who claimed to be a member of the Islamic State (ISIS). According to his lawyer, Nizar was subject to psychological torture and physical strains and his family members have also been intimidated.
Trial and Sentence
On November 3, 2015, Iranian state broadcaster IRIB reported that Zakka was in the custody of authorities on suspicion of being an American spy. IRIB described him as a "treasure trove" because of "connections with intelligence and military bodies in the United States." As evidence, Iranian state TV displayed a photo of Zakka in army-style fatigues, which Zakka's family said was from a homecoming parade he participated in as an alumnus of the American military high school he attended in Georgia.
In January 2016 Zakka was allowed to appoint a lawyer, but he was not allowed to meet with him in private until April 2016. Up until this point, he was not made aware of the charges against him. On April 4, 2016, he learned from his lawyer that his charges included "collaborating with hostile governments," presumably the U.S. government.
On August 22, 2016, Nizar Zakka was taken before Branch 15 of the Revolutionary Court in Tehran for his first trial session. This was followed by a 30-minute session on August 30 when he was told that his trial had concluded and that he would receive the verdict within 12 days. Nizar Zakka's lawyer was denied full access to his case file to prepare his defense and was only allowed limited opportunities to communicate with his client before the trial. On September 20, 2016, Zakka's lawyer announced that he had been sentenced to 10 years in prison and a $4.2 million fine for collaborating against the state.
On September 24, 2016, Nizar's brother Ziad responded to his sentencing: "This trial was a total mockery of Justice; Nazir was sentenced after only two court sessions and Iran refused to permit the attendance of the Lebanese consul." The family is now asking for a retrial in front of an international body such as Amnesty International, in the presence of a legal representative of the Lebanese Republic. Nizar, said through his attorney on October 26, 2016, that Iranian officials in April told him it would take as much as $2 billion to ensure his release from captivity. In September, Iranian officials lowered that amount to $4 million and told him that he was spared the death penalty but would remain in prison for ten years until the payments are made.
Release
In June 2019, reports surfaced that Iran would hand Zakka over to Lebanese officials.  Dueling accounts of Zakka's release then began to leak.  Lebanese media claimed that Zakka had been pardoned at the request of President Michel Aoun, who is a political ally of Iran's terror proxy Hezbollah.  However, the Iranian press alleged that Zakka had been freed only because of the intervention of Hezbollah Secretary-General Hassan Nasrallah.  When Iranian officials finally released Zakka on June 10, General Abbas Ibrahim, the head of Lebanon's General Security Directorate, was in Tehran to oversee the transfer.
Receive Iran News in Your Inbox.
Eye on Iran is a news summary from United Against Nuclear Iran (UANI), a section 501(c)(3) organization. Eye on Iran is available to subscribers on a daily basis or weekly basis.