Mostafa Hashemi-Taba
Mostafa Hashemi-Taba
2nd Tier: Former Vice President of Iran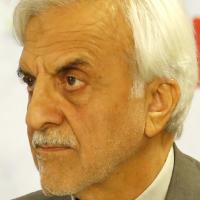 A reformist candidate with centrist views, Mostafa Hashemi-Taba rounds out the candidates approved by the Guardian Council. Hashemi-Taba previously served as head of Iran's National Olympic Committee from 1996-2004, as vice president and head of Iran's Physical Education Organization under Presidents Rafsanjani and Khatami, and as Minister of Heavy Industries in the early 1980s.
Hashemi-Taba was one of the founding members of the Executives for Reconstruction Party, a pro-business faction within the reformist camp. The group's aim is to turn Iran into a modern, industrialized nation and views economic development as a means to preserving Iran's national sovereignty and Islamic Revolution.
Hashemi-Taba is expected to play a similar role to Vice President Jahangiri during the elections as a backer of President Rouhani's candidacy and reformist agenda. His approval balances the final list of approved candidates between three reformists and three principlists.
Photo © AFP Photo