Karan Vafadari
Karan Vafadari
Art Gallery Owner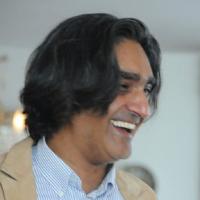 Biography
Karan Vafadari is an American-Iranian dual national belonging to the Zoroastrian faith. Karan attended Tehran's prestigious Alborz High School and graduated from New York University (NYU) with a degree in electronic engineering and management. While his three children live in the U.S., Karan and his wife, Afarin Niasari, an architect, live in Tehran and manage their art gallery, Aun.
Arrest
Afarin Niasari was detained by IRGC agents at the Tehran airport in late July 2016 as she was about to board a flight to attend a family wedding abroad. The agents told her to call her husband Karan and ask him to come to the airport. When he arrived, he was also arrested and both were taken to Iran's notorious Evin Prison.
The following day, the couple was brought in handcuffs to their home where agents took down hanging works of art, smashing some of them in the yard while confiscating others. They were then taken to their art gallery where agents destroyed more of their artwork and impounded others.
On August 2, 2016, Tehran Prosecutor Abbas Jafari Dolatabadi said that "two Iranian dual nationals" had been charged with organizing mixed-gender parties for foreign diplomats and their Iranian associates and serving alcohol in their home. He stated that 4,000 liters of alcohol had been found at the couple's home. However, Afarin and Karan were not named at the time.
The Vafadari family initially decided not to publicize their case, hoping that it would be resolved more quickly through private channels. However, due to anonymous threats and blackmail demands the family has received over the phone, Kateh Vafandari, the U.S.-based sister of Karan, went public on December 2, 2016 on behalf of her family with a letter to Iran's Supreme Leader calling for the immediate release of her brother and his wife. According to Kateh, the phone calls by several unknown individuals seeking to extort money started after an Iranian Member of Parliament publicly mentioned the detained couple by name in November 2016.
There has been no mention in the legal proceedings or Iranian media that Vafadari is Zoroastrian, and therefore is not subject to Islamic laws on alcohol and mixed gatherings. Under Iran's Constitution, Zoroastrians, Jews, and Christians "are free to perform their religious rites and ceremonies, and to act according to their own canon in matters of personal affairs and religious education." Kateh added in her letter to the Supreme Leader: "In our faith and traditions, parties can be mixed. At the same time, we respect other religious traditions, such as Shiism, where men and women guests are in separate quarters."
Treatment in Prison
Karan and his wife were initially held at Evin Prison's Ward 2-A, which is controlled by the IRGC's intelligence organization, and later transferred to a group holding cell. The Vafadari family has been able to visit Karan and Afarin in prison several times. Every week IRGC intelligence agents have promised that the couple would soon go free but no movement has occurred. In the letter Kateh wrote to the Supreme Leader, she said that the detained couple has been subjected to "extortion, property seizure, and national security threats" ever since their arrest. No public charges have been brought against Karan and his wife and the couple has not had access to a lawyer since their arrest in July.