Jeb Bush
Jeb Bush
Former Governor of Florida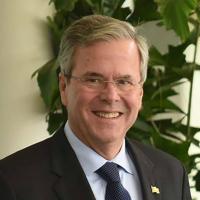 During his two terms as Florida governor, Jeb Bush championed major reform of education. Florida raised academic standards, required accountability in public schools and created the most ambitious school choice program in the nation. The transformation is underway and the progress is measurable. More students are reading, writing and doing math and science on or above grade level. More high school seniors are earning a diploma and fewer students are dropping out. Florida's third through 10th grade students are outscoring 60-70 percent of their peers in all other states in both reading and math.
Under his leadership in the late 1990s, the Foundation for Florida's Future joined forces with the Greater Miami Urban League to establish the state's first charter school, Liberty City Charter School, in one of the most underserved parts of Miami-Dade County. He also co-authored Profiles in Character, a book profiling 14 of Florida's civic heroes—people making a difference without claiming a single news headline.
Bush took time out of his successful business career to serve as Florida's secretary of commerce under Bob Martinez, Florida's 40th governor, where he promoted the state worldwide.
Bush earned a bachelor's degree in Latin American Affairs from the University of Texas at Austin. Bush and his wife Columba live in Miami and have three grown children. Bush is the son of President George H.W. Bush and Barbara Bush.