Jamshid Sharmahd
Jamshid Sharmahd
Iranian-German Activist, Broadcaster, and Businessman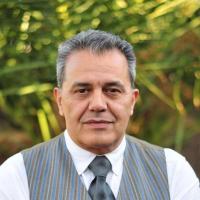 Biography
Jamshid Sharmahd is a businessman and broadcaster and an official of the Kingdom Assembly of Iran (aka Tondar). Tondar is a small exile group that opposes the Iranian regime and seeks to restore the monarchy, but opposes Crown Prince Reza Pahlavi, making it an outlier among monarchist groups.
According to a profile on Tondar's website, Sharmahd was born in Iran in 1955 and emigrated to Germany, where he studied electronic engineering in university and then worked for large multinational corporations like Siemens and Bosch.
In 1997, per Tondar, Sharmahd founded his own software engineering firm in Germany. In 2002, he formed the U.S. company Sharmahd Computing and moved to Los Angeles the following year. He holds a U.S. visa but is not an American citizen or permanent resident, according to the Global Liberty Alliance, which represents him.
Involvement in Tondar
According to Tondar, Sharmahd joined the group while living in LA, which has a large Iranian expatriate community. He set up Tondar's website and created and ran Tondar's broadcasting arm, Radio Tondar.
The Iranian regime claims that Tondar, with the help of the U.S. and U.K., has carried out terrorist attacks in Iran, including a 2008 explosion at a Shiraz mosque that killed 14 and wounded more than 200. The group initially appeared to take credit for the attack but later distanced itself from responsibility for the blast and claimed the site was not a mosque but a base of the Basij, the volunteer paramilitary branch of the Islamic Revolutionary Guard Corps (IRGC). Tondar did assume responsibility for a blast at an Iranian refinery in 2016 and the bombing of a seminary school in 2019.  However, the group itself has not offered much evidence for its claims, and the U.S. has not designated Tondar a foreign terrorist organization.
After Tehran announced Sharmahd's capture in 2020, Tondar proclaimed that it "will continue to fight even in the absence of companions and commanders." However, Sharmahd's family says that he is only Tondar's spokesperson and was not involved in any attacks. Likewise, according to Sharmahd's legal representatives, he "has repeatedly held that he had no involvement in any attack. He merely advocates for the freedom of the Iranian people."
In 2009, the regime convicted and executed three men for the Shiraz mosque explosion, alleging they were affiliated with Tondar and had acted on instructions from a CIA agent. In 2010, the government hanged two Tondar members who had "confessed to obtaining explosives and planning to assassinate officials."
Assassination Attempt
The Iranian government allegedly sought to assassinate Sharmahd in 2009. An Iranian American, Mohammad Reza Sadeghnia, reportedly tried to contract with a hit man to kill Sharmahd, but the desired hit man instead reported Sadeghnia to the police and testified against him. A leaked U.S. State Department cable claimed that Sadeghnia had confessed to working for the Iranian regime and surveilling Sharmahd.
Sadeghnia served one year in prison before being released on probation. After receiving permission to visit his sick father in Iran, he did not return for a court date and disappeared.
Capture
According to the Global Liberty Alliance, Sharmahd traveled from the U.S. to India and Germany in March 2020, reportedly for business. During his trip, he was stranded for three months in Mumbai due to COVID restrictions. According to his counsel, Sharmahd then went to Amsterdam to get a flight home, but the U.S. did not allow Sharmahd to return because he did not hold citizenship or a green card. Sharmahd then decided to return to India via a connecting flight to the United Arab Emirates city of Dubai.
While in Dubai, Sharmahd corresponded with his family on July 28. He then went incommunicado. His phone's GPS indicated that Sharmahd remained at his hotel in Dubai that day. According to the hotel, Sharmahd checked out on July 29, and GPS tracking shows his phone crossed the border from the UAE to Oman that day, even though Oman did not permit tourists to enter then due to the coronavirus. His wife received a text from his phone saying he was OK and would call her. The next day, July 30, his phone's signal terminated.
Iran's intelligence ministry announced two days later, August 1, 2020, that it had arrested Sharmahd "following a complicated operation." The regime called Sharmahd "the ringleader of the terrorist Tondar" and said he "directed armed and terrorist acts in Iran from America," including the aforementioned 2008 Shiraz mosque bombing.
Iranian foreign ministry spokesman Abbas Mousavi thanked Iran's intelligence services for capturing Sharmahd and criticized the U.S. for "supporting this terrorist group."
Treatment in Captivity
Iranian state television has broadcast two coerced "confessions." In the first, aired shortly after the regime announced his capture, a blindfolded Sharmahd, his face seemingly swollen, assumed responsibility for the Shiraz mosque attack, saying, "They needed explosives and we provided it."
Sharmahd's family and human rights groups have expressed concern for his health, claiming he has Parkinson's disease, diabetes, and heart disease.
Germany's foreign ministry official stated that their embassy has "frequently requested consular access" to Sharmahd. "However," he added, "Iranian authorities have denied these requests." Tehran does not recognize dual nationality, and therefore does not grant foreign consular access to Iranians who hold additional citizenships.
As permitted by Islamic Republic law, the authorities have also refused to let the lawyer picked by Sharmahd's family meet with him or see the charges against him, according to his daughter, Gazelle, "because his case is in an investigation phase at this time." They have offered to grant access to an attorney from a list approved by the regime, provided the family paid the lawyer $250,000.
Sharmahd has been allowed a few phone calls with his family. He informed them in November 2020 that he was jailed in Iran's infamously brutal Evin Prison, but later told them he had been moved to a location he did not name. In March 2021, he mentioned that he had lost about 40 pounds and that the authorities had pulled several of his teeth, but did not provide additional details.
Sharmahd's daughter Gazelle said in July 2022 that her father's condition had worsened and that the regime had severely restricted him from speaking with his family.  "720 days in isolation. He is a Parkinson's patient, and he is in severe pain. All of his teeth, with the exception of two, have fallen out. They are emotionally and psychologically torturing him… And Germany's government just says we condemn the death penalty in general. They have to do something."
Gazelle added that in the last year, the authorities had only permitted Jamshid to speak with his wife twice and had tried to force Sharmahd's children to "put remote spy control software on my father's software." When the regime realized that they would not comply, it cut off their access to him.
Charges
The regime has not publicly revealed the formal charges against Sharmahd, but has accused him of responsibility for the 2008 Shiraz mosque attack. After Sharmahd's arrest, Iranian state TV also accused Tondar of launching an explosion at the Tehran mausoleum of Iran's first supreme leader, Ayatollah Ruhollah Khomeini, that wounded several persons, and of planning to attack a dam and to detonate cyanide bombs at a book fair in Tehran.
Trial
Sharmahd went on trial on February 6, 2022, for "spreading corruption on earth," which carries a death sentence. The presiding judge is the Tehran Revolutionary Court's Abolqassem Salavati, who is nicknamed "the Hanging Judge" or "the Judge of Death" for imposing harsh sentences, including the death penalty, in political cases. 
Sharmahd's daughter, Gazelle, said he had not been allowed to meet with his lawyer and that the lawyer had not been permitted to review the evidence.
In July 2022, Sharmahd asserted his innocence of all charges against him in the final session of his trial. He said that he had indeed signed a confession while in prison, "but I didn't do anything." Gazelle told the press a regime attorney told her that a "death sentence is certain." 
Death Sentence
The Iranian judiciary's Mizan news agency reported on February 21, 2023, that Shamahd had been sentenced to death, adding that he could appeal his sentence to the Supreme Court.
International Reaction
The day the regime announced Sharmahd's capture, a U.S. Department of State spokesperson said the administration was "aware of reports related to the detention of Mr. Sharmahd. The Iranian regime has a long history of detaining Iranians and foreign nationals on spurious charges. We urge Iran to be fully transparent and abide by all international legal standards." In June 2021, another spokesperson from the State Department said, "We will work with our allies, many of which have citizens currently detained by Iran, to seek their citizens' release and stand up to the disgraceful practice of using unjust detentions of foreign citizens as a political tool."
The German government long said little about Sharmahd's case, aside from affirming that it has repeatedly and unsuccessfully sought consular access to him. Sharmahd's daughter, Gazelle, has criticized Berlin for negotiating with Iran to restore the 2015 nuclear deal while Sharmahd remains in prison. "The Foreign Office is negotiating with the kidnappers of a German citizen in Vienna," she said. "How can you tolerate that as a free citizen? Germany is a big trading partner, and they can put pressure on them. They can do something, they have to do something, they cannot accept such an injustice, but they do nothing."
Human rights organizations, including Human Rights Watch and Amnesty International, have protested Sharmahd's detention.
"We're seeking support from any democratic country, any free country," Sharmahd's son, Shayan, said. "It is a violation of human rights. You can't just pick someone up in a third country and drag them into your country." He added in July 2020: "Don't be keep silent, we have to speak up. Now is definitely the time. And that goes out not just to all the people, but to all the governments, and the organisations. It affects everybody."
Gazelle Sharmahd has stated that her father's detention has devastated their family. "My mother has not had a single night of sleep since her partner and love of her life was forcefully taken after 40 years of marriage," she said. "My brother and I are desperate about what to do without our role model, our father, and our best friend. My daughter, his only grandchild, was born five months ago, and I do not even want to imagine that he may never have the chance of holding her in his arms." Gazelle said that Jamshid "did not commit any crime, unless freedom of speech or the press are considered illegal in this world. He has spent his life speaking up for the oppressed people of Iran and has taught us through his actions that helping those that cannot help themselves is one of the most important virtues of humanity."
After Sharmahd went on trial, Gazelle Sharmahd criticized the American and German governments for their inaction on her father's case. "America and Germany, where are you?" she asked. "You go to Vienna to fancy hotels [for nuclear talks] while my dad is paraded in this made for a television show or kangaroo trial. Where is your humanity? The so-called international community: Where is this compassion for your fellow human being? If Iran wants to be treated as an equal among the nations, it has to earn it. The supreme leader is making a mockery of you all."
She added, "We still do not know how he is, we just saw these pictures that were allowed to be circulated by the press. I can see the sheer terror in my dad's face, even hidden behind the mask and the prisoner uniform. They could not hide the terror that is evident in his eyes. 555 days of isolation, torture and forced confessions, yet he is still in shock when they present this garbage of a show trial to him. How can anyone endure this amount of physical and psychological pressure for such a long time?"
Sharmahd's U.S.-based attorney, Jason Poblete, echoed Gazelle's criticisms. "The German and American governments have a duty to secure Mr. Sharmahd's unconditional release from Iran; they are not doing nearly enough. If the U.S.-Iran envoy, Robert Malley, cared more about helping Americans rather than inking a deal Iran is already breaking, Jimmy and other hostages would be home today."
On February 21, 2022, after Sharmahd's death sentence was announced, German Foreign Minister Annalena Baerbock decried it as "absolutely unacceptable." She added, "We call on Iran to remedy these shortcomings in the appeals process, correct the verdict accordingly and refrain from the death penalty. Imposing the death penalty on Mr. Sharmahd will provoke a strong reaction." Baerbock also stated that Sharmahd did not receive "even the beginning of a fair trial," that Germany had been "repeatedly denied" consular access and access to Sharmahd's trial.