Gholamrez (Reza) "Robin" Shahini
Gholamrez (Reza) "Robin" Shahini
Iranian-American human rights activist and student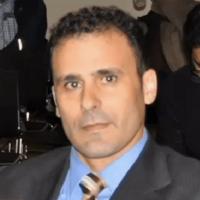 Biography
Iranian-American Gholamrez (Reza) Shahini, who goes by "Robin," left Iran as a refugee in 1988 and lived in Germany before moving to the United States in the early 2000s, where he completed a bachelor's degree at San Diego State University. Speculating on why Shahini was arrested, Denera Ragoonanan, a friend of his, said, "Robin has been known for his advocacy of human rights on social media. This advocacy, unfortunately, did not sit well with the Iranian government." According to family members, Shahini converted to Christianity, which could have added to his troubles with the Islamic Republic. Shahini also had planned to continue his studies and had been accepted into a graduate program in homeland security at San Diego State. This fact may have contributed to the Iranian judiciary's decision to prosecute him.
Arrest
Shortly after graduating from San Diego State University, the 46-year-old returned to Iran to see his sick mother on May 25, 2016. On July 11, 2016, security forces arrested Shahini in the northern city of Gorgan. According to Shahini, "it was a terrifying moment, and they blindfolded me and they took me to the custody and I did not know where I was."
Treatment in Captivity
Reza has asthma and before he was detained, one of his teeth was operated on and needed further treatment. The authorities did not respond to his family's requests to send him to a dentist outside the prison to prevent an infection. Shahini was held for six days in solitary confinement at the Neynava Detention Center in Gorgan and then transferred to the city's main prison, where he was held in solitary confinement for four days. Shahini's family also alleged that authorities withheld his asthma medicine and placed him in smoking areas of Gorgan prison to aggravate his condition. In addition, Shahini said, speaking to Vice News via phone from prison, "[T]hey were interrogating me every morning, every afternoon, and I was always by myself in my cell."
When Shahini's sentence was announced on October 24, 2016, he said that he was planning to go on a hunger strike to protest his imprisonment, and did so in the spring of 2017. In retaliation, Shahini's captors shaved his head, took away his notebook, suspended phone calls with his family, and threw him into solitary confinement.
Charges and Conviction
On August 16, 2016, the International Campaign for Human Rights in Iran (ICHRI) reported that Shahini was formally charged with "acting against national security," "participating in protest gatherings in 2009," "collaborating with Voice of America (VOA) television," and "insulting the sacred on Facebook," but that his lawyer had not been granted access to the evidence being used against Shahini.  
The ICHRI viewed the arrest of Shahini as a sign of Iran's "lasting paranoia" over the Green Revolution of 2009, which authorities accused Shahini of actively supporting. Shahini told Vice News, "Whatever information they had is all in the pictures I posted in Facebook, in my web blog, and they use all those evidence to accuse me." He acknowledged that he voiced support for the Green Movement in its protests against the disputed 2009 election results, but had since been a supporter of current President Hassan Rouhani.
On October 24, 2016, it was reported that Robin Shahini was sentenced to 18 years in prison for "collaboration with a hostile government." Shahini said he "just laughed" after hearing his sentence. Shahini was also convicted of "insulting sanctities." That charge can include a number of offenses, such as criticizing Islam or principles of the Islamic Republic. The sentence was issued after only one session before the Revolutionary Court in Gorgan on October 15, 2016. Shahini's trial lasted only three hours, and his lawyer had less than 30 minutes to defend him.
International Reaction
The U.S. Department of State told news media that it had seen reports of Shahini's detention, but for privacy reasons, it would not go into specifics about its efforts in particular consular cases. The Department also stated, "The safety and security of U.S. citizens remains our top priority. We continue to use all the means at our disposal to advocate for U.S. citizens who need our assistance overseas."
Release on Bail, Escape, and Lawsuit
Shahini was released on $62,000 bail in 2017 after a hunger strike. Sometime in 2017 or 2018, he left Iran (method undisclosed) and came to the U.S. and filed a lawsuit in federal court against the Iranian government and several senior officials of Iran's Islamic Revolutionary Guard Corps (IRGC). The suit claims that Shahini's jailers subjected him to "sleep deprivation, interrogation, solitary confinement, painful shackling, malnutrition, and denial of medical care."  Shahini also said that he was attacked, injured, and traumatized by two prisoners—at the government's direction—using a garrote, and threatened with sexual assault if he did not admit to committing espionage for the Central Intelligence Agency (CIA).
Shahini's lawsuit accuses the Iranian regime of engaging in racketeering by taking hostages to extract financial concessions from the U.S. and other countries. The suit asserts that Iran has violated the Racketeer Influenced and Corrupt Organizations (RICO) Act, which has usually been applied against organized-crime and drug-cartel leaders.
Through his lawsuit, Shahini seeks to build in U.S. courts a record of senior Iranian regime figures engaging in taking Westerners hostage. Wins in court could serve as justification for sanctions against Iranian government officials by national governments and international organizations, like the United Nations.
Receive Iran News in Your Inbox.
Eye on Iran is a news summary from United Against Nuclear Iran (UANI), a section 501(c)(3) organization. Eye on Iran is available to subscribers on a daily basis or weekly basis.