Dr. Graham Allison
Dr. Graham Allison
Director of Harvard's Center for Science and International Affairs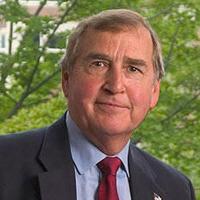 Director of Harvard's major Center for Science and International Affairs, Graham Allison has for three decades been a leading analyst of U.S. national security and defense policy with a special interest in nuclear weapons, terrorism, and decision-making. As Assistant Secretary of Defense in the first Clinton Administration, Dr. Allison received the Defense Department's highest civilian award, the Defense Medal for Distinguished Public Service, for "reshaping relations with Russia, Ukraine, Belarus, and Kazakhstan to reduce the former Soviet nuclear arsenal." This resulted in the safe return of more than 12,000 tactical nuclear weapons from the former Soviet republics and the complete elimination of more than 4,000 strategic nuclear warheads previously targeted at the United States and left in Ukraine, Kazakhstan, and Belarus when the Soviet Union disappeared.
Dr. Allison's latest book, Nuclear Terrorism: The Ultimate Preventable Catastrophe, is now in its third printing and was selected by the New York Times as one of the "100 most notable books of 2004."  It presents a strategy for preventing nuclear terrorism organized under a doctrine of "Three Nos:" no loose nukes; no new nascent nukes; and no new nuclear weapons states.  Dr. Allison's first book, Essence of Decision: Explaining the Cuban Missile Crisis (1971), was released in an updated and revised second edition (1999) and ranks among the all-time bestsellers with more than 450,000 copies in print.
As "Founding Dean" of the modern Kennedy School, under his leadership, from 1977 to 1989, a small, undefined program grew twenty-fold to become a major professional school of public policy and government.
Dr. Allison has served as Special Advisor to the Secretary of Defense under President Reagan.  He has the sole distinction of having twice been awarded the Department of Defense's highest civilian award, the Distinguished Public Service Medal, first by Secretary Cap Weinberger and second by Secretary Bill Perry. He served as a member of the Defense Policy Board for Secretaries Weinberger, Carlucci, Cheney, Aspin, Perry and Cohen.
Dr. Allison was the organizer of the Commission on America's National Interests (1996 and 2000) that included leading Senators and national security specialists from across the country, including former Senators Sam Nunn and Bob Graham, Senators John McCain and Pat Roberts, Condoleezza Rice, Richard Armitage, and Robert Ellsworth.
Dr. Allison was a founding member of the Trilateral Commission, a Director of the Council on Foreign Relations, and has been a member of public committees and commissions, among them the Baker-Cutler DOE Task Force on Nonproliferation Programs with Russia, the IAEA's Commission of Eminent Persons, and the Commission on Prevention of Weapons of Mass Destruction Proliferation and Terrorism.
Dr. Allison has served as a Director of the Getty Oil Company, Natixis, Loomis Sayles, Hansberger, Taubman Centers, Inc., Joule Unlimited, and Belco Oil and Gas, as well as a member of the Advisory Boards of Chase Bank, Chemical Bank, Hydro-Quebec, and the International Energy Corporation.
Dr. Allison was born and raised in Charlotte, North Carolina. He was educated at Davidson College; Harvard College (B.A.,Magna Cum Laude, in History); Oxford University (B.A. and M.A., First Class Honors in Philosophy, Politics, and Economics); and Harvard University (Ph.D. in Political Science).