Risky Business: PortaOne's Misleading Statements Fail To Acknowledge Years-Long Effort To Profit In Iranian Market
March 23, 2023
(New York, N.Y.) — Researchers at Citizen Lab, based at the University of Toronto's Munk School of Global Affairs, alleged in January 2023 that Canadian telecommunications company PortaOne agreed to provide services to a Portuguese front company for the Iranian regime in 2019. PortaOne software was "meant to be integrated into Iran's surveillance state apparatus – with sensitive private information about users' identities and mobile usage easily accessible to authorities," according to press reports.
PortaOne officials affirm that its agreement with the Portuguese firm was cancelled in 2019 upon discovery of the firm's ties to Tehran and deny that its products were supplied to any entity that intercepts or surveils calls in Iran, laying blame on a sales manager working "on his own initiative" to strike a deal with an Iranian firm, Ariantel. The explanation is dubious, at best. PortaOne knowingly sought business opportunities in the Iranian telecom market, which is dominated by the Iranian regime and the Islamic Revolutionary Guard Corps (IRGC), as early as 2017.
In October 2017, United Against Nuclear Iran (UANI) contacted PortaOne after identifying the company as an exhibitor at the annual 18th International Trade Show on Innovative CIT Solutions – also known as the Iran Telecom Innovations Show – which took place on October 16-19, 2017 in Tehran. PortaOne's participation in the Iran Telecom Innovations Show was confirmed on the Company's own website. UANI warned that "it is difficult, if not impossible, to conceive of a regime-controlled telecommunications firm that is not misusing its technology … to monitor and suppress the Iranian people." In the wake of subsequent anti-regime demonstrations, UANI wrote again in January 2018 to detail how Iranian authorities were using jamming technology to strangle peaceful dissent and protest. PortaOne failed to respond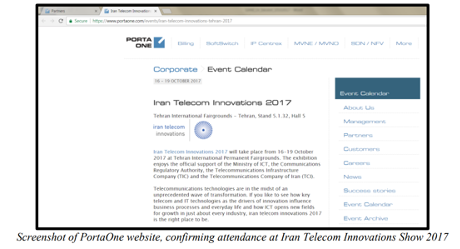 The Iranian regime has a long and well-documented track record of cutting off mobile phone and internet access to prevent protestors from organizing and disseminating images of repression by security forces; blocking access to social media applications like WhatsApp and Instagram, which protesters have used to disseminate the times and locations of demonstrations; filtering, blocking, and storing text messages; and tracking locations of mobile phone users.
"PortaOne says it does not assist authoritarian regimes but it is not being entirely forthcoming as to the full extent of its entanglement in Iran," said UANI Research Director Daniel Roth. "There are life and death implications behind a decision to enhance Tehran's capabilities – something that no responsible business would entertain. Authorities in Canada should investigate the company's potentially unlawful behavior."
###