Ruhollah Zam
Ruhollah Zam
Activist and Journalist, French Resident and Iranian National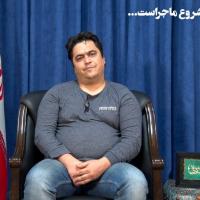 Biography
Ruhollah Zam was an Iranian activist and former journalist who lived in exile with refugee status in France and openly sought the overthrow of the Islamic Republic. He ran Telegram channels used to spread information to Iranians protesting the regime and encourages viewers to join demonstrations. Zam's channels—particularly AmadNews—disseminated times and places of upcoming rallies to its subscribers, who numbered more than a million. He also published controversial materials undermining the regime, including documents revealing government corruption and malfeasance.
Zam was born in Tehran in 1973. He said he left Iran after being jailed in Tehran's notoriously brutal Evin Prison after the controversial 2009 presidential election and accused of working with foreign intelligence agencies. His father is a cleric who served in the Iranian government in the 1980s and has condemned his son's work. Zam has said that some of his relatives in Iran have been detained for months in order to compel him to shut down his Telegram channel and return to Iran.
Arrest
In mid-October of 2019, Iran's Islamic Revolutionary Guard Corps (IRGC) announced that it had arrested Zam after he was "guided into the country" via a "complicated intelligence operation," adding that Zam had "stepped into intelligence trap of the Guards some two years ago." The IRGC posted news of Zam's arrest on his Telegram channel, as well as a photo of Zam in captivity, with the caption "This is just the beginning."
The IRGC claimed Zam was being guided and safeguarded by American, Israeli, and French intelligence agencies, and called him "one of the main people of the enemy's media network and psychological warfare." A senior IRGC general said, "Zam was a key figure of intelligence services for throwing the country into disarray… and driving a wedge between the Iranian people and government."
The Times of London reported that a female Iranian intelligence agent persuaded him to go to Iraq, where he was abducted and brought back to Iran. According to Radio Farda, the French newspaper Le Figaro said that it had sources who said Zam was lured to Iraq with a promise of meeting leading Shiite Ayatollah Ali al-Sistani. Iranian exiles and experts in Paris have theorized that French intelligence at least tacitly agreed to the IRGC operation in order to get Iran to release two imprisoned French academics.

According to the Financial Times, Zam's wife, Mahsa Razani, said her husband was traveling to Iraq "for a business meeting and knew and trusted the woman in question." A friend of Zam's told Iranian media that he was keen to raise money for a television channel, adding that Shirin Najafi, an administrator at Amadnews, showed him 15 million in euros-in €500-euro notes on her bed and told him to come to Iraq to take the money personally to Paris. The friend claimed that the Iranian regime had gotten her to cooperate with them against Zam. Najafi, now reportedly in hiding, denies asking Zam to come to Iraq, and told the Iran International satellite channel that she asked Zam not to go, but he insisted.
On October 17, 2019, Iranian state-run television reported that IRGC agents arrested Zam in Iraqi Kurdistan, near the border with Iran. Iraq's Kurdistan Regional Government denied that Zam had ever been in Iraqi Kurdistan. The IRGC has not disclosed where it arrested Zam, but an IRGC official revealed that the Guards had captured him with the cooperation of a foreign intelligence service.
After Zam's arrest, regime hardliners accused officials in President Hassan Rouhani's administration of leaking information to AmadNews, and one member of parliament claimed that several administration officials had been arrested for cooperating with Zam's website.
On October 23, 2019, an IRGC spokesperson claimed that the Guards had "already captured many of [Zam's] contacts inside the country." Media and others tied to the IRGC have said that finding Zam's network of sources is more important than capturing the activist himself.
Treatment in Captivity
The regime forced Zam to confess on Iranian television to engaging in "counter-revolutionary" actions at the direction of France. He apologized to the Islamic Republic, said he regretted "what has happened in the past three or four years," and stated that he was "wrong" to trust foreign governments like France's, and "especially governments that show they do not have good relations with the Islamic Republic," including the United States, Israel, Saudi Arabia and Turkey.
Charges, Trial, and Sentencing
Zam's trial began on February 10, 2020, in Tehran's Revolutionary Court. It was presided over by Judge Abolqassem Salavati, who is nicknamed "the Hanging Judge" or "the Judge of Death" for imposing harsh sentences, including capital punishment, in political cases. Zam was reportedly charged with either 15 or 17 counts, including "sowing corruption on earth" insulting "the sanctity of Islam," and "conspiring with the US Government against the Islamic Republic of Iran"—all of which carry the death penalty—as well as having "committed offences against the country's internal and external security," "complicity in provoking and luring people into war and slaughter," "espionage for the French intelligence service," "spying for Israeli intelligence services via the intelligence services of one of the countries in the region," "establishment and administration of the Amad News channel and the Voice of People," and "insulting Ruhollah Khomeini and Ali Khamenei." 
At trial in February, Zam reportedly contested the claim that the U.S. is an "enemy state." He also admitted to meeting someone from the U.S. National Security Agency, but only regarding a visa application. At another trial session in May, a prosecutor accused Ruhollah Zam of links to espionage activities and claimed Zam was not a member of the press. Zam disputed those claims, asserting that he operated as a journalist and broadcaster.
An Iranian judiciary spokesman announced on June 30, 2020, that Zam had been convicted and sentenced to death for 13 counts, which were grouped together and treated as cases of "sowing corruption on earth." He was also sentenced to life in prison for "several other charges," which were unnamed.
On December 10, 2020, an Iranian court upheld the death sentence against Zam. Zam has one more chance to appeal the decision under Iranian law, and the judiciary chief also has the power to cancel the ruling and order a retrial if he finds it was in violation of Sharia.
International Reaction
Zam's wife, Mahsa Razani, who resides in France, told the BBC Persian Service that "My husband was abducted. I saw [reports] of his arrest on Iranian television and could not believe it until I saw the video when I realised he was kidnapped."
After Zam's abduction, the French foreign ministry stated, "We reiterate our commitment to upholding the rule of law and in particular, the freedom of expression and the right of asylum, and therefore strongly confirm [sic; presumably "condemn" was intended] Ruhollah Zam's arrest." After Zam's death sentence was announced, the foreign ministry denounced it as "a serious blow to freedom of expression and press freedom in Iran."
Execution
On December 12, 2020, Iran's state television reported Ruhollah Zam was executed. The European Union condemned in the "strongest terms" Zam's executions, recalling "its irrevocable opposition to the use of capital punishment under any circumstances," according to a statement from the EU's External Action Service.
The French Foreign Ministry said in a statement, "France condemns in the strongest possible terms this serious breach of free expression and press freedom in Iran. This is a barbaric and unacceptable act that goes against the country's international commitments."
Reporters Without Borders (RSF) condemned the execution and Amnesty International said it was "shocked and horrified" by Iran's action.
Receive Iran News in Your Inbox.
Eye on Iran is a news summary from United Against Nuclear Iran (UANI), a section 501(c)(3) organization. Eye on Iran is available to subscribers on a daily basis or weekly basis.