Emad Shargi
Emad Shargi
Iranian-American Businessman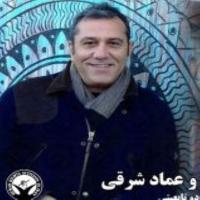 Biography
Emad Shargi is an Iranian-American businessman. He was born in Iran but left as a child, as did his wife, Bahareh Amidi Shargi, a poet.
Emad completed a bachelor's degree in economics from the University of Maryland and a master's in management information systems from the George Washington University in Washington, DC. He worked for years in Dubai, United Arab Emirates, as a partner at Executive Aircraft Sales.
After their children left for college, Emad and Bahareh decided in 2017 to move back to Iran. He reportedly worked in a senior role at Sarava, an Iran-based venture-capital and holding company that made investments in Iran's technology sector. After Emad's arrest, Sarava claimed that his employment had ended in May of 2018. The firm added that the charges against him were unconnected to his service and that he could not have viewed information about the firm's clients or the companies Sarava invested in.
Arrests
On April 23, 2018, over a dozen agents of the authorities entered the Shargis' home and arrested Emad,. There are conflicting reports about whether Bahareh was also arrested. The regime also seized the Shargis' passports and electronic equipment.
As noted below, Emad was released from prison in December 2018 and cleared of all charges by Tehran's Revolutionary Court in late 2019. However, the regime held on to Emad's passport, and a news story wrongly reported that the Shargis were arrested again. The court also summoned him for three hearings during 2020.
Emad was arrested again on December 6, 2020, according to a January 14, 2021 article by the regime-affiliated Young Journalists' Club (YJC). The YJC claimed he had previously been sentenced to ten years in prison for "espionage and military intelligence gathering" but was released on bail pending appeal and that the authorities caught him at an airport as he was trying to flee Iran. The New York Times also reported that Emad had been detained while trying to escape into northern Iraq.
To public knowledge, Emad is the first and only American hostage of Iran taken after Joseph R. Biden Jr. was elected president of the United States.
Treatment in Captivity
After his first arrest on April 23, 2018, Emad was jailed for eight months at the notoriously brutal Evin Prison in Tehran and spent part of that time in solitary confinement. He was held in the prison's ward 2A, which is controlled by the IRGC's intelligence branch, and questioned about his travel and commercial dealings. Bahareh was also questioned and warned that they would retaliate if she spoke with U.S. officials or the media. The authorities released Emad in December 2018.
About six weeks after Emad was arrested again in December 2020, his family said in a statement that they "have no idea where he is or who has him." His daughters said in April 2021 that they "have no way of knowing how he is, except for a couple of short, monitored phone calls." They added: "He is trapped in terrible conditions during a deadly pandemic and is being refused a vaccine."
Charges, Trial, and Sentencing
Emad was reportedly charged with espionage, but, as noted below, he was cleared of all charges by Tehran's Revolutionary Court in late 2019. However, as noted above, the regime kept Emad's passport, and the court summoned him for three hearings during 2020.
After Emad's second arrest in December of 2020 was made public, a friend of the Shargis' said Emad had been told to go on November 30, 2020, to a court in Tehran and was informed then that the court had convicted him—with no trial or prior notice—of spying, and gave him a ten-year prison sentence. He was not allowed to retain a copy of the document detailing his conviction.
Emad was released on bail pending appeal. However, as noted above, he was arrested on December 6, 2020, as he tried to flee Iran.
International Reaction
After Shargi's arrest became public in January 2021, the U.S. Department of State commented that it was "aware of the reports that Iran has detained another U.S. citizen."
In agreement with her husband, Bahareh left Iran for the U.S. in 2020 to be with their children. She lives in Washington, DC, where she directs activities to free Emad.
Shargi's daughters, Ariana and Hannah, wrote in a 2021 editorial: "As we write this, he should be here with us, barbecuing in the backyard of the house he has lived in for more than 20 years… Instead, he is in a cell." They called on the U.S. government "to do everything in their power to bring home our dad and the other American hostages being unjustly detained in Iran," and for "the international community to persevere in seeking justice for these individuals torn away from their loved ones." They added, "We are pleading with the Iranian government to return our father safely to us."