Porsche AG
As of May 17, 2021, Iowa's Public Employee's Retirement System lists Porsche on its Iran Scrutinized Companies List.
--
Porsche lists Moin Motors Trading Company as its location in Tehran, Iran on its company website. 
--
As of August 15, 2019, the state of Iowa listed Porsche on its Iran scrutinized companies list.
--
In 2018 the U.S. state of Iowa listed Porsche Automobil Holding SE as an Iran restricted company rendering Porsche Automobil Holding SE ineligible for investment and/or state contracting.
--
Porsche AG is a German automobile manufacturer of luxury vehicles, and a subsidiary of larger conglomerate, Porsche Automobile Holding SE, along with Volkswagen AG. (Company Website).
--
"The Trade Promotion Organization of Iran has announced the list of cars which are allowed to be imported in the current Iranian year, but renowned brands such as Porsche, Benz, BMW, Maserati, and Nissan are not in the list, ISNA news agency reported." (Azer News, "Iran bans imports of renowned car brands," 5/27/2013) 
--
"Wealthy Iranians are fueling an unprecedented luxury car boom despite sanctions hurting their economy, paying up to $360,000 for high-end autos, according to showroom employees and reports Sunday. 'Buyers are paying upfront for these cars, which generally cost two to three times more than abroad,' one car salesman in Tehran told AFP on condition of anonymity. A newspaper citing official customs data, Hafte-Sobh, reported that 'some 563 different Porsche models were sold in the last Iranian year (to March 2012),' worth a total $50 million before a hefty 100-percent import tax... Maserati, the growling musclebrand owned by Italy's Fiat, is also looking to get a slice of the action by opening its own Tehran showroom within weeks, reports say. The ostentatious splurge by Iran's elite starkly contrasts with the straits experienced by ordinary Iranians." (Agence France-Press, "Wealthy Iranians spur lucury car boom despite sanctions," 4/23/12)
--
"Porsche has become the latest international automaker to pull its business out of Iran in an apparent response to an effort by two U.S.-based advocacy groups to step up pressure on the Tehran regime, FoxNews.com has learned. United Against a Nuclear Iran and Iran Watch List launched their campaign in 2010 after they discovered the Iranian auto industry, the 13th-largest in the world, is dominated by members of the Iranian regime and the Islamic Revolutionary Guard Corps. 'We have to send a message to that regime that no longer can it be business as usual until they renounce their nuclear weapons program and stop sponsoring terrorism around the world,' said former U.S. Ambassador to the United Nations Mark Wallace, who heads United Against a Nuclear Iran. Wallace says the auto sector feeds the Iranian regime not only as 'a massive source of revenue,' but also as a means of accessing advanced foreign technologies and products." (FoxNews, "Bowing to pressure, Porsche joins Hyundai in ending business with Iran," 4/16/12)
---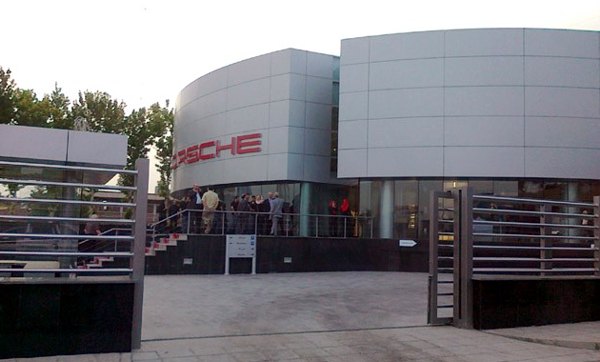 The Porsche dealership center in Tehran (Source: Gooya News)