Hassan Rouhani: Former President of Iran
Hassan Rouhani's Unwavering Devotion to the Supreme Leader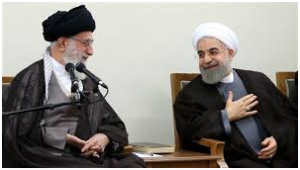 Described as the "ultimate regime insider," Hassan Rouhani hides behind a veil of 'moderate' rhetoric, but has always been an obedient servant to Supreme Leader Ayatollah Khamenei. In fact, the close friendship between Rouhani and Khamenei extends more than four decades. Unlike other leaders described as reformist or moderate such as former President Mohammad Khatami, Rouhani "has never been out of power or Khamenei's good graces." Rouhani was therefore predictably silent when the regime launched a brutal crackdown on protesters demonstrating against the fraudulent June 2009 elections.
While strains have emerged between Khamenei and Rouhani during the 2017 election, as Khamenei was openly critical of Rouhani's economic record and preference for economic engagement with the West, these tensions are largely tactical differences. Khamenei believes Iran needs economic self-sufficiency to preserve the regime while Rouhani believes that trade and foreign investment are needed. For those who see these strains as evidence of substantive differences between Rouhani, the so-called "moderate," and hardliners, it is crucial to note that Rouhani would not have been permitted to run for reelection by the Supreme Leader and the Guardian Council if not for his insider status and firm adherence to the radical ideology and policies of the Islamic Republic.
In fact, Rouhani's record during his first term gave Supreme Leader Khamenei much to be pleased about. Most notably, the nuclear deal Rouhani's administration secured with the P5+1, with Khamenei's full approval, ended Iran's international isolation and provided a lifeline to Iran's economy, which had suffered under hyperinflation and growing unemployment. Rouhani also achieved numerous milestones in the furtherance of the Supreme Leader's radical agenda. Under Rouhani, Iran advanced its ballistic missile development, intensified its lethal aid to the Assad regime's brutal war effort in Syria and to the Houthi rebels in Yemen, increased its harassment of U.S. naval vessels in the Persian Gulf, and intensified its violation of human rights. Rouhani proved his mettle as a loyal Khamenei ally and soldier of the Islamic Revolution during his first term, earning him the right to serve another term as president.
Rouhani's Commitment to Iran's Nuclear Program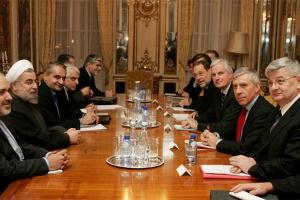 Hassan Rouhani came into office with a dubious track record of using nuclear negotiations with the West to secure concessions while buying time to advance Iran's illicit nuclear program. Between 2003 and 2005, Rouhani served as Iran's chief nuclear negotiator, during which time Iran temporarily halted its uranium enrichment activities. Some Western pundits and analysts highlight this period as evidence of Rouhani's "moderate" character. In Iran, however, Rouhani conveyed a much different story.
In a seminal speech he gave in 2004 to the Supreme Cultural Revolution Council, Rouhani boasted of Iran's nuclear progress during Iran's temporary suspension of enrichment activities:
We only agreed to suspend activities in those areas where we did not have technical problems… While we were talking with the Europeans in Tehran, we were installing equipment in parts of the facility in Isfahan… In fact, by creating a calm environment, we were able to complete the work in Isfahan. Today, we can convert yellowcake.
Such comments confirm that Rouhani's chief goal in the EU3 negotiations was merely to buy time for the advancement of Iran's nuclear program, rather than engage in genuine compromise. According to Rouhani's own logic, "We should be patient and find the most suitable time to do away with the suspension." "If one day we are able to complete the (nuclear) fuel cycle and the world sees that it has no choice, that we do possess the technology, then the situation will be different."
In his first election campaign, Rouhani highlighted that during his tenure as chief nuclear negotiator, "We completed the [uranium enrichment] program" by mastering the nuclear fuel cycle during the period of supposed suspension. Given Rouhani's personal pride in the nuclear program and history of deception in advancing it during periods of negotiation and ostensible suspension, it is no surprise he considers the Joint Comprehensive Plan of Action (JCPOA) to be his crowning achievement as President.
In securing the JCPOA, Rouhani attained front-loaded sanctions relief and access to over $100 billion in previously frozen assets for Iran in exchange for temporary restrictions on its nuclear program. Already, the lifting of all these sanctions has revitalized a once deeply troubled Iranian economy, reducing U.S. and international leverage to hold Iran to its obligations under the nuclear deal and hold Iran accountable for its destabilizing behavior. In under 15 years time, key provisions of the JCPOA that restrict Iran's uranium enrichment and plutonium reprocessing capabilities will expire, giving Iran the ability to operate an industrial-scale nuclear program. At that time, Iran's breakout time for a nuclear weapon will shrink to a few days or weeks, leaving the international community insufficient time to respond.