Hassan Rouhani: Former President of Iran
Hassan Rouhani's Regime Resume
President
August 2013 to Present
Hassan Rouhani was elected president of the Islamic Republic of Iran in June 2013, and assumed the office that August. Rouhani campaigned for president on promises of expanding civil liberties and economic reform, but Iran's human rights situation deteriorated further under his leadership, as executions surged and repression of journalists, dissidents, dual nationals, and minorities intensified.
Rouhani's primary achievement in office was reaching a nuclear deal with the P5+1, whereby Iran received front-loaded sanctions relief and access to over $100 billion in previously frozen assets in exchange for temporary constraints on Iran's illicit nuclear program. The deal helped Iran rein in persistent hyperinflation and ended Iran's economic isolation, but the benefits of the deal have primarily redounded to patronage networks affiliated with the Islamic Revolutionary Guard Corps (IRGC) and Supreme Leader Ayatollah Ali Khamenei, rather than ordinary Iranians.
While Rouhani's promised social and economic reforms failed to pay dividends during his first term, 57% of Iranian voters opted to elect Rouhani for a second term on May 19, 2017, believing him to be the most moderate option available. Rouhani again made bold campaign promises during the 2017 election season, causing tensions with the Supreme Leader. It remains to be seen whether he will have more ability or desire to follow through with reforms during his second term.
Member of the Assembly of Experts
1999 to Present
The Assembly of Experts is an 86-seat deliberative body of Mujtahids (Islamic theologians) that is charged with electing the Supreme Leader of Iran and supervising his activities. Hassan Rouhani has been a member of the Assembly since 1998, serving as head of the Political and Social Committee of the Assembly of Experts from 2001 to 2006 and 2013 to present, and as member of the Presiding Board and head of the Office of the Assembly of Experts' Secretariat from 2006 to 2008.
Member of the Expediency Council
1991 to Present
Iran's Supreme National Security Council
Secretary 1989 to 2005, Member 2005 to Present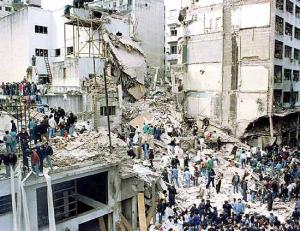 Hassan Rouhani currently serves as one of the two personal Representatives of the Supreme Leader to the elite, 12-member Supreme National Security Council (SNSC). From 1989 to 2005, he served as Secretary of the Council.
The SNSC is responsible for formulating Iran's nuclear policy, though the policy's implementation is subject to approval by the Supreme Leader. During his tenure on the Council, Rouhani was complicit inIran's 1994 bombing of the AMIA Jewish cultural center in Buenos Aires which killed 85 and the 1996 bombing of Khobar Towers in Saudi Arabia which killed 19 U.S. airmen. Iran's illicit nuclear facilities in Arak, Natanz and Isfahan were secretly constructed during Rouhani's tenure as Secretary of the Council.
July 1999 Crackdown of Student Protestors:
During his tenure as Secretary of the Supreme National Security Council, Hassan Rouhani was complicit in a bloody crackdown on a July 1999 pro-democracy university student protest. In a speech at a pro-regime rally, Rouhani belligerently announced that "we received a decisive revolutionary order to crush mercilessly and monumentally" the student protests, which was widely viewed as a carte blanche authorizing the Islamic Revolutionary Guard Corps and the basij militia to unleash unrestrained violence to quash the incipient uprising. Rouhani designated the protestors as "enemies of the state," a charge that carried the threat of execution. Rouhani's incitement resulted in the deaths of more than a dozen students, while more than 1,000 were arrested and hundreds were tortured. 70 students simply "disappeared" in the ruthlessly effective crackdown.
Reza Mohajerinejad, a student leader from the 1999 protests, said, "If we're ever going to get freedom and democracy, we're not going to get them from Rouhani." Ever the regime stalwart, Rouhani defended Iran's human rights record in Orwellian fashion in 2004 by insisting that there was "not one person in prison in Iran except when there is a judgment by a judge following a trial."
Chief Nuclear Negotiator
October 2003 to August 2005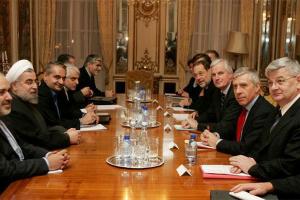 Hassan Rouhani's involvement in Iran's decision to temporarily suspend uranium enrichment in Iran in 2004 has been erroneously construed as evidence of his moderate political orientation. Rouhani's record as Iran's chief negotiator with the EU3 – Britain, France and Germany – shows his ability to masterfully harness the power of conciliatory rhetoric in order to disguise Khamenei's determination to continue expanding Iran's nuclear program.
In 2008, a former Khatami administration spokesman Abdollah Ramezanzadeh presented evidence of the duplicity of Rouhani's nuclear strategy. Ramezanzadeh reveals that the regime was importing "all the materials needed for the nuclear activities of the country" during the suspension of Iran's uranium enrichment in 2004. He distinguishes Iran's "overt policy, which was one of negotiation and confidence building," from its "covert policy, which was continuation of the activities." Hossein Mousavian, Rouhani's spokesman in 2004, confirms Ramezanzadeh's statements by admitting that the 2004 "negotiations provided time for Isfahan's uranium conversion project to be finished and commissioned, the number of centrifuges at Natanz to increase from 150 to 1,000, and software and hardware for Iran's nuclear infrastructure to be further developed. The heavy water reactor project in Arak came into operation and was not suspended at all."Ramezanzadeh's bluntly added, "The solution is to prove to the entire world that we want the power plants for electricity. Afterwards we can proceed with other activities…Japan is the most advanced country in the world but Japan can produce a nuclear bomb in less than a week."
Rouhani himself boasted of using the cover of negotiations to buy time for Iran's illicit enrichment efforts. In 2004, he noted that, "While we were talking with the Europeans in Tehran, we were installing equipment in parts of the [uranium enrichment] facility in Isfahan… In fact, by creating a calm environment, we were able to complete the work in Isfahan. As a presidential candidate in 2013, Rouhani indignantly defended his record as chief nuclear negotiator. In response to allegations that Iran suspended enrichment, Rouhani boasted that, on the contrary, "We completed the [uranium enrichment] program" during his tenure.
National Security Advisor to the President
1989 to 1997 and 2000 to 2005
Rouhani was the National Security Advisor to both President Rafsanjani and President Khatami. In a 2002 interview with ABC News, Rouhani demonstrated that he is an avid proponent of Iran's extremist foreign policy predicated upon "resistance" to the U.S. Rouhani claimed that Iran's relations with the U.S. were at their lowest point ever, and that U.S. policy toward Iran aggressively sought regime change as a result of prompting by the 'Zionist lobby.' Rouhani went on to deny Iranian links to arms-smuggling efforts to Palestinian militants and downplayed Iran's ties to Hezbollah, despite evidence to the contrary. He defended the legitimacy of Palestinian suicide bombings, denied the IRGC-Quds Force role in terrorism, and claimed that terrorist organizations such as Hezbollah and Hamas "are fighting for the freedom of land."
Speaking of the root causes behind U.S.-Iranian enmity, Rouhani said, "America is not keen on independent countries. America is not keen on people's freedom. America is keen on countries that completely surrender themselves and act according to America's demands." He also defended Iran's human rights record, claiming that newspaper closures and other attacks on press freedoms were justifiable under "the framework of a democratic regime such as Iran."
Military Positions
1983 to 1991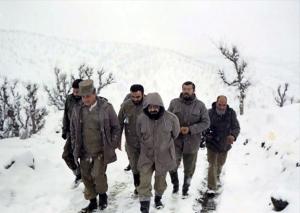 Hassan Rouhani was a member of the Supreme Defense Council from 1983 to 1988. The Council was responsible for perpetuating the Iran-Iraq War even after all Iranian territories had been liberated and despite the great human cost of the war.
In 1988, Rouhani was promoted to Deputy Commander in Chief of the Armed Forces. He was also Head of the Executive Committee of the High Council for War Support from 1986 to 1988, and Commander of the Iran Air Defense Force from 1985 to 1991, among other roles.
Member of the Majlis (Consultative Assembly)
1980 to 2000
Early Life
Rouhani was born Hassan Feridon in 1948 in Iran's Semnan province. He entered religious studies in Qom in his youth and went on to earn a secular law degree from Tehran University in 1969. During his studies at Qom, he took the name Rouhani, which means "community of clerics," to replace "Feridon," his ancient Persian, non-Muslim, given name. He received a PhD in Law from Glasgow Caledonian University in Scotland in 1999 and wrote his dissertation on sharia law.