Who Is Iran's New Ambassador to Iraq?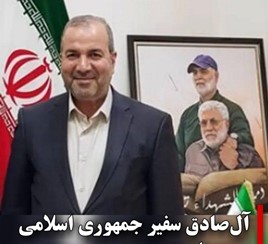 Last Monday, Iran's Foreign Ministry announced that Mohammad Kazem Al-e Sadeq will become the next Iranian ambassador to Iraq. This is a critical diplomatic post for the Iranian system, as it manages and manipulates Tehran's interests in Baghdad. Al-e Sadeq will have big shoes to fill after the consequential tenure of his predecessor Iraj Masjedi.
Who is Mohammad Kazem Al-e Sadeq?
Not much is known about Al-e Sadeq's career trajectory, which likely indicates a deep background in the Islamic Revolutionary Guard Corps' (IRGC) Quds Force. He was born in Najaf to a prominent family with a religious pedigree and is the younger brother of writer Mohammad Reza Al-e Sadeq. Iranian media highlighted that Mohammad Kazem Al-e Sadeq is fluent in Arabic—which is important given the weaknesses that the current Commander of the IRGC's Quds Force Esmail Ghaani has brought to the position as he lacked the command of Arabic that Qassem Soleimani had. Al-e Sadeq was most recently a political advisor at the Iranian embassy in Iraq and served as a deputy to Masjedi while he was ambassador. There are some reports he was close with Soleimani and also served in the Iranian embassy in Syria. Additionally, Al-e Sadeq was at one point a member of the board of directors of an association which honors IRGC martyrs, particularly those who have served in its Intelligence Organization.
Who were his predecessors?
Al-e Sadeq follows a long line of Iranian ambassadors to Iraq since 2003 who have all held posts in the IRGC prior to their tenures. Hassan Kazemi Qomi, whose tenure lasted 2005-10, was head of the Iranian consulate in Herat, Afghanistan and is believed to have been a member of the IRGC's Quds Force. His successor, Hassan Danaeifar, who served as ambassador from 2010-17, was commander of the IRGC's Khatam al-Anbiya's Construction Headquarters and director of the Headquarters for Iran-Iraq Economic Relations before arriving in Baghdad. Masjedi replaced Danaeifar. Masjedi came to the post as another advisor to Soleimani who ran point on Iraq for the Quds Force, and earlier was chief of staff of the IRGC's Ramadan Headquarters.
Thus Al-e Sadeq comes to the position with similar regional experience to his predecessors—especially with deep ties in Iraq and having worked in assignments in two sensitive regional theaters, particularly through his service in Syria as well. His career trajectory is similar to Kazemi Qomi, who served in diplomatic missions in Afghanistan and Iraq prior to being elevated as ambassador. To date, Danaeifar has been the most prominent of all occupants of the Iraq ambassadorship—given his senior command posts in the IRGC. Al-e Sadeq has flown more under the radar.
While Iran's Foreign Ministry has yet to release a formal biography of Al-e Sadeq, Iranian media's casting of him as a longtime hand at the Iranian embassy in Baghdad is similar to how it has branded other ambassadors with deep Quds Force experience who rose to diplomatic posts, particularly the late Hassan Eyrlou, Iran's former ambassador to Yemen who died last year, whose biography packaged him as a longtime fixture of the Iranian Foreign Ministry, which masked his significant field experience as a Quds Force operative. Most significantly, Iran's system is likely positioning Al-e Sadeq in Iraq as a more authentic voice given his birth in Iraq, which contrasts with Masjedi, who was born in Khuzestan, Iran. Unlike Masjedi who was sanctioned by the U.S. government in 2020 as a Specially Designated Global Terrorist, Al-e Sadeq has not been designated as such to date.
Why does Al-e Sadeq matter?
Al-e Sadeq assumes the post at a difficult time for Tehran in Iraq. After Soleimani's demise, managing Iran's Iraqi militia network has become increasingly difficult. Ghaani lacks Soleimani's skill set. As the U.S. Defense Intelligence Agency assessed in 2021, Soleimani's demise "degraded" these relations given him being the primary interlocutor with them for many years. To fill the void, Masjedi and also his predecessor Danaeifar have played instrumental roles in maintaining these relationships in the interim. Separately, last year, the head of the IRGC's Intelligence Organization Hossein Taeb made a rare trip to Iraq to deliver messages to the militias to increase attacks on U.S. forces stationed there. That is not to mention the more active role of Hezbollah's Secretary-General Hassan Nasrallah in protecting Iranian equities in Baghdad. Thus, there has been a fragmentation in the personalities involved in the Iraq portfolio for Tehran, and Al-e Sadeq will find himself navigating the Iraqi landscape within this dynamic. His relationship with Soleimani, connection with the IRGC's Intelligence Organization, and family history in Iraq will assist him. Nevertheless, two years after Soleimani's demise, Iran is still scrambling to find the right management balance in Iraq.
Al-e Sadeq will also have to carefully calibrate Iranian positioning amid government formation efforts in Iraq. The recent elections saw Tehran's allies lose ground, and there has been a clash between victor Muqtada al-Sadr's desire for a national majority government and the demand of the Shiite Coordination Framework for a national consensus government. Al-e Sadeq will be in the middle of that maelstrom.
Lastly, with Iraq mediating between Iran and Saudi Arabia, Masjedi had been playing a role in that process. Al-e Sadeq will likely assume those duties as well as handling the fallout in Erbil after the Islamic Republic attacked the villa of a prominent Kurdish businessmen in part over a plan for Kurdistan's Regional Government to supply gas to Turkey and Europe, with Israeli help, according to Reuters.
In the end, Masjedi is departing from his post after five years as ambassador, which is roughly consistent with his predecessors—Kazemi Qomi left after five years, while Danaeifar finished his tenure after seven years. But Al-e Sadeq will inherit an increasingly complex portfolio as Tehran finds its interests challenged in Iraq. His background, particularly having been born in Iraq, will help in this assignment.
Jason M. Brodsky is the policy director of United Against Nuclear Iran (UANI). He is on Twitter @JasonMBrodsky.