What Could the Top Contenders for Prime Minister Mean for UK Iran Policy?
The three leading candidates to take over as Britain's new Prime Minister are Rishi Sunak, Liz Truss, and Penny Mordaunt. What do we know about their positions on Iran, and could anything change depending on the winner?
Rishi Sunak
Sunak's foreign policy positions beyond support for Brexit are not in evidence. Before becoming an MP in 2014, Sunak carved out a career in finance, while his ministerial portfolios have been understandably limited to big Treasury jobs including his current post as Chancellor.
Sunak's voting record offers few clues either. He voted in favor of British military strikes against ISIS in 2015 and for updating Britain's Trident nuclear deterrent program - but so did almost every other Conservative MP.
If Sunak has considered the future of the Anglo-Iranian relationship at all, his domestic emphasis on Britain's finances might sway him toward a pro-trade rationale and attendant support for the JCPOA (Iran nuclear deal). This would echo the confused thinking of the UK's former Iran Trade Envoy Lord Lamont – another Tory Chancellor – who told UANI in 2016 that "greater trade with Iran…[will] strengthen moderate…elements" and later described the U.S. pullout as "catastrophic."
So the Chancellor does not seem to have strong foreign policy convictions, or they are at least not a matter of public record. Coupled with his recent appreciative comments about Johnson, another big JCPOA supporter who begged President Trump not to pull out of the nuclear deal, a Sunak government would suggest a continuation of his former boss' Iran policy: ongoing support for the JCPOA as a 'least bad' option to restrain and possibly moderate Iran in the long-term.
Liz Truss
While we can only speculate on Sunak, we have clearer indications about the views of Liz Truss.
As Foreign Secretary from 2021, she has had two priorities on Iran.
First was getting British hostages out of the country. He efforts ultimately led to the release of Nazarin Zaghari-Radcliffe and Anoosheh Ashoori.  This week, she used this as proof of her leadership credentials.
This is not exactly the big win as framed.
While obviously a happy outcome for the victims and their families, there is no doubt that Britain was forced to pay handsomely. Truss ignored the appeal, "Don't give in to Iran's blackmail by paying £400 million to free Nazanin." Under her watch, Britain paid £400m in ransom money (or as the UK Government described it, "historical debt") in a "carefully choreographed set of diplomatic manoeuvres" – but clearly breaking the "do not negotiate with terrorists" mantra.
Her other priority has been the revival of the JCPOA. Her repeated references to getting "Iran back to the [negotiating] table" suggests she is a true believer in the value of the deal.
Her tenure as Foreign Secretary contrasts with her predecessor, Dominic Raab, who warned in January 2020 that Iran was "marching toward pariah status." He cheered the U.S. decision to kill IRGC major-general Soleimani, slammed Iran's arrest of the UK ambassador in Tehran, and sanctioned the naval seizure of Iranian oil off Gibraltar. 
Despite her reputation as a "human hand grenade," which she admits to enjoy, Truss has not demonstrated similar resolve on Iran.
On the other side of the ledger, however, she has stoutly defended Britain's ties to Arab states and floated the notion of a "Liberty Network" of like-minded countries. With a "conviction politician" as Prime Minister – who has been resolute against Russia – Truss could connect the dots and realize that Britain should likewise adopt much tougher policies against Tehran.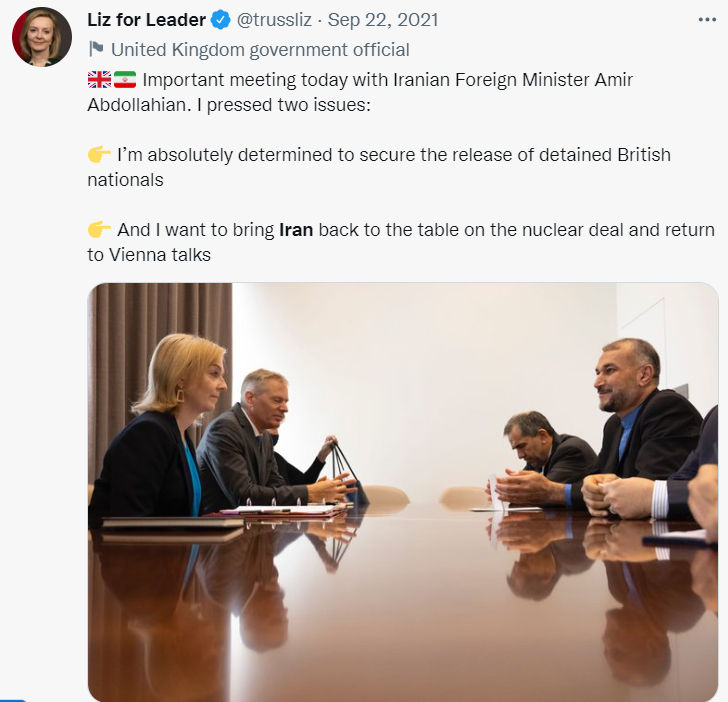 Penny Mordaunt
Although behind Sunak in the official tally, Mordaunt was until recently the bookmakers' favorite owing to her popularity among Tory party members, who have the ultimate say in the final paired run-off.
There are plenty of clues regarding her views on Iran.
Mordaunt served a short but eventful stint as Defense Minister from May to July in 2019 before being ousted by incoming Prime Minister Boris Johnson. Through this period Iran was upping threats against commercial shipping including against British vessels in the Persian Gulf. Mordaunt, herself a Royal Navy reservist, noted that it was "vital that we send a very clear message to Iran that we want them to step back from this situation, that we want them to de-escalate, but we have always and we will continue to protect shipping and the free flow of goods in that area."
Mordaunt also strongly condemned Iran for its downing of Ukraine International Airlines Flight PS752 in January 2020, among whose 176 victims were three Britons.
And back in 2013, Mordaunt highlighted the ongoing threat of Iran (as well as Russia) during a House of Commons debate on Britain's nuclear force:

Of the three candidates, Mordaunt has shown most awareness of the threat that Iran poses, and has been most outspoken in condemning its malign behavior, and not just during her 85-day spell as Defense Minister. Like Tom Tugendhat – another candidate with military experience who is unusually hawkish on Iran in the British context – her experience with the Royal Navy (she was named after HMS Penelope) appears to have sharpened her appreciation of Iran's destabilizing actions across the region.   
Conclusion
For almost ten years since the initial negotiations that led to the signing of the JCPOA in 2015, Britain has been a consistent advocate for the deal. A unilateral withdrawal like the United States has never really been on the cards, despite the chance to carve an independent foreign policy unshackled from the EU. It would be surprising if any of the three top contenders would push for the exit.
But there are voices inside Parliament doing just that. On June 30, 2022, Conservative MP Robert Jenrick opened up the idea of an exit:
Whatever one's thoughts about the JCPOA, the fundamentally different circumstances we face today must be confronted. It is always easy to stick with what one has been involved in for a long time; of course there is pride among those who have negotiated relentlessly on this issue, both here in the UK, in the Foreign Office, and particularly in the Biden Administration, among those officials who were previously in the Obama Administration. However, it is time to appreciate what has happened in the seven years since the deal was signed.
Wise words that the new Prime Minister should heed. But even if the eventual winner decides to stick with the deal, the choice of Prime Minister could make a difference to other important Iran items outside of the JCPOA: the shuttering of London's Iranian terror banks, the designation of the IRGC as a terrorist group in its entirety, and tougher pushback against Iran-sponsored terrorism. The 2021 parliamentary committee report, "No Prosperity Without Justice: the UK's Relationship With Iran," also presents a far more realistic blueprint than Britain's current policy.
Sunak's priorities are likely to be heavily domestic and suggest the continuation of the status quo. As Foreign Secretary, Truss has not proved as robust as her reputation might have indicated, but her "Liberty Network" ideas and defense of the Gulf Cooperation Council might lead to stronger action. From the available evidence, Mordaunt appears best-placed to move the needle on these items – if she decides to follow words with action.
Receive Iran News in Your Inbox.
Eye on Iran is a news summary from United Against Nuclear Iran (UANI), a section 501(c)(3) organization. Eye on Iran is available to subscribers on a daily basis or weekly basis.