October 2021 Iran Tanker Tracking
Former Bush advisor and UANI board member Michael Singh notes in Foreign Affairs that for President Biden to prevail against Iran, he must plug the widening sanctions gaps. "Foremost among them," Singh writes, "are Iran's sales of oil to China, which increased dramatically starting in 2020 and are reportedly facilitated by deceptive maneuvers such as transfers at sea."  Similarly, former U.S. Ambassador to the UN and UANI senior adviser Nikki Haley writes that "the answer, increasingly, is China" in response to the question of how Iran manages to stay afloat in an October 19 Washington Post op-ed.
UANI has been banging this drum for well over two years - since the moment it became clear that Beijing would ignore American oil sanctions. 
As early as July 2019, even under a clearly tougher Trump sanctions regime, we wrote:
China will in all likelihood continue to defy U.S. oil sanctions, despite the expiration of waivers in May 2019 and U.S. willingness to impose sanctions against Chinese companies.  Iranian oil arrives in China almost daily…  Allowing Iran to continue to discharge crude at ports in China not only pours money into regime coffers, it frees up Iranian tankers instead of forcing them to act as storage units. The U.S. government might therefore consider sanctions on Chinese port authorities and operators that are continuing to allow Iran to circumvent sanctions and discharge Iranian crude. 
(For a more recent analysis and what else to do about it, see our article in The Hill, "Let's plug the sanctions gaps that enable Iran to sell to China and Venezuela.")  
For all destinations during October, Iranian exports again hit more than 1 million barrels per day (bpd) of crude oil and gas condensate, holding steady from the previous two months. China's share was just below 600,000 bpd, which will likely rise by another 100,000 barrels in the coming days as more data filters in.  This will likewise be in line with the previous month's total of 740,000 bpd. Evidently Beijing's appetite remains insatiable, and given fresh impetus with the late September announcement from CCP leaders who "ordered the country's top state-owned energy companies – from coal to electricity and oil – to secure supplies for this winter at all costs…" China is thus still managing to import daily barrels from Iran numbering in the high hundreds of thousands (18 million barrels in total so far this month) - despite U.S. sanctions which supposedly ban the trade outright.
| | | | |
| --- | --- | --- | --- |
| Country | October 2021 - Barrels Per Day (bpd) | September 2021 - Barrels Per Day (bpd)  | August 2021 - Barrels Per Day (bpd) |
| China | 586,993 | 739,215 | 868,475 |
| Syria | 77,434 | 140,377 | 90,689 |
| UAE | 21,294 | 25,000 | 25,355 |
| Russia | 23,619 | 0 | 25,906 |
| Venezuela | 0 | 85,879 | 67,778 |
| Unknown | 313,716 | 133,333 | 64,516 |
| Total | 1,022,996 | 1,123,803 | 1,142,719 |
October also saw a great deal of activity in the South China Sea (SCS), with many vessels cited in previous tracker updates engaging in ship-to-ship transfers.
 ETHAN & KARMA STS
On October 4, 2021, crude oil tanker ETHAN (IMO: 9293741) engaged in a ship-to-ship transfer (STS) with the Panama-flagged oil tanker KARMA (IMO: 9213301). Prior to engaging in the STS with KARMA, ETHAN loaded crude oil from Kharg Island, Iran, at the beginning of September 2021. KARMA remains anchored east of Singapore, but we expect the oil will end up in China as the majority of the Iranian oil does. Since engaging in this STS, ETHAN returned to Iran in October and is again laden with Iranian oil. ETHAN has transported over an estimated 9,000,000 barrels of Iranian crude oil in 2021.
 LAKA & HERA STS
On the same day, we saw crude oil tanker LAKA (IMO: 9203253) engaged in a STS with who we suspect is the Vanuatu-flagged oil tanker HERA (IMO: 9304256).  HERA delivered the oil to Qingdao, China, on October 23.  LAKA has now transported over 7 million barrels of Iranian crude oil in 2021.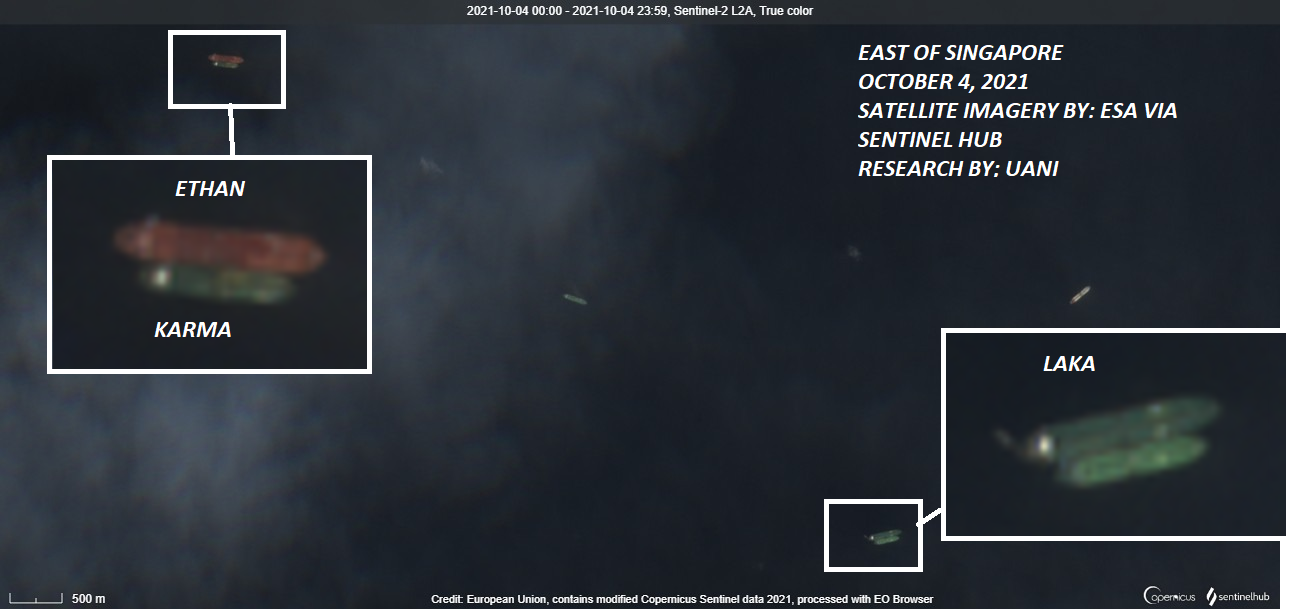 (Source: ESA via Sentinel Hub)
UNIDENTIFIED NITC TANKER STS
The following week we saw a Specially-Designated National (SDN) listed National Iranian Tanker Company (NITC) vessel transfer its Iranian crude oil to what we suspect is a Liberian-flagged vessel.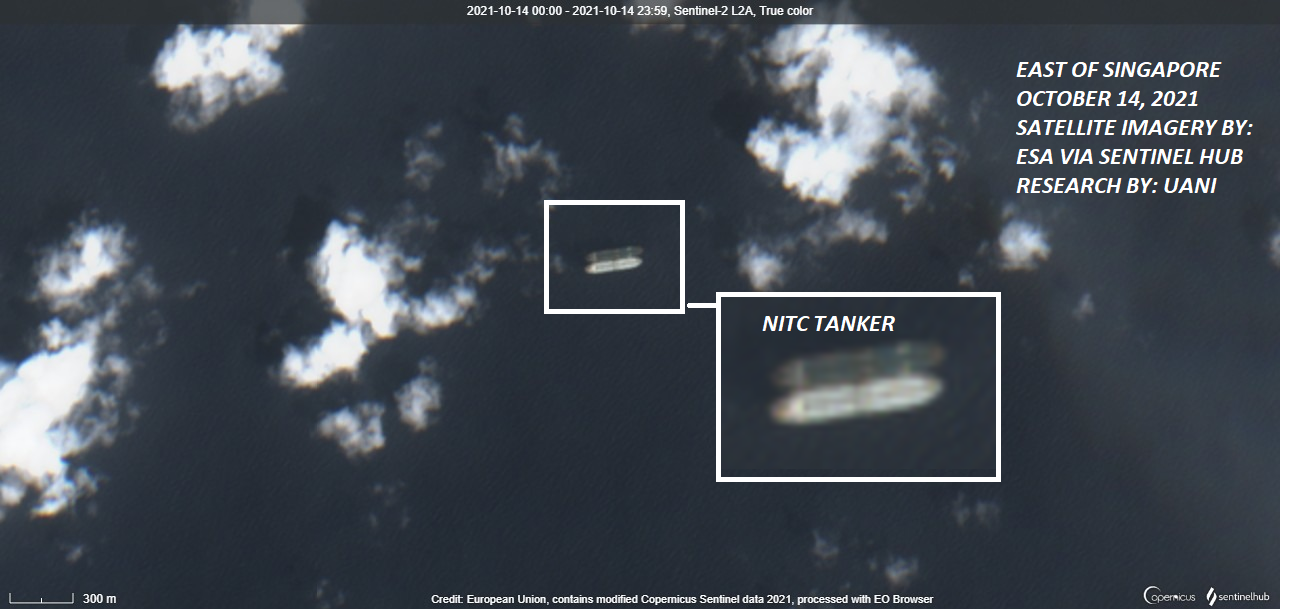 (Source: ESA via Sentinel Hub)
ANAHI & VIETNAM-FLAGGED TANKER STS
Five days later, we saw the crude oil tanker ANAHI (IMO: 9273337) transfer Iranian oil to a Vietnamese-flagged crude oil tanker which is currently still anchored east of Singapore.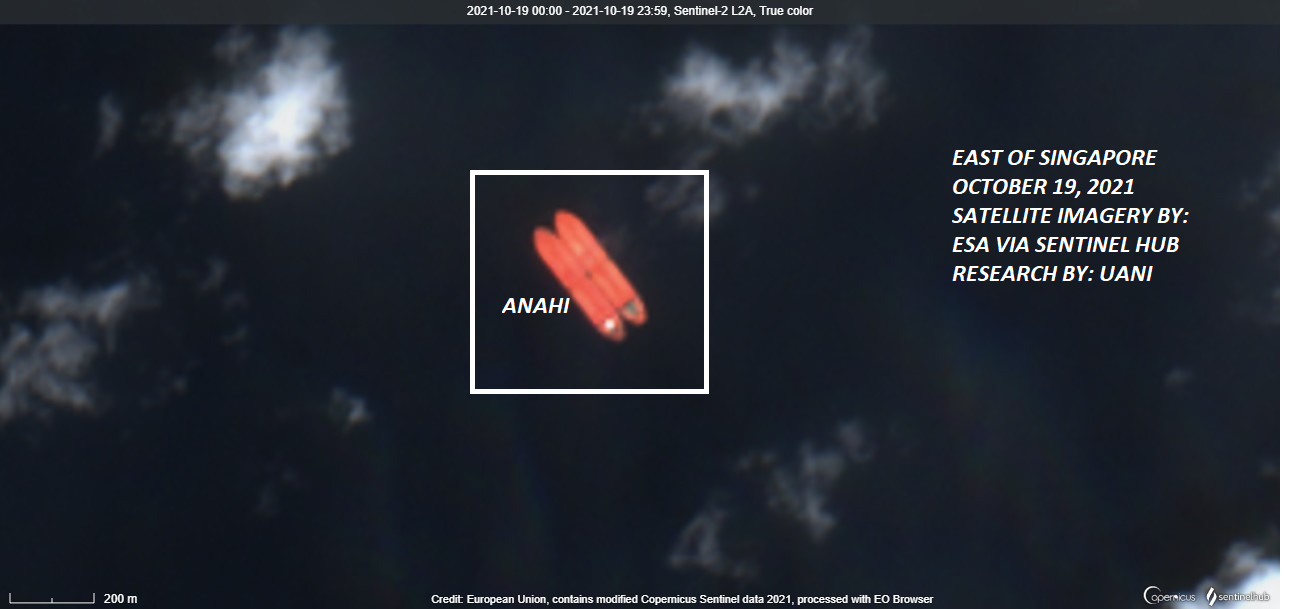 (Source: ESA via Sentinel Hub)
OTHER STS TRANSFERS
More recently, on October 24, 2021, we saw three STS transfers in the SCS, all within close proximity. We believe that two of these transfers are of Venezuelan oil while the third is Iranian.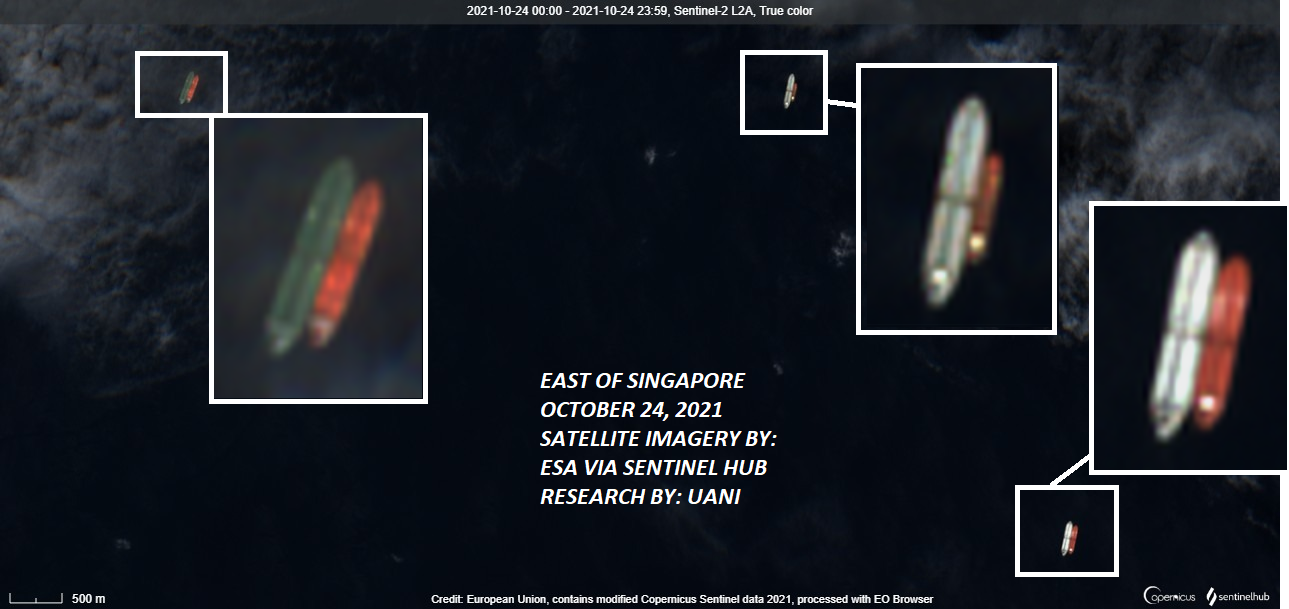 (Source: ESA via Sentinel Hub)
All the oil aboard these vessels will eventually end up in China.  It is clear that the vast South China Sea, the largest sea body after the five oceans, is proving the key staging-post for illicit Iranian oil trade – with ship-to-ship transfers taking place under cover of the usual repertoire of marine trickery. 
We continue to call on the current administration to enforce mandatory sanctions laws on China and Iran for their violations.  
Our long-held concerns are thankfully now being voiced in Congress. U.S. Senators, notably Senators Cruz (R-TX), Menendez (D-NJ), and Toomey (R-PA), are increasingly focused and vocal on this fundamental challenge.  On October 19, Sen. Toomey stated:
…the administration has repeatedly failed to comply with mandatory sanctions laws. Since President Biden was elected, according to the International Energy Agency, Iran has doubled the amount of crude oil it's selling to China to 600,000 barrels each day this year. Even though these sales are illegal under sanctions laws, the administration has refused to impose congressionally required sanctions on them.
Absent enforcement, existing sanctions are impotent. More than this, it adversely affects the reputational worth of other and future sanctions.  It is now up to President Biden – the final arbiter – to show that American laws are worth more than just the paper they're written on: punish the Chinese oil-importers, port authorities and refineries, the crude-carrying vessels and their transfer-partners, and the whole swarm of maritime services firms that make it all possible.
Receive Iran News in Your Inbox.
Eye on Iran is a news summary from United Against Nuclear Iran (UANI), a section 501(c)(3) organization. Eye on Iran is available to subscribers on a daily basis or weekly basis.