May 2023 Iran Tanker Tracker
Earlier this month, one of Iran's "ghost armada" vessels, PABLO (IMO: 9133587), exploded off the coast of Malaysia, ten days after departing China.  Three crew members are presumed dead, with others suffering severe burns.  The cause of the explosion has not been confirmed, but it may have been caused by "vapors from the remains of the oil cargo." This tragic incident highlights the risks that can arise when aging vessels are used to move illicit cargo and also are "operating outside of western oversight."  The 300-plus vessels helping to transport Iranian oil are highly susceptible to such risks.
The enforcement of robust tanker vessel safety standards protects human lives, the environment, and the smooth functioning of global trade. All oil tankers are subject to routine inspections by regulatory bodies and classification societies to ensure the safety of the crew and vessel, prevention of accidents and spills, compliance with international standards, environmental protection, and verification of maintenance and quality management systems.  These inspections contribute to a safer and more sustainable shipping industry. However, ghost armada owners and operators ride roughshod over these essential checks, with the majority falling well short of international standards.
Over recent months, safety concerns have caused a spike in tanker detentions.  Last week, Bloomberg found that "more vessels [were] held at Asian ports in April than in any other month since at least January 2020."  This is a welcome move.  In addition to the more rigorous customs checks by Chinese authorities highlighted in last month's April 2023 Iran Tanker Tracker, Beijing, in particular, is at least indicating concern about dangerously aging vessels.
However, while tankers in the ghost armada are likely to be caught in the expanding net, China still continues to import Iranian oil at record volumes, with export numbers being the highest in 2023.  Another vessel, TITAN, was recently held "in the [Chinese] northeastern port of Qingdao not because it had been carrying about 2 million barrels of oil from Iran, but for the possible danger it presented."  May's high import figure may also be a consequence of price competition with Russian oil exports.
| | | | |
| --- | --- | --- | --- |
| Country of Destination | May 2023 - Barrels Per Day (bpd)* | April 2023 - Barrels Per Day (bpd)* | March 2023 - Barrels Per Day (bpd)* |
| China | 1,199,403 | 1,156,341 | 1,022,054 |
| Syria | 159,677 | 144,766 | 65,495 |
| UAE | 56,410 | 85,729 | 16,799 |
| Venezuela | 0 | 0 | 73,249 |
| Unknown | 135,894 | 23,333 | 44,365 |
| Total | 1,551,384 | 1,410,170 | 1,217,070 |
* Figures to be updated over the following weeks
Analysis of Inspections of the Ghost Armada Tankers
The Iranian ghost armada currently consists of 307 active tankers transporting Iranian oil or petrochemicals in violation of U.S. sanctions. The average age of those 307 tankers is 22 years old, pushing the average age of the global fleet up as a result of these rogue owners and operators risking to keep older vessels in operation.
Of those 307 tankers, 34% have not received a safety inspection since 2020 or earlier. Of the tankers that have been inspected, there have been 832 safety deficiencies reported and 34 detentions. In line with Bloomberg's reporting, we note that the number of tanker inspections has been increasing each month, with 29 inspected in May 2023, and eight of which were detained as a result of insufficient safety standards.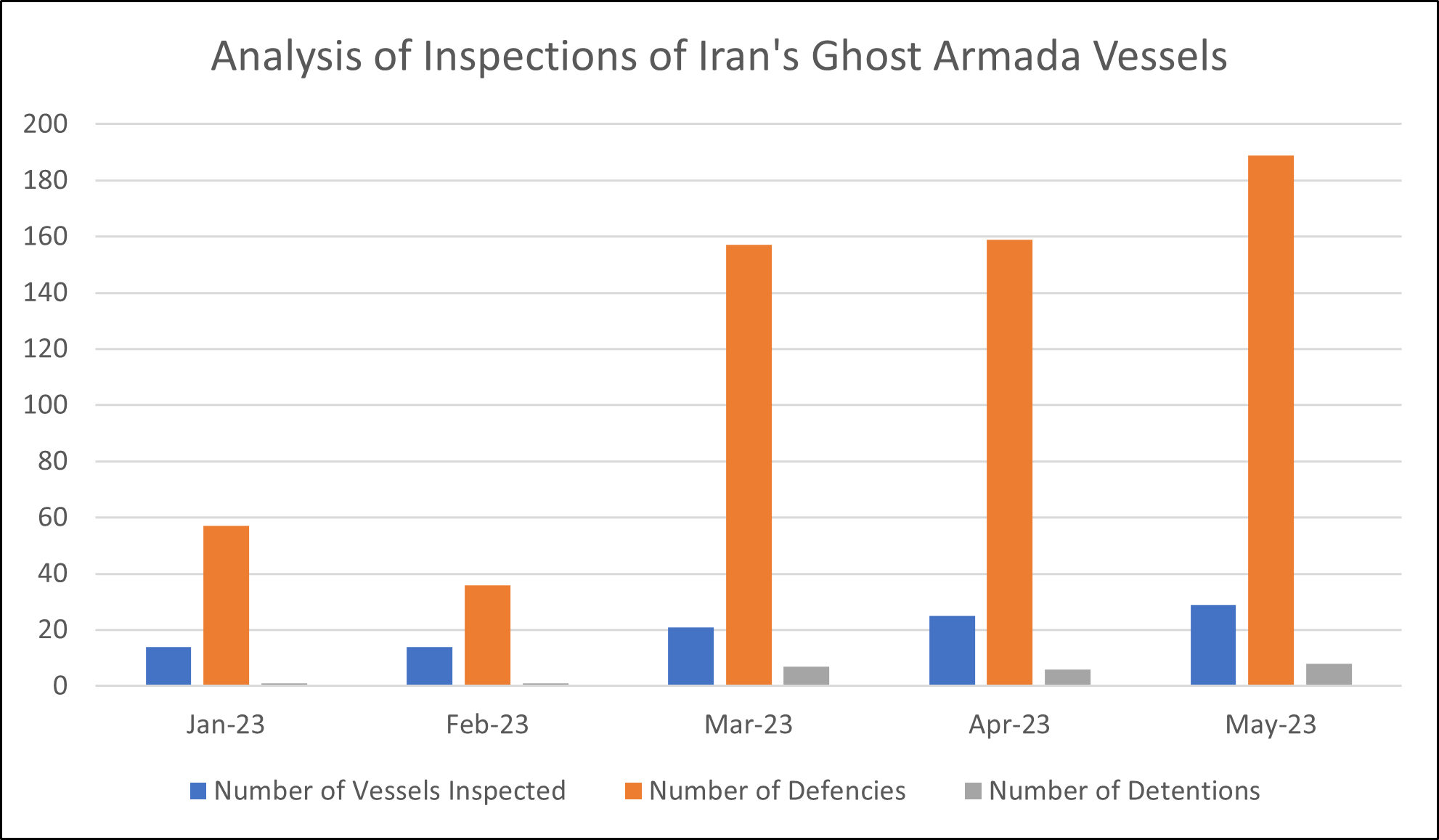 Some of the common deficiencies reported include a lack of compliance with fire safety standards, life-saving appliances, pollution prevention, and safety of navigation. As noted above, Bloomberg highlighted that the crude oil tanker TITAN (IMO: 9293741) was stopped in late April 2023 for safety concerns, rather than any concerns over its illicit cargo.  TITAN had 31 deficiencies and was held in detention for four days.  Likewise, the crude oil tanker PUTRI SAMUDRA (IMO: 9188788) was detained on April 17, 2023, at Rizhao, China, with 30 deficiencies, and detained for seven days.
Despite the inspections, the vessels are ultimately not deterred from transporting Iranian oil.  For example, this month, OCEAN PHANTOM (IMO: 9371608) was stopped at Qingdao, China, where it was inspected and reported to have 15 deficiencies.  Since being inspected, the vessel has returned to the Riau Archipelago, where it is engaged in a ship-to-ship transfer of Iranian oil with the crude oil tanker NIGH (IMO: 9237539).  Similarly, on May 17, 2023, ACHELOUS (IMO: 9283801) was also stopped at Qingdao, China, where it was reported to have 12 deficiencies. It has since engaged in a ship-to-ship transfer of Iranian oil with the crude oil tanker ISHTAR (formerly known as FREYA) (IMO: 9180164).
The importance of tanker vessel safety standards in shipping cannot be overstated. However, Iran's ghost armada presents a multifaceted threat to maritime security, global trade, and environmental stability. The lack of compliance with safety standards should be another warning sign to steer clear of doing business with these vessels.
Receive Iran News in Your Inbox.
Eye on Iran is a news summary from United Against Nuclear Iran (UANI), a section 501(c)(3) organization. Eye on Iran is available to subscribers on a daily basis or weekly basis.