March 2021 Iran Tanker Tracking
The burgeoning China-Iran oil trade was given another shot in the arm in March with the launch of a "Comprehensive Strategic Partnership" deal between the two countries, worth $400 billion over 25 years.  Iran gets Chinese investment, and in return, China gets Iranian oil.  This is a huge boon to Iran in particular, as it ensures a long-term buyer for its most lucrative export while sidestepping the most important U.S. sanctions for the next quarter-century. As the Wall Street Journal has pointed out, this deal is "a big deal."
March saw close to a 50% increase in Iranian oil to China, rising to over 750,000 barrels per day (bdp) from February's figure of 550,000 bpd. While tempting to attribute this month's jump to the recent Sino-Iranian deal, in fact, Iranian exports to China have been trending significantly upwards "for some time now."  The main driver for now is the attractively low prices that Iran is offering in an already buyer-friendly market.  
Breaking March's estimates down by country, UANI's figures correspond with TankerTrackers.com's 21-day estimate of 1,882,034. 
 
| | | | | |
| --- | --- | --- | --- | --- |
| Country | March 2021 - Barrels Per Day (bpd) | Feb 2021 - Barrels Per Day (bpd) | Jan 2021 - Barrels Per Day (bpd)  | Dec 2020 - Barrels Per Day (bpd) |
| China | 766,457 | 544,967 | 839,700 | 649,838 |
| Syria | 130, 645 | 0 | 78,900 | 32,258 |
| UAE | 47,068 | 46,429 | 45,929 | 0 |
| Others | 0 | 0 | 0 | 11,290 |
| Unknown | 957, 750 | 858,929 | 666,129 | 214,516 |
| Total | 1,901,920 | 1,450, 324 | 1,630,658 | 952,903 |

Increasing Spoofing
Typically, tankers carrying Iranian oil switch off their satellite tracking transponders when loading to avoid detection as the primary means of evading detection.  However, March saw several tankers engage in the alternative evasion technique known as 'spoofing,' whereby vessels appear as if they are loading oil in Iraq or Oman – rather than Iran. Consequently, once the importing country receives the oil, it will be registered as Iraqi or Omani origin instead of Iranian.
Spoofing is a sophisticated type of Global Positioning System (GPS) manipulation that reports a vessel's position in an entirely different location. The 'spoofed' satellite position will often purport to be a different vessel, or even an entirely non-existent ship.
In normal circumstances, all vessels traveling internationally must carry a Class A Automatic Identification System (AIS) transponder, an automated and autonomous tracking system used to exchange navigational information between AIS-equipped terminals. Spoofing is a clear violation of International Maritime Organization (IMO) requirements in place since 2004 surrounding AIS and GPS.
ELVA and EMIS
We note the oil tanker ELVA (formerly known as EKATERINA) by way of example, which has carried over 10,000,000 barrels of Iranian oil since May 2019. According to Marine Traffic, on March 28, 2021, ELVA's AIS reported it as anchored at the GPS coordinates of 29.25° N, 49.3° E, a location in the Persian Gulf not far from Iraq's Basrah Anchorage.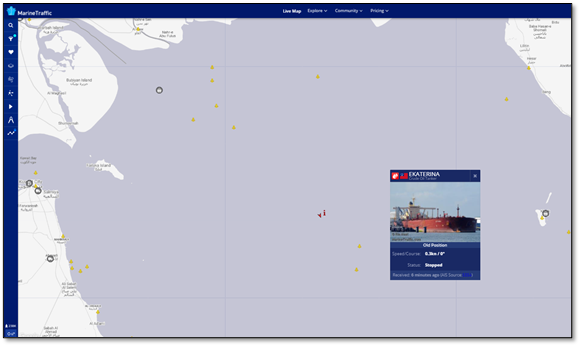 (Source: Marine Traffic)
However, when examining satellite imagery from Sentinel Hub on March 28, 2021, at these GPS coordinates, we see no vessel in sight. Instead, we see the ship at Iran's Kharg Island – 450 nautical miles away.
On the same day, another vessel, ERMIS (formerly known as TIANA) – which has carried over 7,000,000 barrels of Iranian oil since May 2019 – appeared as though it was anchored at Sohar, Oman at 24.79° N, 57.16° E.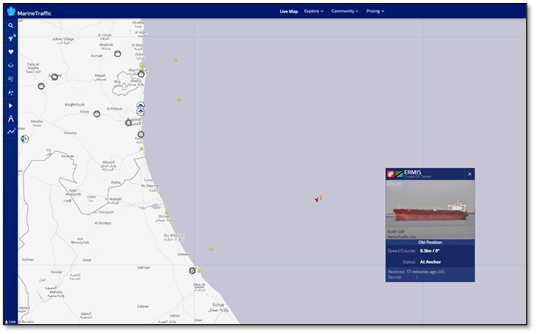 (Source: Marine Traffic)
Again, when examining satellite imagery, no vessel is visible.  Instead, we found ERMIS loading Iranian oil at Kharg Island.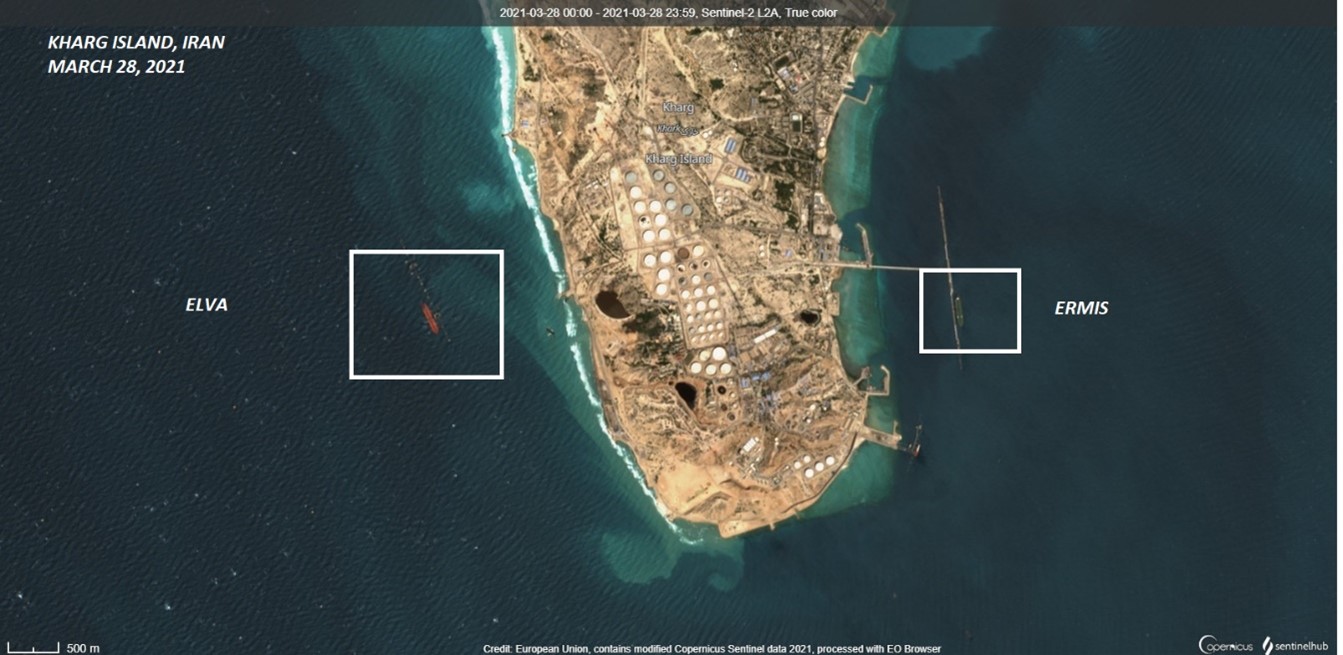 (Source: Sentinel Hub)
These vessels continue to Chinese ports directly or to the South China Sea, where they conduct ship-to-ship (STS) transfers, a tactic we have seen them repeatedly engage in over the last six months. 
We expect an ongoing upward trajectory of Iranian oil exports to China, until and unless the U.S. starts to address this issue in earnest.  If Iran is able to continue ramping up its oil exports to China without penalty, the sanctions pressure valve on the regime will continue to ease alarmingly.