January 2022 Iran Tanker Tracking
On January 20, 2022, China officially acknowledged for the first time in more than two years that it had imported Iranian oil – an openly declared violation of U.S. sanctions. In reality, Beijing has been importing millions of barrels of Iranian oil every single month since May 2, 2019, when the U.S. banned all Iranian oil exports to all countries. Since that date, China has imported a total of 542 million barrels from Iran.
Why did China decide to announce Iranian imports now, when it has upheld at least the façade of observance with U.S. oil sanctions for the past two years?
First, the oil was carried by two National Iranian Tanker Company (NITC) vessels which kept their satellite transponders on. Even for the Chinese Communist Party, it would be ludicrous to deny the deliveries.
More significantly, the fact that China was willing to take open delivery via NITC is in itself telling and seems to serve a tactical aim. Up until now, the U.S. has been notably reluctant to enforce its own oil sanctions against China but the Administration has also had an excuse not to act because 'officially' Beijing was not importing.  In plainly declaring its willingness to violate the most critical aspect of the U.S. sanctions architecture, China is probing President Biden's seriousness and testing American commitment to enforcing its own oil sanctions.
Notably, the CCP opted to disclose only the NITC deliveries, which meant an under-reporting of the true monthly figure for December by a factor of 14.  Its official customs number was 1.9 million barrels of oil, or 61,000 barrels per day (bpd).  The true figure is closer to 27 million barrels or 869,000 bpd, once all the illicit under-the-radar and non-Iranian tankers are included (this will likely be even higher once all figures are in).
So while willing to float a trial-balloon, China appreciates that conveying the real and alarmingly high number of 27 million barrels over the course of just one month would potentially force Washington's hand and provoke a very strong reaction. U.S. Senators and Congressmen are increasingly vocal and expressing their displeasure on this issue, and the 'quiet diplomacy' that the USG is purportedly employing on this front would look both weak and farcical. Still, the trial-balloon has so far proven a useful exercise for the CCP, confirming to Beijing that the Biden Administration is indeed unwilling to correct course on this issue.
As such, and regardless of the true number for China's imports in January, which we provisionally estimate at 927,000 bpd, we expect the CCP to continue reporting Iranian oil imports – where delivery is made by NITC or other Iranian state-operated tankers.  We would also expect additional NITC convoys in the next months, given the lack of U.S. response so far.
Clearly China has reached a comfortable point where it can openly flout U.S. sanctions while disclosing its increasingly close relationship with Iran, which comes off the back of the 25-year Tehran-Beijing Cooperation Agreement signed last year.
Not surprisingly, other parts of the world are becoming correspondingly comfortable taking in Iranian oil. For instance, Venezuela received yet another shipment of Iranian gas condensates with the National Iranian Tanker Company ("NITC") vessel STARLA (IMO: 9569621), which arrived at the Jose Terminal on January 29, 2022.
| | | | |
| --- | --- | --- | --- |
| Country | Janaury 2022 - Barrels Per Day (bpd)  | December 2021 - Barrels Per Day (bpd) | November 2021 - Barrels Per Day (bpd) |
| China | 926,767 | 869,306 | 1,023,989 |
| Syria | 106,129 | 76,956 | 54,333 |
| UAE | 0 | 44,054 | 52,084 |
| Russia | 0 | 0 | 0 |
| Venezuela | 0 | 67,742 | 0 |
| Unknown | 415,038 | 260,336 | 76,667 |
| Total | 1,447,934 | 1,318,394 | 1,207,072 |
Despite the Biden Administration's lack of enforcement, some parts of the private sector are at least doing their part. UANI continues to work with flag states, P&I clubs, and especially classification societies. This month, America's biggest classification society, the American Bureau of Shipping ("ABS"), responsibly revoked the safety classification for the oil tankers ELSA (IMO: 9256468) and KARO (IMO: 9182291) following months of correspondence with UANI.
UANI notified ABS as well as the flag state, the Panama Maritime Authority ("AMP"), as early as March 2021.  Although it has reached the correct decision, unfortunately, it took ABS 10 months to withdraw the certification for the vessel. As a result, KARO delivered over 9 million barrels of Iranian oil to China during 2021, bringing in approximately $540 million for the Iranian regime. For a vessel to be registered under a flag state, it must have a valid classification certificate. However, despite losing its classification certificate, AMP appears to have buried its head in the sand for now, as KARO continues to fly the Panama flag.
KARO is reportedly operated by the Indian-based company Minerva Shipping Services OPC since February 2021. Shortly after the ownership change, on March 2, KARO visited Iran's Lavan Island single buoy mooring ("SBM").  The vessel was fairly easy to identify, given its purple-looking deck: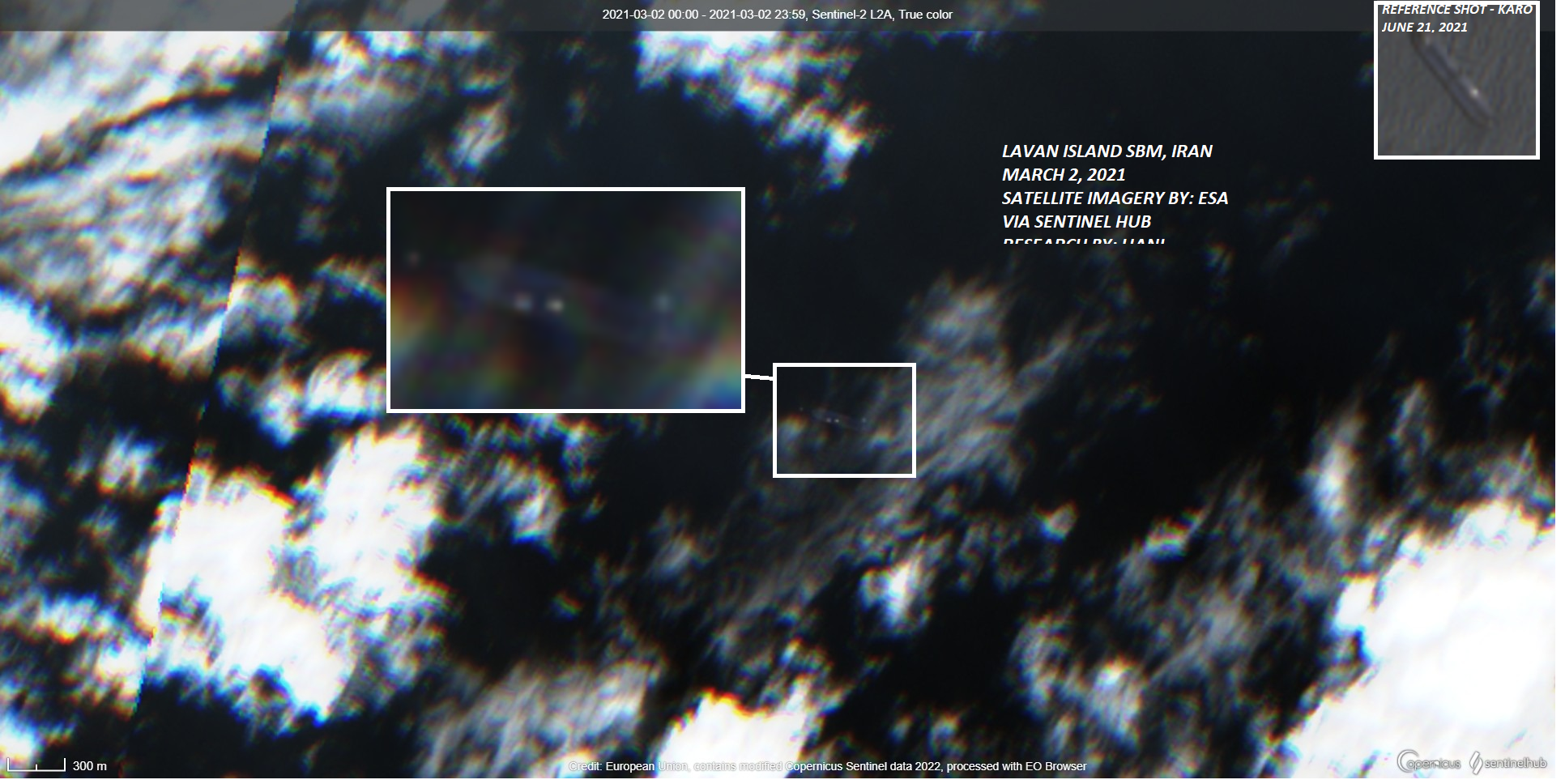 On May 7, 2021, UANI identified KARO loading crude oil directly from Iran's Kharg Island. However, the vessel attempted to disguise itself by covering its deck with tarpaulin coverings. UANI discovered this after viewing satellite imagery of the vessel from a few days before, where KARO was seen covering its deck.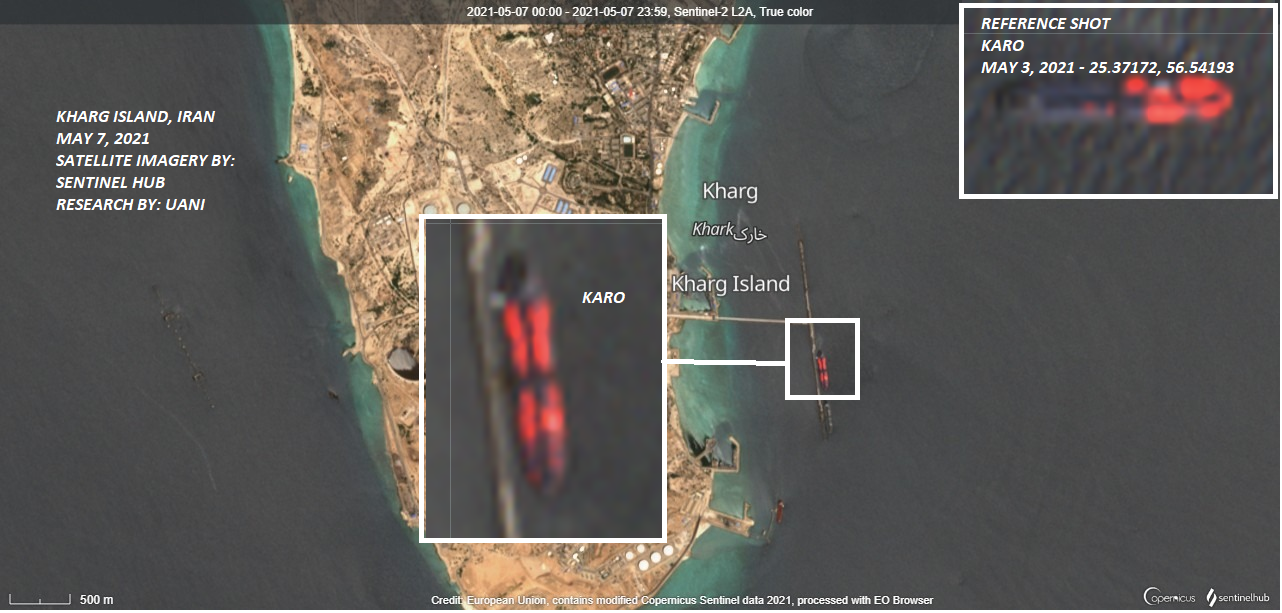 Then on June 12, 2021, KARO decided to try a different tack, and instead of calling directly at an Iranian port, the vessel engaged in a ship-to-ship ("STS") transfer with the sanctioned National Iranian Tanker Company ("NITC") vessel SERENA (IMO: 9569645). The vessel again attempted to disguise itself by using tarps.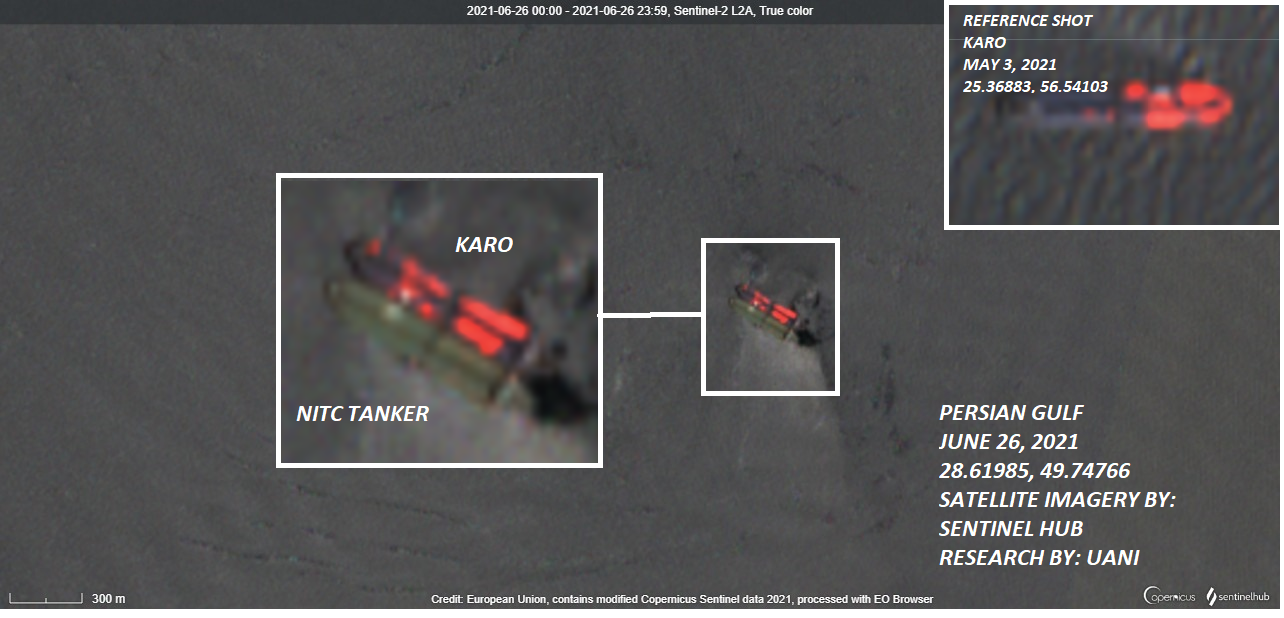 On August 25, 2021, and most recently, on November 4, 2021, KARO again returned to Iran to load crude oil from Iran's Kharg Island.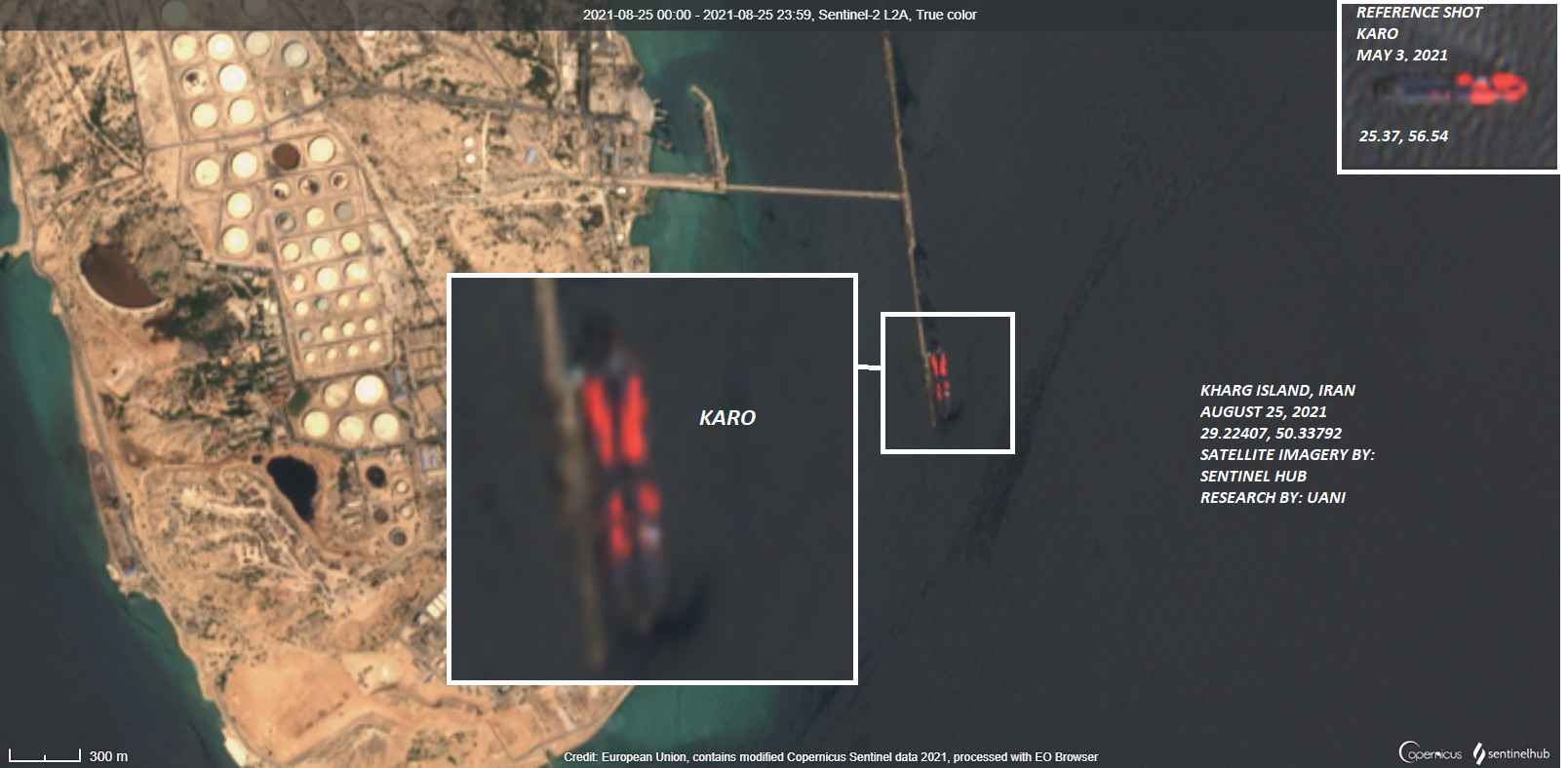 KARO spoofed its AIS transponder from either Iraqi or Omani waters during every visit to Iran. This means that KARO likely reported the oil as Iraqi or Omani in an attempt to deceive others. KARO has used many different tricks (AIS spoofing, manipulation of transponders, STS, and physical appearance alterations) and serves as a great example of how vessels are attempting to circumvent Iran oil sanctions.
Since January 23, 2022, KARO has been anchored at the Zhoushan IMC – YY Shipyard located in China, where we believe the vessel is working to obtain a new classification certificate. We will continue to monitor KARO and call out maritime authorities that continue to facilitate Iran's illicit oil transport.
Receive Iran News in Your Inbox.
Eye on Iran is a news summary from United Against Nuclear Iran (UANI), a section 501(c)(3) organization. Eye on Iran is available to subscribers on a daily basis or weekly basis.