Four Years of UANI's Tanker Tracker PART THREE: All Destinations
Four years of UANI Tanker Tracker data are punctuated by three key dates, all leading to significant sustained changes in total Iranian oil exports when looking at all destinations: 1) May 8, 2018 (the announcement that the U.S. would withdraw from the JCPOA); 2) May 2, 2019 (the end of U.S. oil waivers on all countries), and; 3) January 21, 2021 (the start of the Biden Presidency).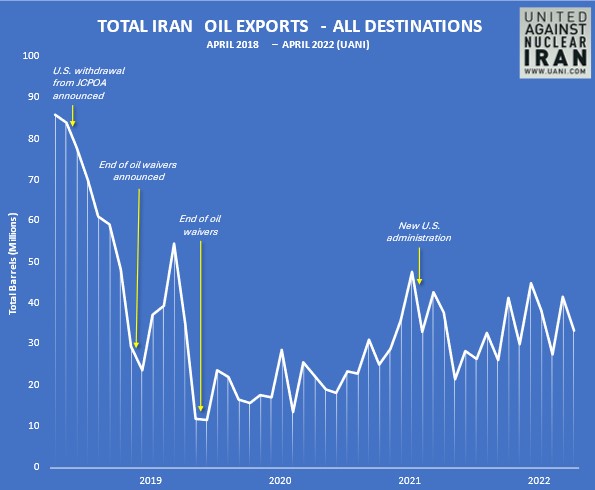 May 8, 2018
Over the course of April 2018, Iran managed to export 86 million barrels in total to all destinations.  The big buyers were China (20.8 million) and India (17.2mm), while the second tier included Japan (6.3mm), South Korea (7.9mm), and Turkey (7.4mm). It is interesting to recall that even American allies in Europe – France (3.2mm), Greece (2.1mm), Italy (4.9mm), the Netherlands (2.2mm), Spain (1.9mm) – were all legally importing millions of barrels every month from Iran at this point under the terms of the JCPOA.
A week later, everything changed. On May 8, President Trump announced the United States would withdraw from the Joint Comprehensive Plan of Action (JCPOA), fulfilling a campaign pledge to nix what he described during the announcement as "a horrible one-sided deal that should never, ever have been made." As part of the announcement, President Trump warned that U.S. sanctions targeting Iran's energy sector would be reimposed after an unspecified period.  The announcement had an immediate impact on Iranian oil sales, which halved after six months and plummeted to just 25 million barrels for the month of December 2018. This followed the November 2, 2018, announcement by then-Secretary of State Mike Pompeo, which granted "waivers" of exemption to eight jurisdictions – China, Greece, India, Italy, Japan, Taiwan, Turkey, and South Korea – allowing them to continue importing Iranian oil for at least a further six months.
May 2, 2019
One year after the decision to withdraw from the JCPOA, all oil waivers finally ended. With no legitimate customers permitted and a new goal of "net zero" exports clearly and repeatedly stated, the next 18 months proved not surprisingly to be the period in which Iran exported the fewest barrels. This pivotal date was preceded by a final big spike in early 2019 as countries sought to take in one last round of discounted Iranian oil. In the space of just over a year from the April 2018 peak of 86 million barrels, exports dropped to a low of just 15.2 million barrels in May 2019.
While seven of the eight previous "waiver-exempt" jurisdictions complied with U.S. sanctions, China continued importing approximately four-fifths of all known Iranian exports. Without the Iran-China trade, Iranian exports would have been in the low single digit millions each month. Also, without China, the only other significant importer, Syria, would likely have faced far more scrutiny and interdictions from various naval authorities patrolling the Mediterranean, including Britain and Israel. Ultimately – during this period of maximum pressure from May 2019 to December 2020 – the only thing keeping the regime just barely afloat economically was Beijing and its total defiance of U.S. sanctions.
Even with China's help, though, Iranian "gross official reserves" had plummeted to just $4 billion by December 2020 and a month before a change in the White House.
January 21, 2021
The Biden Administration has overseen a 53% increase in Iranian oil exports to all destinations. Over the 16 months from January 2021, Iran exported an average of 34.5 million barrels every month. In the 16 months before, it exported an average of 22.6 million every month. Not surprisingly, China has again been responsible for virtually the entire jump. In early 2021, it quickly and correctly recognized that President Biden's priority was a quick return to the JCPOA with the hope that the Iran-China oil trade issue would simply go away. Sixteen months later, the issue remains, and it has grown, along with a global understanding that U.S. oil sanctions enforcement is severely deficient. Should the U.S. sign a new deal and lift oil sanctions once more, it would take some time for exports to hit the 2018 heights of 86 million per month, considering Iran's aging tanker fleet. However, given massive ongoing demand from India, Japan, and South Korea, it might not take too long to double from the present monthly 34.5 million average. And with Russian oil largely verboten in Europe, we could even see northern European nations join their southern counterparts to take up Iranian oil in vast quantities.
Receive Iran News in Your Inbox.
Eye on Iran is a news summary from United Against Nuclear Iran (UANI), a section 501(c)(3) organization. Eye on Iran is available to subscribers on a daily basis or weekly basis.