December 2020 Iran Tanker Tracking
There continues to be a significant divergence in top-line figures for Iran's oil and gas exports from the main tracking parties: Bloomberg, Kpler, OilX, Refinitiv, and TankerTrackers.com. Not only does this variance mar the accuracy of media reports, but it also presents a serious challenge to those trying to get a handle on the trajectory of the Iranian economy, given its oil revenue dependency.   
Therefore, starting in 2021 UANI will generate its own 100% independently researched estimates of Iranian energy exports to support our regular tanker updates blog – and provide an additional source for pinpointing how much Iran is managing to export. 
Our new comprehensive ship-tracking methodology prioritizes uncovering all under-the-radar ship-to-ship (STS) transfers through Automatic Identification System (AIS), satellite imagery, vessel comparison and tanker classification and cargo datasets.
Whether future figures comport with existing estimates from the main tracking analysts is to be determined. For December 2020, however, we can state with confidence that our figures closely match with TankerTrackers.com.
Our estimated exports total of approximately 953,000 barrels per day (bpd), is just shy of TankerTrackers.com estimate of 1,002,725. It is at the same time almost triple Bloomberg's 355,000 assessment.  
This is a logical outcome, for while Bloomberg tacks close to more 'official' numbers reliant on satellite-enabled vessel movements, TankerTrackers.com (like UANI) seeks to include all clandestine movements. Our figure for December, therefore, validates TankerTrackers.com's estimate – which should give confidence to reporters and all Iran-watchers seeking greater precision in this area.
In terms of country destinations, we assess the barrels per day breakdown as follows, with China as ever taking the lion's share of the total at 57%:
| | |
| --- | --- |
| Country | Barrels Per Day (BPD) |
| China | 541,812 |
| Syria | 32,258 |
| Others | 11,290 |
| Unknown | 367,543 |
| Total | 952,904* |
UANI's monthly tanker reports through 2021 will continue to focus, nonetheless, on the more granular elements of Iranian subterfuge: demonstrating precisely how certain Iranian vessels, with the help of foreign counterparties, are managing to evade sanctions. Last month, four vessels of concern - LAVAL, ANAHI, ELVA, and ETHAN - reared sharply into view:
LAVAL, ANAHI, ELVA and ETHAN

Despite losing their flags from both the St. Kitts & Nevis and Tanzania-Zanzibar flag registries, the very large crude carriers (VLCC) LAVAL (formerly known as GIESSEL) and ANAHI (f.k.a. AMFITRITI) have continued to export Iranian crude.  On December 16, 2020, ANAHI moored at the Azarpad berth at Kharg Island, Iran and on December 11, 2020, LAVAL moored at the Azarpad berth at Kharg Island, Iran.
The VLCC ELVA (f.k.a. EKATERINA) was also deflagged by the St. Kitts & Nevis Registry in October 2020. However, on December 1, 2020, ELVA  engaged in a ship-to-ship transfer (STS) near Iran's Bandar-e Jask port, in the Gulf of Oman.  Iran has unsurprisingly conducted the vast majority of its STS transfers in the Persian Gulf, which it considers to be its own jealously guarded 'lake.'  
However, during December, Iran shifted some of its crude oil STS transfers from the Persian Gulf to the Gulf of Oman. Typically, Iran engages in many STS transfers in the northern section of the Persian Gulf – but this is alarmingly near where a limpet mine was recently discovered on an Iraqi oil tanker. By therefore moving its STS operations south to the Gulf of Oman, Iran may be consciously trying to minimize that particular physical risk for its own tankers.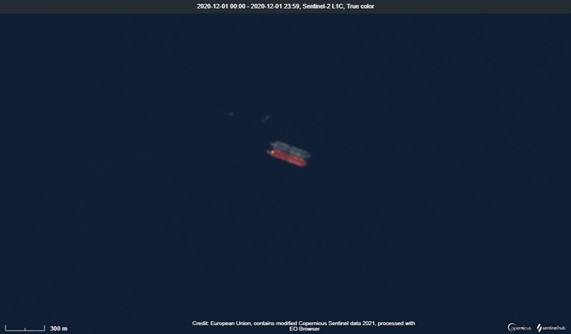 ELVA (red) engaged in a STS near Iran's Bandar-e Jask 
Source (Sentinel Hub)
ANAHI and LAVAL are now reporting to be destined for China. However, given that the tankers are transiting without a flag – an incredibly rare phenomenon – we predict they will engage in STS transfers in the South China Sea, thereby avoiding any flag-related issues entailing docking at a port. 
Indeed, we have already seen ETHAN (f/k/a LUBOV) follow this pattern. On December 28, 2020, ETHAN engaged in an STS in the South China Sea with an unknown VLCC.  ETHAN had earlier called at Iran's Kharg Island at the end of November 2020.  We expect the unknown VLCC's cargo will end up as an export to China, still Iran's biggest oil lifeline, some time in early January.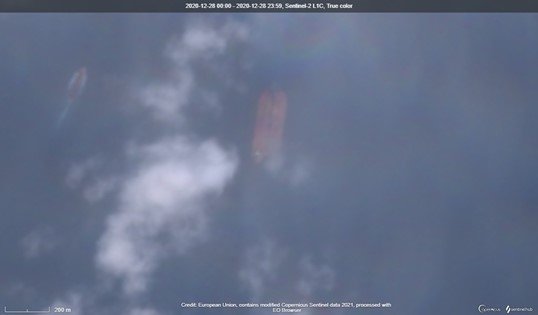 ETHAN (right) engaged in a STS in the South China Sea
Source (Sentinel Hub)