Is COSCO At It Again?
Back in September 2019, the U.S. State Department announced sanctions on five Chinese companies for purchasing Iranian oil, including two entities owned by China Oil Shipping Company ("COSCO"), a Chinese state-owned shipping company headquartered in Shanghai.  According to the accompanying press statement, all of the entities had imported Iranian oil to U.S. persons, transacted in U.S. dollars, or otherwise engaged in sanctioned activities involving U.S. persons or services. The two COSCO companies were designated under secondary sanctions "for knowingly engaging in a significant transaction for the transport of oil from Iran."
The designations sent shockwaves through shipping markets with confusion about whether they applied to the parent company's vast fleet of more than 1,000 ships. But after four months of negotiations, the U.S. Office of Foreign Assets Control ("OFAC") eventually removed one of the entities, COSCO Shipping Tanker (Dalian) Co., Ltd, from its list of Specially Designated Nationals ("SDN") on January 31, 2020. According to Reuters, "A U.S. Official said lifting sanctions on only one of the COSCO subsidiaries would allow the Trump administration to retain leverage on China and COSCO to stop taking Iranian oil."
Regardless of whatever legal wranglings were waged to secure the COSCO firm's removal from the SDN List, it appears that COSCO has not stopped its Iran activities.  It has just found more creative ways to hide its involvement.
              On February 15, 2022, UANI identified two crude oil tankers engaged in a ship-to-ship ("STS") transfer of Iranian crude oil in waters east of Singapore. UANI strongly suspects the vessels involved were LATIN VENTURE (formerly known as PACIFIC BRAVO) (IMO: 9206035) and FT ISLAND (formerly known as CCPC VANGUARD) (IMO: 9166675). During the dates of the suspected STS transfer, FT ISLAND had its AIS transponder turned off. On February 17, 2022, the vessel reappeared just east of where the STS transfer occurred.

(Source: Marine Traffic)
              Similarly, LATIN VENTURE, which loaded crude oil from Kharg Island, Iran, on January 27, 2022, had its AIS transponder turned off during the STS transfer.  The vessel reappeared on February 18, 2022, just south of where the STS transfer occurred.

(Source: Marine Traffic)
              The name PACIFIC BRAVO might ring a bell for tanker watchers.  That's because in August 2019, the U.S. publicly identified the vessel for carrying Iranian oil.  A U.S. government official even warned ports in Asia not to allow the ship to dock, saying that it was carrying Iranian crude in violation of U.S. economic sanctions. At that time, LATIN VENTURE and FT ISLAND were linked to Kunlun Shipping Company Limited, one of the sanctioned COSCO firms that the U.S. sanctioned on September 25, 2019.
              Fast forward to 2022. The vessels have changed names and ownership, but it is not certain they have dropped their ties to COSCO.  Indeed an analysis of the vessels' ownership and operator details indicates they are still connected. Since November 2019, FT ISLAND has been operated by Asia Affluence Ltd, a subsidiary of Xu D, doing business at Unit 2507, 25th Floor, COSCO Tower, Grand Millenium Plaza, 183, Queen's Road Central, Hong Kong, China.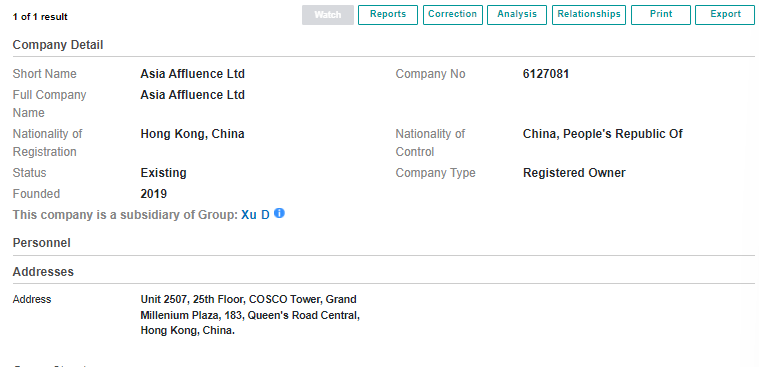 (Source: IHS Maritime)
Asia Affluence Ltd shares an address, including floor and suite number, with ten other companies, one of which is United Amity Ltd, a subsidiary of COSCO Shipping Tanker Dalian. Could COSCO be using Asia Affluence Ltd as a front company for its Iran activities?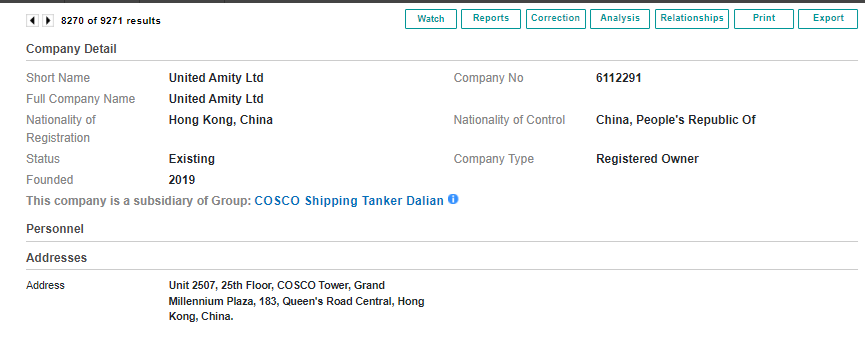 (Source: IHS Maritime)
In a May 14, 2020 memorandum, Guidance to Address Illicit Shipping and Sanctions Evasion Practices, the U.S. warned that Iran, North Korea, and Syria, exploit complexities surrounding the global shipping industry through the use of "complex business structures, including involving shell companies and/or multiple levels of ownership and management, to disguise the ultimate beneficial owner of cargo or commodities in order to avoid sanctions or other enforcement action, among other reasons."  Perhaps China has learned from those three countries and adopted similar tactics to conceal its activities.
Receive Iran News in Your Inbox.
Eye on Iran is a news summary from United Against Nuclear Iran (UANI), a section 501(c)(3) organization. Eye on Iran is available to subscribers on a daily basis or weekly basis.