April 2021 Iran Tanker Tracking
In April, Iran exported almost 500,000 barrels of oil per day (bpd) to China. However, our revised figures for the previous month show it managed to export almost 1 million bpd. What accounts for this steep 50% drop? The answer is not due to any reduction in Beijing's appetite for Iranian crude - far from it. In large measure, the explanation is logistics.
Iran has been using the same fleet of tankers to shuttle its oil from Iran to China, although many of the tankers themselves rarely make it all the way to the ports and refineries that dot the southeast Chinese mainland.  Rather, once arriving in the South China Sea, a crude-laden tanker from Iran will often wait for another vessel to join, and then both will engage in a ship-to-ship ("STS") transfer. The second uploading vessel will then voyage on to China and offload the oil. However, due to natural customer apprehension surrounding sanctions risks, finding a suitable recipient can frequently take many days, even weeks. Indeed, many of the same tankers which loaded Iranian oil in March are today still waiting to offload at Chinese ports, even more than a month later.
Thus there are inevitable time-lags from initial loading in Iran to final offloading in China. As more of the waiting tankers find partner-ships and customers, we would expect figures for next month to return to the higher figure approaching 1 million bpd, other things being equal.
Paradoxically, the delays may nonetheless confer an interesting benefit to Iran. The waiting helps Iran to deceive reputable vessel owners and hide the true origin of the cargo. During these waiting pauses, Iran can expect that vessel owners may not look as closely at the voyage history of the vessel carrying the Iranian oil to see the AIS gaps and/or spoofing of the vessel in middle east waters.
Breaking April's estimates down by country, UANI's figures correspond with TankerTrackers.com's Detailed Crude Exports Report estimate of 1,287,472.
| | | | |
| --- | --- | --- | --- |
| Country | April 2021 - Barrels Per Day (bpd) | March 2021 - Barrels Per Day (bpd) | Feb 2021 - Barrels Per Day (bpd) |
| China | 1,129,707 | 1,211,265 | 843,151 |
| Syria | 38,319 | 108,610 | 0 |
| UAE | 31,359 | 57,534 | 46,554 |
| Venezuela | 0 | 55,205 | 0 |
| Unknown | 100,000 | 88,369 | 365,622 |
| Total | 1,299,384 | 1,590,983 | 1,255,327 |
Iran's Shuttle Tankers: The Big Five
To avoid sanctions scrutiny, the regime unsurprisingly prefers to use non-Iranian elements to transport its illicit oil rather than its notorious and sanctioned NITC fleet. Thus, Iran is routinely using the same group of foreign-owned and foreign-flagged (or unflagged) very large crude carriers (VLCC)s to shuttle its oil to China. Since sanctions were reimposed in May 2019, the VLCCs ETHAN (IMO: 9293741), LAVAL (IMO: 9246279), ELVA (IMO: 919[1]6644), LAKA (IMO: 9203253), and ERMIS (IMO: 9203265) have carried a combined total of over 57 million barrels of Iranian oil. Taking into account the discount at which Iran sells its oil, the Big Five have brought Iran an estimated $3,711,840,000 for which it, in turn, uses to fund its terrorist activities and regional expansion. These big five tankers routinely engage in flag hopping, ownership changes, and spoofing of AIS transponders. Due to UANI intervention, four out of these five tankers are currently sailing with an unknown or no flag and are not allowed to sail directly to a Chinese port. As a result, these tankers wait in the South China Sea for a vessel to accept its oil. After the transfer, the receiving vessel will continue to China.
Since picking up crude oil from Iran, the vessels ETHAN and LAVAL successfully found a vessel to transfer its oil to in the South China Sea and are returning to Middle East waters. The other three, however, are still waiting. UANI estimates there is currently at least 14 million barrels of Iranian oil sitting in the South China Sea, waiting for willing recipient vessels.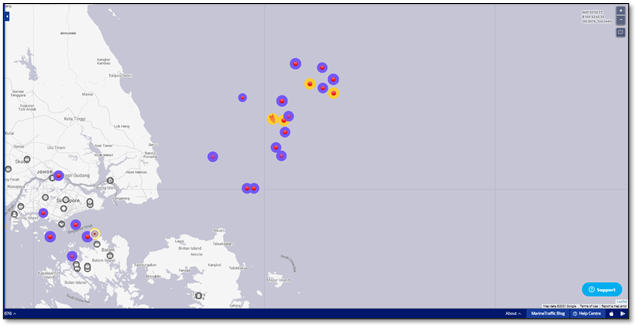 (Source: Marine Traffic)