UANI Launches Project Constellation To Empower The Iranian People Against Regime's Internet Censorship 
September 14, 2023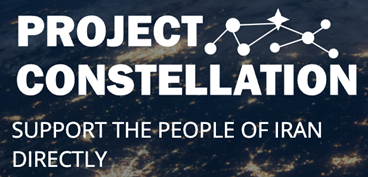 (New York, N.Y.) — Today, ahead of the anniversary of Mahsa Amini's tragic murder by the Islamic Republic on September 16, United Against Nuclear Iran (UANI) announced the launch of Project Constellation. This initiative aims to empower the Iranian people in their struggle against the Islamic Republic's efforts to censor and restrict internet access in the country. Project Constellation will provide a centralized platform, allowing supporters of human rights and free speech to donate funds for the purchase and delivery of Starlink satellite internet terminals, facilitating essential communications for Iranians.
Ensuring the Iranian regime is unable to impose a communications blackout in a proactive manner is essential to protecting the safety of brave Iranians speaking out and protesting against the regime, and to sustain the revolutionary 'Woman, Life, Freedom' movement.
All donated funds will be used to procure and distribute Starlink terminals to the Iranian people, including associated subscription fees, for bypassing internet censorship by the Iranian regime. UANI has met with and vetted a wide-ranging group of the distributors and is confident in these partners, who have a demonstrated track record of distributing terminals, comprehensive user training guides, as well as the necessary hardware infrastructure to at-risk individuals in Iran.  
UANI believes a vast majority of these systems will make it through smuggling routes into Iran. Of course, given the sensitive nature of these routes, UANI will keep its distribution partners confidential. But based upon the best efforts of our confidential partners, UANI expects to achieve a high rate of Starlink systems successfully smuggled into Iran.
To visit the Project Constellation website and learn how to donate to support the Iranian people against regime censorship, please click here.
###
Receive Iran News in Your Inbox.
Eye on Iran is a news summary from United Against Nuclear Iran (UANI), a section 501(c)(3) organization. Eye on Iran is available to subscribers on a daily basis or weekly basis.