Risky Business: U.K. Research Firm LexisNexis Risk Provides Services To Sanctioned Iranian Entity
November 20, 2023
(New York, N.Y.) — United Against Nuclear Iran (UANI) has obtained evidence suggesting an ongoing business relationship worth in excess of half a million dollars per year between the U.K.-based LexisNexis Risk Solutions and Iran's state-run National Petrochemical Company (NPC), sanctioned by the U.S. for its financial support of Iran's Islamic Revolutionary Guard Corps-Qods Force (IRGC-QF), and subject to secondary sanctions by the U.S. as a subsidiary of the Iranian Ministry of Petroleum (MOP).
LexisNexis Risk proforma invoice to Iran's National Petrochemical Company (NPC). 
UANI has requested that LexisNexis Risk Solutions clarify whether it provisioned services to NPC from November 2022 and November 2023 in consideration of payment in the amount of £487,662. LexisNexis Risk Solutions has failed to clarify its involvement more than a month after being presented with the evidence of its business ties with NPC.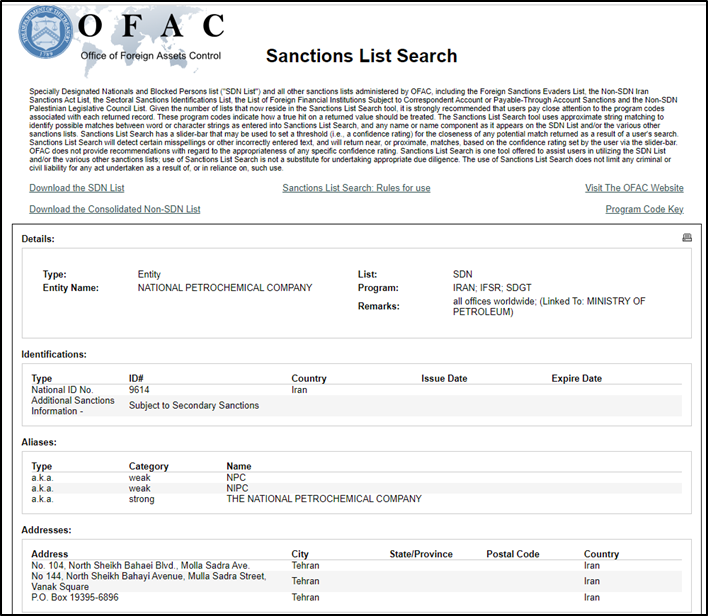 National Petrochemical Company SDN Designation Notice. 
If LexisNexis Risk engaged with NPC, it would have done so in direct violation of its own Master Terms and Conditions, which state that any LexisNexis Risk "[c]ustomer represents and warrants it is neither identified on, nor shall it provide access to the LN Services to any individuals or entities identified on, (1) OFAC's list of Specially Designated Nationals…"  
"It is essential that LexisNexis address the evidence that it signed contracts, provided services, and accepted payment from a wholly controlled entity of the Iranian regime that is sanctioned by the U.S. under terrorism authorities," said UANI research director Daniel Roth. "If it has done so, it must own its behavior, face whatever consequences may come in the form of fines and reputational damage, and implement much stronger protocols to protect itself from engaging with terror-supporting entities."  
LexisNexis Risk Solutions specializes in data analytics services across industries. Notably, its software manages risk and offers process improvement insights for its clients. It is a globally-recognized firm with significant U.S. government contracts and serves 92 percent of Fortune 500 companies along with customers in more than 180 countries, according to its website.  
Receive Iran News in Your Inbox.
Eye on Iran is a news summary from United Against Nuclear Iran (UANI), a section 501(c)(3) organization. Eye on Iran is available to subscribers on a daily basis or weekly basis.