(New York, N.Y.) — United Against Nuclear Iran (UANI)'s campaign to monitor and report illegal Iranian oil transfers and international sanctions violations was highlighted in major maritime industry publications, including Lloyd's List, TradeWinds, and Splash Maritime and Offshore News this month. 
Citing data gathered from UANI's July 2021 Iran Tanker Tracking, Lloyd's List underscored UANI's proactiveness, compared to the U.S. State Department and the U.S. Treasury Department's Office of Foreign Assets Control (OFAC), in identifying these illicit activities.

Each month, UANI publishes a blog post outlining potential sanctions violations by Iranian-affiliated ships and shipping companies in addition to monthly estimates of exports of Iran's crude oil and gas condensates. Speaking with TradeWinds, UANI Chief of Staff Claire Jungman detailed the actions of an Iranian "ghost armada" which uses brazen methods to transfer oil and skirt sanctions:
"… UANI has been tracking crude and gas condensate exports from Iran. It has been closely watching a total of 127 vessels — which it describes as a "ghost armada" — it suspects are breaking sanctions through involvement with Iranian exports. The group told TradeWinds it had spotted a change in trading habits of ships recently with a significant increase in vessels spoofing their positions over the last six months. "AIS transponders are 'spoofed' to make the ships appear as if they are in one location, such as Iraq or Oman, when in reality they are engaged in a ship-to-ship [STS] transfer with a NITC tanker or call directly at an Iranian port," UANI's chief of staff Claire Jungman told TradeWinds."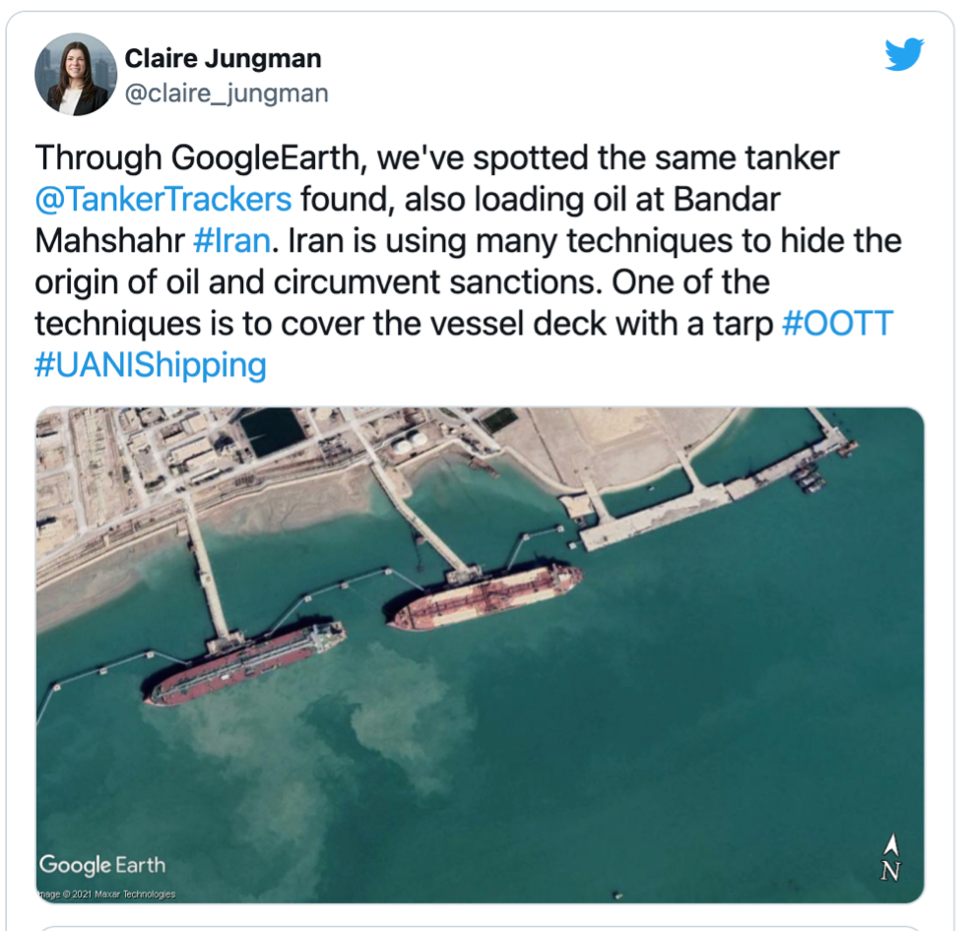 To read UANI's Iran Tanker Tracking resource, please click here.
To read UANI's blog post August 2021 Iran Tanker Tracking, please click here.
###