Robert Levinson
Robert Levinson
American Private Investigator and Retired FBI Agent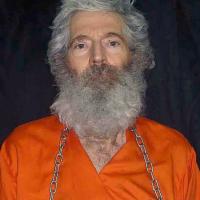 Disappearance
American private investigator and retired FBI agent Robert Levinson disappeared on March 9, 2007, on Iran's Kish Island, while reportedly on an unauthorized CIA mission to investigate corruption by Iranian regime officials. Levinson's family received a hostage video and photos of him in 2010–11. That aside, he was not "publicly seen or heard from since" his disappearance. A U.S. district court judge found in March of 2020 that the Iranian regime most likely took Mr. Levinson hostage. (See the "Lawsuit" section below.)
Treatment in Captivity
In November 2010, the Levinson family received a hostage video of Mr. Levinson in which he appeared gaunt, emaciated, and heavily bearded. Levinson was known before his disappearance to suffer from gout, hypertension, and diabetes. In April 2011, the Levinson family received a series of pictures of him. Levinson's family has never received any other information from his captors. A U.S. district court judge found in March of 2020 that the Iranian regime most likely tortured Mr. Levinson. (See the "Lawsuit" section below.)
Attempts to Locate
In April 2007, about a month after Mr. Levinson disappeared, the Iranian regime's English-language media channel Press TV published an article entitled "Ex-FBI man in Iran not 'missing' at all." The report stated that an unnamed "American businessman and retired FBI agent gone missing from Iran's Kish Island" had been "in the hands of Iranian security forces since the early hours of March 9." The piece added that while U.S.–Iran tensions "complicated" the situation, "the authorities [were] well on the way to finishing the procedural arrangements that could see him freed in a matter of days." No further such reports appeared in Iran's state-run media.
In March 2011, then–Secretary of State Hillary Rodham Clinton stated that the U.S. government had "received recent indications that Bob is being held somewhere in southwest Asia."(A State Department spokesperson said in 2009 that southwest Asia includes Bahrain, Iran, Iraq, Kuwait, Oman, Qatar, Saudi Arabia, the United Arab Emirates, and Yemen.)
In an interview in September of 2012, Mahmoud Ahmadinejad, then president of Iran, did not deny that Iran held Levinson and indicated that Iran and the U.S. had negotiated about Levinson.
In December 2013, Iran-based American fugitive Dawud Salahuddin disclosed that he witnessed Iranian police detaining Mr. Levinson at the time of his disappearance. Iranian Foreign Minister Mohammad Javad Zarif has "denied all knowledge of Levinson's whereabouts." Yet, there is "consensus" among U.S. officials that the Iranian government is responsible for images taken of Mr. Levinson by his captors. 
According to documents disclosed on January 22, 2016, Iranian officials knew far more about Mr. Levinson then previously suggested. The documents are from a memo sent to the FBI in 2011 after a meeting in Paris between an American, a Russian, and Iran's ambassador to France.
During the meeting, the Iranian ambassador said that his government was willing to release Mr. Levinson, who was being held by Iran, if the U.S. helped delay an assessment criticizing Iran's nuclear activities. "The ambassador made it clear that they have Robert Levinson and that they are willing to release him without conditions," said the report. "They do, however, want tangible, 'symbolic' assurances that the messages they are sending have been received at the highest levels." It is unclear what actions, if any, American officials took after the meeting.
In January 2016, President Barack Obama said Iran had "agreed to deepen our coordination as we work to locate Robert Levinson." Secretary of State John Kerry stated a day later that "the Iranians are cooperating" in the effort. However, at a press briefing on October 18, 2016, State Department spokesman Mark Toner said the Iranians "haven't lived up to" their commitment to providing information about Mr. Levinson's whereabouts.
In 2017, a National Security Council spokesperson said executive-branch officials had contacted Mr. Levinson's relatives to promise them that the Trump administration was prioritizing his case.
In October of 2019, the United Nations Working Group on Enforced or Involuntary Disappearances informed the Levinson family that "According to the statement of Tehran's Justice Department, Mr. Robert Alan Levinson has an on going case in the Public Prosecution and Revolutionary Court of Tehran." However, Tehran later said that the "on going case" was simply an investigation of Mr. Levinson's disappearance.
In November of 2019, the U.S. State Department offered a $20 million reward for information leading to Levinson's "safe location, recovery, and return." The FBI has long extended a similar reward of $5 million.
Lawsuit
In March of 2017, Mr. Levinson's wife and children sued Iran for taking him hostage and torturing him, seeking $150 million in compensatory damages and $1.35 billion in punitive ones. Iran did not contest the lawsuit, and on March 9, 2020, a U.S. district court judge for the District of Columbia entered a default judgment for the Levinsons. The judge also ruled to appoint a "special master" to assess damages for Mr. Levinson's wife and each of his children and recommend the amount of damages awarded.
Death
On March 25, 2020, Mr. Levinson's family announced that "We recently received information from U.S. officials that has led both them and us to conclude that our wonderful husband and father died while in Iranian custody. We don't know when or how he died, only that it was prior to the COVID-19 pandemic." They added, "His body has not yet been returned to us for a proper burial.  We don't even know when, or even if, his body would be returned to us. This is the very definition of cruelty."
President Donald Trump said Mr. Levinson was "a gentleman" and "outstanding," but expressed doubt about the former FBI agent's purported death. "They've been making the statement to the family, I believe," he stated. "It's not looking good; he wasn't well for years anyway, in Iran. It's not looking promising ... we feel terribly for the family. It's not looking great, but I won't accept that he's dead. They haven't told us that he's dead, but a lot of people are thinking that that's the case."
U.S. National Security Adviser Robert O'Brien later expressed more certainty about Mr. Levinson's fate, saying, "While the investigation is ongoing, we believe that Bob Levinson may have passed away some time ago… Iran must provide a complete accounting of what occurred with Bob Levinson before the United States can fully accept what happened in this case." Iranian Foreign Minister Mohammad Javad Zarif reportedly informed the U.S. government of Mr. Levinson's death.
4,766 days passed between Mr. Levinson's disappearance and the announcement of his likely death—over 13 years, and more than ten times as long as the 1979–81 Iran hostage crisis. Mr. Levinson may be the longest-held hostage in American history, depending on when he died.