Robert Levinson
Robert Levinson
American Private Investigator and Retired FBI Agent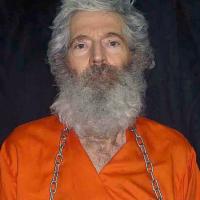 Disappearance
American private investigator and retired FBI agent Robert Levinson disappeared on March 9, 2007, on Iran's Kish Island, while reportedly on an unauthorized CIA mission to investigate corruption. He has "not been publicly seen or heard from since."
In December 2013, Iran-based American fugitive Dawud Salahuddin disclosed that he witnessed Iranian police detaining Levinson at the time of his disappearance. Iranian Foreign Minister Mohammad Javad Zarif has "denied all knowledge of Levinson's whereabouts," yet there is "consensus" among U.S. officials that the Iranian government is responsible for images taken of Levinson by his captors. 
Levinson is now considered to be the longest-held hostage in American history.
Treatment in Captivity
In November 2010 the Levinson's family received a hostage video of Mr. Levinson in captivity, in which he appears gaunt, emaciated and heavily bearded. Levinson already was known to suffer from gout, hypertension, and diabetes. The video provided some initial indications that he was being held somewhere in the Middle East. In April 2011, the Levinson family received a series of pictures of Mr. Levinson, further indicating he was being held in the region.
Levinson's family has not received any other information from his captors. 
Attempts to Locate
According to documents disclosed on January 22, 2016, Iranian officials knew far more about Mr. Levinson then previously suggested. The documents are from a memo sent to the FBI in 2011 after a meeting in Paris between an American, a Russian, and Iran's ambassador to France. During the meeting, the ambassador said that the Iranian government was willing to release Mr. Levinson, who was being held by Iran, if the U.S. helped delay an assessment criticizing Iran's nuclear activities. "The ambassador made it clear that they have Robert Levinson and that they are willing to release him without conditions," said the report. "They do, however, want tangible, 'symbolic' assurances that the messages they are sending have been received at the highest levels." It is unclear what actions, if any, American officials took after the ambassador's remarks in Paris.
In January 2016, President Obama said Iran had "agreed to deepen our coordination as we work to locate Robert Levinson." Secretary of State John Kerry said a day later that "the Iranians are cooperating" in the effort. However, at a press briefing on October 18, 2016, State Department spokesman Mark Toner said the Iranians "haven't lived up to" their commitment to provide information about Levinson's whereabouts.
No further developments in Levinson's case have been reported during the Trump presidency. In 2017, a National Security Council spokesperson said executive-branch officials had contacted Mr. Levinson's relatives to promise them that the administration was prioritizing his case.