Nazanin Zaghari-Ratcliffe
Nazanin Zaghari-Ratcliffe
British-Iranian project manager at Nonprofit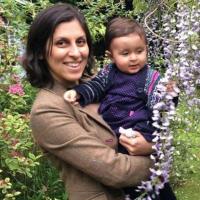 Biography
Nazanin Zaghari-Ratcliffe is a British-Iranian project manager at Thomson Reuters Foundation, a charitable organization promoting socio-economic progress, independent journalism, and the rule of law.
Arrest
Zaghari-Ratcliffe was detained on April 3, 2016, at Tehran's Imam Khomeini Airport by officials believed to belong to Iran's Islamic Revolutionary Guard Corps (IRGC). She had traveled to Iran on March 17, 2016, to visit her family during the Persian New Year holiday. She was detained as she was about to return to the U.K., along with her toddler daughter, Gabriella.
Before being taken into custody, Zaghari-Ratcliffe was allowed to leave Gabriella in the care of her parents, who had accompanied her to the airport. The authorities initially confiscated Gabriella's British passport, but it was eventually returned, and Gabriella left Iran for the U.K. in October of 2019.
Treatment in Captivity
Zaghari-Ratcliffe was interrogated and held in solitary confinement for 45 days in an undisclosed detention center in Kerman in southern Iran. Her family paid bail to keep her from being returned to solitary. On June 5, 2016, Zaghari-Ratcliffe was transferred from Kerman Prison to a ward in Iran's notoriously brutal Evin Prison controlled by the intelligence organization of the Islamic Revolutionary Guard Corps (IRGC). While in Evin, she briefly shared a cell with Homa Hoodfar, a Canadian-Iranian professor arrested in June of 2016 and released on September 26, 2016.
After her arrest, Zaghari-Ratcliffe was long denied the right to access a lawyer. She was allowed a meeting with her parents and daughter for the first time on May 11, 2016, in a hotel room in Kerman. The meeting, which lasted over two hours, took place in the presence of security agents. According to her husband, "When she met [her family] at that hotel, she wasn't able to stand up she was so weak. She couldn't walk without getting a blackout. She wasn't able to pick up her baby, and our baby had to be put on her lap, she was so weak."
Zaghari-Ratcliffe was permitted to make several brief phone calls to family members in Iran and, intermittently, to her husband outside the country, and those were only to tell him she had stood trial and been sentenced to five years in prison. Authorities halted the phone calls to her family in Iran on June 5, 2016. In July 2016, her husband reported that she had lost weight, seen her hair fall out, and was virtually unable to walk.
As interrogators grilled Zaghari-Ratcliffe in 2016, they reportedly lied to her, claiming her husband was cheating on her and that they had proof. "It's a very practised technique of really breaking someone," Richard said. "That fear and abuse led her to feel suicidal. She said to me: 'It would be better if I just died and you could get on with your lives.'"
In October 2016, Zaghari-Ratcliffe's husband told Amnesty International that his wife's health had sharply deteriorated and that she was even contemplating suicide. She was suffering from heart palpitations in addition to pain in her hands, arms, and shoulders, and blurred vision. On November 13, 2016, she began a hunger strike to express her despair over the prospect of never being released.
On November 25, 2016, Zaghari-Ratcliffe told her family that IRGC officials had pressured her to choose between them moving their two-year-old daughter Gabriella into Section 2A of Evin Prison with her for up to three days a week, or Nazanin signing a document to say that she does not want "the right to be with her young daughter."
On August 23, 2018, Zaghari-Ratcliffe was granted a three-day furlough to see her daughter and other family members in Iran, but her request for an extension was denied and she returned to prison on August 26.
In January of 2019, the British press reported that the IRGC had unsuccessfully tried to recruit Zaghari-Ratcliffe as a spy in exchange for her release. The Guards wanted her to spy on the U.K. Department for International Development and the Small Media Foundation, which describes itself as a "human rights research lab and information design studio."
Zaghari-Ratcliffe went on a hunger strike in January of 2019 to protest her lack of medical care for multiple health problems, including neck pain, lumps in her breasts, and numbness in her arms and legs. She ended the strike when the prison authorities agreed to give her medical treatment.
Zaghari-Ratcliffe and her husband launched a joint hunger strike in June of 2019, seeking her unconditional release. The strike lasted 15 days, and Richard Ratcliffe spent it on the street outside the Iranian embassy in London.
In July of 2019, Zaghari-Ratcliffe was moved to a hospital psychiatric ward. Her husband said she was put in de facto solitary confinement and chained to her bed for six days, after which the authorities gave in and transferred her back to prison.
Zaghari-Ratcliffe issued an unprecedented open letter in October of 2019. She pleaded for her release and claimed that "My child and I are the playthings of politicians, inside and outside our homeland, who have used us as tools to try to achieve their own political goals."
Zaghari-Ratcliffe and her family expressed concern in February of 2020 that she had contracted COVID-19. "I feel very bad in fact," she said. "It is a strange cold. Not like usual. I know the kinds of cold I normally have, how my body reacts. This is different. I am just as bad as I was. I often get better after three days. But with this there is no improvement. I haven't got one bit better." She added that she had had a very sore throat and intermittent fever, as well as breathing difficulties and general pains and fatigue, and was not tested for the virus. A spokesman for Iran's judiciary claimed Zaghari-Ratcliffe was healthy and not suffering from COVID-19.
Zaghari-Ratcliffe needs urgent mental health care immediately, according to an international NGO. The Independent Forensic Expert Group of the International Rehabilitation Council for Torture Victims, upon request of the human rights advocacy group Redress, evaluated Zaghari-Ratcliffe's health. It concluded that the evidence they collected is "highly" consistent with her claims of torture and other ill-treatment in prison, and that because of that ill-treatment, she "suffers from serious and chronic post-traumatic stress disorder (PTSD), major depression and obsessive-compulsive disorder."
Further, due to her experiences in prison, Zaghari-Ratcliffe also lives with "physical pain and impairment that developed over the course of her imprisonment, including neck, shoulder and arm pain and numbness, tooth pain, possible an[e]mia, and breast lumps, which have not been adequately evaluated or treated."
The body also stated that even though Zaghari-Ratcliffe is presently out of prison, her symptoms will worsen until and unless the regime lets her leave Iran and reunite with her family in the U.K.
Initial Charges, Trial, and Sentencing
Richard Ratcliffe has stated that his wife and her family "have never seen a copy of the charges on which she was sentenced. There is no written documentation on anything. So they preserve the space to make it up as they go along at every stage."
On April 27, 2016, the family was told that Zaghari-Ratcliffe was being held for "reasons related to national security," without elaborating on further details, and that she would likely be held for another two or three months until the completion of an investigation. She was subsequently accused of partaking in a plot to overthrow the Iranian government.
On June 9, 2016, Richard Ratcliffe said Nazanin telephoned her family in Iran informing them that she had been told she was going to be released, "and then, after she did that, someone called her parents and said: 'there has been a mistake, we are changing things, and she is being transferred.'"
On June 15, the IRGC in the Kerman Province accused Zaghari-Ratcliffe of being a "top operative in a foreign network" who participated in a "plot for the soft overthrow of the Islamic Republic." An official IRGC statement in Iranian media accused her of attempting to overthrow the Islamic Republic as "one of the chief members of networks of adversary institutions who — with the direction and support of foreign media and espionage services — has committed her criminal acts over the past few years."
On August 14, 2016, Zaghari-Ratcliffe faced a secret trial before Revolutionary Court Judge Abolqasem Salavati, nicknamed "the Hanging Judge" and "the Judge of Death" for imposing harsh sentences, including capital punishment, in political cases. On September 9, 2016, Salavati sentenced her to five years in prison for undisclosed crimes.
Zaghari-Ratcliffe appealed the sentence, but according to her husband, a Revolutionary Court judge dismissed her appeal in a secret session on January 4, 2017, though the decision was only announced on January 22.
During the appeal hearing, two new accusations were raised against Zaghari-Ratcliffe. These charges included the claim that she was knowingly married to a British spy, and that she acted as the head of recruitment for BBC Farsi at the time of its founding in 2009. She never worked for BBC Farsi and she had been to Iran on holiday many times without a problem since she left her role as Project Assistant for BBC Media Action in 2010.
In April of 2017, the Supreme Court rejected Zaghari-Ratcliffe's final appeal, leaving her five-year prison sentence in place.
In October of 2017, Tehran's prosecutor general said Zaghari-Ratcliffe was imprisoned for directing "a BBC Persian online journalism course aimed at recruiting and training people to spread propaganda against Iran." In December of 2017, Iranian state television said she was "found guilty of spying and spreading propaganda against the Islamic Republic." Specifically, Zaghari-Ratcliffe allegedly ran "training courses for recruits at the BBC World Service Trust and the ZigZag Academy," the latter engaged in "training and recruitment of human resources for the launch of BBC Persian Service and deployment of undercover reporters in Iran to gather intelligence." She purportedly "identified potential Iranian recruits and invited them to attend the training courses, received and reviewed their resumes, managed financial affairs related to the courses in Malaysia and India, picked trainers, assessed the performance of the participants and managed the ZigZag Academy's websites."
Also, in October of 2017, Zaghari-Ratcliffe's family disclosed that at a hearing at Evin Prison, she was told that she was facing new charges, including "joining and receiving money from organizations working to overthrow the Islamic Republic, and attending a demonstration outside the Iranian Embassy in London." The additional charges disqualified her from applying for early release and could tack on 16 more years in prison to her sentence.
A judge told Zaghari-Ratcliffe in July of 2018 that she would remain in prison until the British government repaid Iran a debt of 400 million pounds for an unfulfilled military sale in the 1970s, implicitly reaffirming that the regime was holding her hostage as leverage to extract concessions from the U.K. In September 2019, Iranian Foreign Minister Mohammad Javad Zarif said that in 2016, the British government offered to release those funds to Iran in exchange for Zaghari-Ratcliffe's release, but British Foreign Minister Jeremy Hunt retracted the offer upon taking office in 2018. In September of 2020, British Defense Secretary Ben Wallace told lawyers for Zaghari-Ratcliffe and other British hostages that the government was trying to repay Iran.
Furlough
As the novel coronavirus ravaged Iran in the spring of 2020, and particularly endangered inmates living in the Iranian prison system's appalling conditions, the regime temporarily released Zaghari-Ratcliffe and tens of thousands of other prisoners. She left Evin Prison on a medical furlough on March 17, 2020, and was placed under de facto house arrest. She was forced to wear an ankle monitor—for which her family had to pay a fee—and may not move more than 300 meters (less than one-fifth of a mile) from her parents' home. (Reportedly, she was the only temporarily released political prisoner required to wear one.) 
Zaghari-Ratcliffe's furlough originally was to end on April 4, but on May 20, her family tweeted that her medical furlough had essentially been extended indefinitely—until the regime decides whether to grant her request for clemency.
On September 20, 2020, according to Zaghari-Ratcliffe, IRGC officers harassed her at her parents' home. They falsely claimed that she had broken her ankle monitor—even though the IRGC had no legal involvement in managing the device—and threatened to take her back to the Revolutionary Court. She refused to let the officers in and called the Tehran prosecutor's office to protest the harassment.
Finish of Original Sentence, New Charges, New Trial, and New Sentence
On September 8, 2020, while Zaghari-Ratcliffe was furloughed at her parents' home in Tehran (see above), and reportedly about six months before her original prison sentence would end, she appeared before Tehran's Revolutionary Court. The court told her she would be tried on new charges on September 13, just five days later.
However, on September 13, at the last minute, the court postponed Zaghari-Ratcliffe's trial without providing a reason. She reacted with anguish and fury, telling her husband, "People should not underestimate the level of stress. People tell me to calm down. You don't understand what it is like. Nothing is calm."
"This morning I just wanted to scream out loud for 10 minutes," she said, "or to bang my head against the wall— just to let it out. I really can't take it anymore. They have all these games, and I have no power in them. Sometimes I am just full of anger, ready to explode. I find myself hating everything in this life, including myself. There is no escape.
"I would have rather it happened today," added Zaghari-Ratcliffe. "I do not sleep at all while the case is hanging over me. This morning I wanted to get it over with—to know where I stand now rather than continue with this whole stupid game."
On March 7, 2021, while Zaghari-Ratcliffe was under house arrest, her original five-year jail sentence ended. The authorities removed her ankle monitor and permitted her to leave her parents' house. However, they refused to let her leave Iran and put her on trial again on March 14 for the new charge of "spreading propaganda against the regime." Specifically, the regime accused her of taking part in a demonstration outside Iran's embassy in the U.K. in 2009 and speaking with the BBC's Persian service.
The second trial lasted one day and was again presided over by Abolqasem Salavati. Richard Ratcliffe said that his wife had been allowed to make a statement denying the charges and that the verdict would likely come within days.
In late April 2021, Nazanin was sentenced to a year in prison and prohibited from leaving Iran for a year thereafter. She has yet to return to prison to begin serving her new sentence.
In late April 2021, Nazanin was sentenced to a year in prison and prohibited from leaving Iran for a year thereafter. Zaghari-Ratcliffe's lawyer said in October 2021 that an appeals court had upheld her sentence "without holding a hearing." She has yet to return to prison, but, according to her husband, "she's now just waiting for the phone call, saying 'Turn up at this prison on this day.'"
International Reaction
Since going public with the news of Zaghari-Ratcliffe's arrest, her husband, Richard, has relentlessly campaigned for her freedom. He launched a petition calling for her release that more than three million people signed as of March 2020.
The British government has sent mixed signals about its responsibility for Zaghari-Ratcliffe and its view of her detention. When Iranian Foreign Minister Zarif suggested her release in 2019 as part of a prisoner exchange, Britain's then–foreign secretary, Jeremy Hunt, called the offer "vile," saying, "what is unacceptable about what Iran is doing is that they are putting innocent people in prison and using it as leverage."
The U.K. granted her diplomatic protection in 2019, which Iran has rejected. This move has raised the matter beyond a consular dispute and into a full bilateral legal dispute between Iran and the U.K. However, the Foreign Office wrote to her attorneys that the U.K. was not legally required to provide consular services to British nationals overseas, that it does not view her case as hostage-taking, and that it could not look into claims that the Iranian regime tortured or otherwise ill-treated her.
Jeremy Hunt, at that time no longer foreign secretary, criticized his government's move, claiming the country was "beginning to look weak." "We must show the world that if you imprison a British citizen on trumped-up charges you will pay a very heavy price," Hunt stated, "because Britain is a major player on the world stage and intends to remain one [after its withdrawal from the European Union]."
When the regime granted Zaghari-Ratcliffe a two-week medical furlough in March of 2020, British then–Foreign Secretary Dominic Raab said that he was "relieved," and urged the regime to "ensure she receives any necessary medical care… [and] now to release all UK dual nationals arbitrarily detained in Iran, and enable them to return to their families in the UK."
In early September of 2020, the U.K. Foreign Office protested after the Revolutionary Court in Tehran told Nazanin it would try her on additional charges. "Iran bringing new charges against Nazanin Zaghari-Ratcliffe is indefensible and unacceptable," a Foreign Office spokesperson said. "We have been consistently clear that she must not be returned to prison." Former British Foreign Secretary Jeremy Hunt tweeted, "Nazanin has already served most of her sentence for a crime she didn't commit. This is hostage diplomacy and Iran needs to know that Britain will not stand for it."
In late September, the U.K., France, and Germany, in a coordinated action, each summoned the Iranian ambassadors to those respective countries to protest the Iranian regime's imprisonment of citizens of those countries, as well as other human rights abuses.
According to the Guardian, the U.K. Foreign Office gave the Iranian ambassador a letter saying, as the newspaper described, that "Iran's policy of arbitrary detention is seriously undermining its international standing" and claiming that "British citizens, including dual nationals, are languishing in Iranian prisons, often under harsh conditions and without justification. It argues they have been arbitrarily detained and deserve to be reunited with their families." The letter also takes issue with Iran's oppression of domestic human rights advocates and protesters, and states, verbatim, "A free and independent media is essential to a functioning society. Cultural organisations, that connect people across borders, benefit all our peoples."
However, the letter reportedly did not threaten any repercussions if Iran continued the aforementioned policies, and the Foreign Office has never described British dual-national detainees in Iran as hostages.
On October 29, 2020, the British government summoned the Iranian ambassador "following news that imprisoned British-Iranian aid worker Nazanin Zaghari-Ratcliffe is to be recalled to court in Iran…." According to a statement from the U.K. Foreign Office, "We have made it clear to the Iranian ambassador that his country's treatment of Nazanin Zaghari-Ratcliffe is unjustified and unacceptable, and is causing an enormous amount of distress."
A report from the United Nations Working Group on Arbitrary Detention condemned the imprisonment of Zaghari-Ratcliffe. On October 24, 2016, petitions were delivered to the U.K. Foreign Office with a letter co-signed by 117 Members of Parliament and 24 Members of the House of Lords calling for the release of Zaghari-Ratcliffe and two other British-Iranian citizens. The petition, signed by more than 73,000 supporters, was sponsored by Amnesty International.
After an Iranian appeals court upheld Zaghari-Ratcliffe's new sentence in October 2021, British Foreign Secretary Liz Truss said the decision to sustain the "baseless" charges against Zaghari-Ratcliffe was an "appalling continuation of the cruel ordeal she is going through." She added, "We are doing all we can to help Nazanin get home to her young daughter and family and I will continue to press Iran on this point."
However, Zaghari-Ratcliffe's British member of Parliament, Tulip Siddiq, slammed the U.K. government, saying, "Whatever the Prime Minister [Boris Johnson] has been doing to free Nazanin is clearly not working. It's time for the UK Government to pay the debt we owe to Iran, stand up to their despicable hostage taking and finally get Nazanin home." The hostage's husband, Richard, also criticized the Johnson government. "One of the challenges I find with this Government is that it doesn't deal with problems until they become crises," he stated. This is Iran threatening a crisis. One hopes that the Government takes it seriously."
British Foreign Secretary Truss called Zaghari-Ratcliffe on December 26, 2021, telling her, "You are a priority, we are working on things," according to Richard Ratcliffe.
Release
On March 16, 2022, the Iranian regime released Ashoori and her fellow hostage Nazanin Zaghari-Ratcliffe (also a British-Iranian) into the custody of the British government, and the two left Iran. The two were freed after the U.K. paid Iran $530 million to erase a debt dating back to the 1970s. The shah's government had purchased military vehicles from the British, but the vehicles were not delivered due to the intervening overthrow of the shah and the establishment of the Islamic Republic in its place.
British Foreign Secretary Truss announced the release. Truss said that development was "the result of tenacious and creative British diplomacy… years of hard work and dedication by our brilliant diplomats, and intensive efforts over the past 6 months." She added, "We have the deepest admiration for the resolve, courage and determination Nazanin, Anoosheh and Morad [Tahbaz, another British hostage who was simultaneously briefly furloughed from prison], and their families, have shown. They have faced hardship that no family should ever experience and this is a moment of great relief." She also thanked the government of Oman for its help in getting the hostages freed. Truss added that the money the U.K. paid to Iran "will be ring-fenced solely for the purchase of humanitarian goods."
Receive Iran News in Your Inbox.
Eye on Iran is a news summary from United Against Nuclear Iran (UANI), a section 501(c)(3) organization. Eye on Iran is available to subscribers on a daily basis or weekly basis.