Kylie Moore-Gilbert
Kylie Moore-Gilbert
Australian-British Academic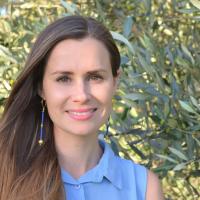 Biography
Kylie Moore-Gilbert is an Australian and British citizen and a lecturer in Islamic studies at the University of Melbourne. She has a doctorate in Gulf studies from that institution. She has published research on the 2011 Arab Spring and numerous Gulf political issues. Her most recent grant-funded project was a study of "Iran's relationship with Bahrain's Shi'a after the Arab Uprisings."
Arrest
Moore-Gilbert was arrested and imprisoned in October of 2018. She reportedly had begun taking a course in the Iranian holy city of Qom in 2018. Her name was not made public until September of 2019 due to her family's preference to seek her release quietly, through diplomatic channels, and their fear that naming her could damage her chances of being released.
Treatment in Prison
The regime is holding Moore-Gilbert in Tehran's notoriously brutal Evin Prison—reportedly in Ward 2-A, which is controlled by the intelligence wing of the Islamic Revolutionary Guard Corps (IRGC). She is reportedly being held in solitary confinement, with the lights always on. Her family was not permitted to visit her, but Australian consular officials were allowed to meet with her. She also reportedly was denied access to legal counsel, and has gone on several hunger strikes to protest her treatment by the prison authorities. Iranian law only permits the use of solitary confinement during interrogation and investigation, but Moore-Gilbert reportedly remains isolated long after her conviction.
Human rights activist and former Evin Prison inmate Reza Khandan wrote on Facebook in May of 2020 that Moore-Gilbert had tried to kill herself on multiple occasions, but the imprisoned academic's family denied that assertion.
In letters smuggled out of prison, Moore-Gilbert affirmed her innocence, affirming that she is not and never has been a spy, and rejected offers from the Iranian regime to commit espionage on behalf of Tehran. She also wrote that that her health "has deteriorated significantly" and she had been taken to a hospital twice and to Evin's infirmary six times. "I think I am in the midst of a serious psychological problem," she said, adding that "I can no longer stand the pressures of living in this extremely restrictive detention ward anymore. My situation here is even more difficult due to the ban on having any phone calls with my family. I worry a lot about their reactions to my verdict but I cannot talk to them. This is really inhumane."
Charges, Trial, and Sentencing
CNN reported on September 18, 2019, that a source told them Moore-Gilbert had been tried and sentenced to ten years' imprisonment for espionage. Iran's foreign ministry and judiciary gave conflicting statements about the matter, with the former confirming that Moore-Gilbert had been sentenced in 2018 for espionage, but the latter claiming she was "spying for another country" but has yet to be tried.
International Outcry
Australian Foreign Minister Marise Payne has stated that she has brought up the cases of Moore-Gilbert and other Australian hostages in Iran "many times" with Iranian Foreign Minister Mohammad Javad Zarif.
On September 15, 2019, Rudy Giuliani, former mayor of New York and current (as of October of 2019) lawyer for U.S. President Donald Trump, tweeted his outrage at the Iranian regime's treatment of Moore-Gilbert, writing, "Dr Kylie Moore-Gilbert, the third foreign national revealed this week to be imprisoned in Iran. Arrested, charged, and convicted for undisclosed actions. Sentenced to 10 YEARS without any public record of a trial! These are typical actions of the Ayatollah's #REIGN OF TERROR!"
An Amnesty International official has expressed concern that the authorities may have engaged in "serious human rights violations" against the detained Australians, "including denial of access to a lawyer and even torture or other ill-treatment."