Kylie Moore-Gilbert
Kylie Moore-Gilbert
Australian-British Academic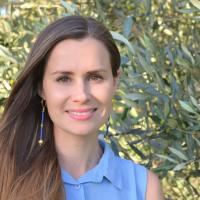 Biography
Kylie Moore-Gilbert is an Australian and British citizen and a lecturer in Islamic studies at the University of Melbourne. She has a doctorate in Gulf studies from that institution. She has published research on the 2011 Arab Spring and numerous Gulf political issues. Her most recent grant-funded project was a study of "Iran's relationship with Bahrain's Shi'a after the Arab Uprisings."
Arrest
Moore-Gilbert was arrested and imprisoned in September of 2018, several weeks after reportedly taking a course on Shiite Islamic studies in the Iranian holy city of Qom. Her name was not made public until September of 2019 due to her family's preference to seek her release quietly, through diplomatic channels, and their fear that naming her could damage her chances of being released.
Treatment in Captivity
The regime held Moore-Gilbert for almost two years in Tehran's notoriously brutal Evin Prison—reportedly in Ward 2-A, which is controlled by the intelligence wing of the Islamic Revolutionary Guard Corps (IRGC). She was reportedly held in solitary confinement, sleeping on the floor and with the lights always on. Her family was not permitted to visit her, but she was allowed to meet with Australian consular officials. She reportedly was denied access to legal counsel, and went on several hunger strikes to protest her treatment by the prison authorities. Iranian law only permits the use of solitary confinement during interrogation and investigation, but Moore-Gilbert reportedly remained isolated at Evin long after her conviction.
Human rights activist and former Evin Prison inmate Reza Khandan wrote on Facebook in May of 2020 that Moore-Gilbert had tried to kill herself on multiple occasions, but the imprisoned academic's family denied that assertion.
In letters smuggled out of prison, Moore-Gilbert affirmed her innocence, affirming that she is not and never has been a spy, and rejected offers from the Iranian regime to commit espionage on behalf of Tehran. She also wrote that her health had "deteriorated significantly," and that she had been taken to a hospital twice and to Evin's infirmary six times. "I think I am in the midst of a serious psychological problem," she said, adding, "I can no longer stand the pressures of living in this extremely restrictive detention ward anymore. My situation here is even more difficult due to the ban on having any phone calls with my family. I worry a lot about their reactions to my verdict but I cannot talk to them. This is really inhumane."
News media reported in June of 2020 that prison guards beat and drugged Moore-Gilbert after she organized a choir to protest their detention.  She had also been contacting new prisoners to warn them about whom to trust and to give them moral support in the face of threats from the jailers. Moore-Gilbert was later observed to be virtually comatose at points and covered with bruises.
In July of 2020, Australian government officials told journalists that the regime had moved Moore-Gilbert to the notorious Qarchak women's prison (formally called Shahr e-Rey) southeast of Tehran. Qarchak, reportedly built in an idle chicken farm, "holds prisoners in overcrowded and unhygienic conditions, without access to safe drinkable water, decent food, medicine and fresh air," according to Amnesty International, also noting that "Prisoners have reported urine-stained floors, filthy showers and bathroom facilities, a severe shortage of beds and the prevalence of contagious diseases."
While Qarchak is primarily used to hold inmates convicted of common crimes, the facility has also been used to hold and further harm prisoners of conscience, who have been subject to physical and verbal abuse and denied medical treatment. A number of inmates have also been diagnosed with the novel coronavirus.
The Qarchak prison's management ordered two inmates to follow Moore-Gilbert constantly and monitored her communications with others, some prisoners reported. She apparently did not contract COVID-19 and had sufficient funds in her commissary account to purchase food and water.
In October 2020, Moore-Gilbert reportedly discussed problems regarding her detention with Mohammad Mehdi Haj Mohammadi, who runs Iran's Prisons Organization, and Ali Bagheri-Kani, who is the secretary of the Iranian High Council for Human Rights. Later that month, the authorities transferred her back to Evin's Ward 2A.
Charges, Trial, and Sentencing
CNN reported on September 18, 2019, that a source told them Moore-Gilbert had been tried and sentenced to ten years' imprisonment for espionage. Iran's foreign ministry and judiciary gave conflicting statements about the matter, with the former confirming that Moore-Gilbert had been sentenced in 2018 for espionage, but the latter claiming she was "spying for another country" but has yet to be tried.
International Reaction
Australian Foreign Minister Marise Payne has stated that she has brought up the cases of Moore-Gilbert and other Australian hostages in Iran "many times" with Iranian Foreign Minister Mohammad Javad Zarif. The foreign ministry said in May of 2020 that "Dr. Moore-Gilbert's case is one of our highest priorities, including for our embassy officials in Tehran. We do not accept the charges upon which Dr. Moore-Gilbert was convicted and continue all efforts to have her returned to Australia as soon as possible." On September 11, 2020, the second anniversary of Moore-Gilbert's arrest, Payne issued a similar statement, adding, "The Government believes the best approach to secure Dr Moore-Gilbert's release is through diplomatic channels."A ministry spokesperson made a similar comment, saying, "We believe the best chance of resolving Dr Moore-Gilbert's case lies through the diplomatic path and not through the media," a spokesman said.
However, Free Kylie Moore-Gilbert, an organization of her colleagues and friends, have criticized Canberra's reliance on quiet diplomacy. "We are growing increasingly concerned that the Australian government has accepted Kylie's incarceration in Qarchak prison, the 'worst women's prison in the world' as her new normal," it said. "Its current strategy has failed even to protect the most fundamental rights of this Australian citizen abroad." The group believes that "[t]he key to bringing Kylie home is exerting significant pressure on the Australian government." It added, "Our government needs to use every political and diplomatic tool at its disposal to bring her home… So far, there has been very little publicity or public discussion around Kylie's case in Australia, which means that there have been few improvements in Kylie's situation."
On September 15, 2019, Rudy Giuliani, a lawyer for then-President Donald Trump and former mayor of New York City, tweeted his outrage at the Iranian regime's treatment of Moore-Gilbert, writing, "Dr. Kylie Moore-Gilbert, the third foreign national revealed this week to be imprisoned in Iran. Arrested, charged, and convicted for undisclosed actions. Sentenced to 10 YEARS without any public record of a trial! These are typical actions of the Ayatollah's #REIGN OF TERROR!"
An Amnesty International official has expressed concern that the authorities may have engaged in "serious human rights violations" against the detained Australians, "including denial of access to a lawyer and even torture or other ill-treatment."
Release
On November 25, 2020, Iran released Moore-Gilbert as part of a three-way swap with Australia and Thailand. Thailand released three Iranians imprisoned there for scheming to assassinate Israeli diplomats in Bangkok in 2012. The Iranian regime was linked to the attack, and IRGC-affiliated social media accounts named the three plotters as Saeed Moradi, Mohammad Khazaei, and Masoud Sedaghat Zadeh. A spokesperson for Thailand's foreign ministry claimed one of the three had completed his sentence and the other two would serve the remainder of their sentences in Iran.
Receive Iran News in Your Inbox.
Eye on Iran is a news summary from United Against Nuclear Iran (UANI), a section 501(c)(3) organization. Eye on Iran is available to subscribers on a daily basis or weekly basis.