Alireza Zakani
Alireza Zakani
2nd Tier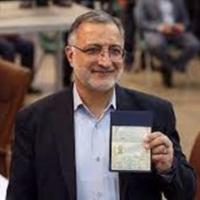 The Principlist politician and Parliament member Alireza Zakani is making his third bid for president after being disqualified by the Guardian Council in 2017 and 2013.  The campaign slogan is "the administration of action and reform." He has promised that "America will beg if I'm elected president." He has a degree in nuclear medicine.
Zakani is the chairman of the parliament Research Center and is a representative from Qom, winning a seat in the 2020 elections. He was previously in Parliament for three sessions but lost his seat in a Tehran voting district in 2016. While in Parliament, he has been a prominent critic of the Rouhani administration and the Joint Comprehensive Plan of Action (JCPOA). He has owned Jahan News and Panjereh weekly news agencies.
Zakani's previous record includes serving as the Commander of the paramilitary Basij University Organization during the crackdown in the infamous 1999 student protests when it was alleged that Basij university mobilized as part of the crackdown. He has defended his determination to "stop the sedition" during the protests.  Zakani fought in the Iran-Iraq War, and the units he served in include Irregular Warfare Headquarters and the 27th Mohammad Rasulollah Division (Tehran Province).
Relationship with Supreme Leader
Zakani has publicly expressed loyalty to Supreme Leader but has not garnered a high-ranking appointment by Khamenei before.
Electoral Prospects
Zakani is the chairman of the Revolutionary Transformation-Seekers Front, constituted by three Principlist factions. He faces an uphill battle for the Principlist vote, as polls show him in last place among the contenders. He has a reputation as a hard-line figure among many Iranians. Some critics believe that he is also a component of the attack team on the debate panel in favor of Raisi, but it is unclear whether he would withdraw following the debates.